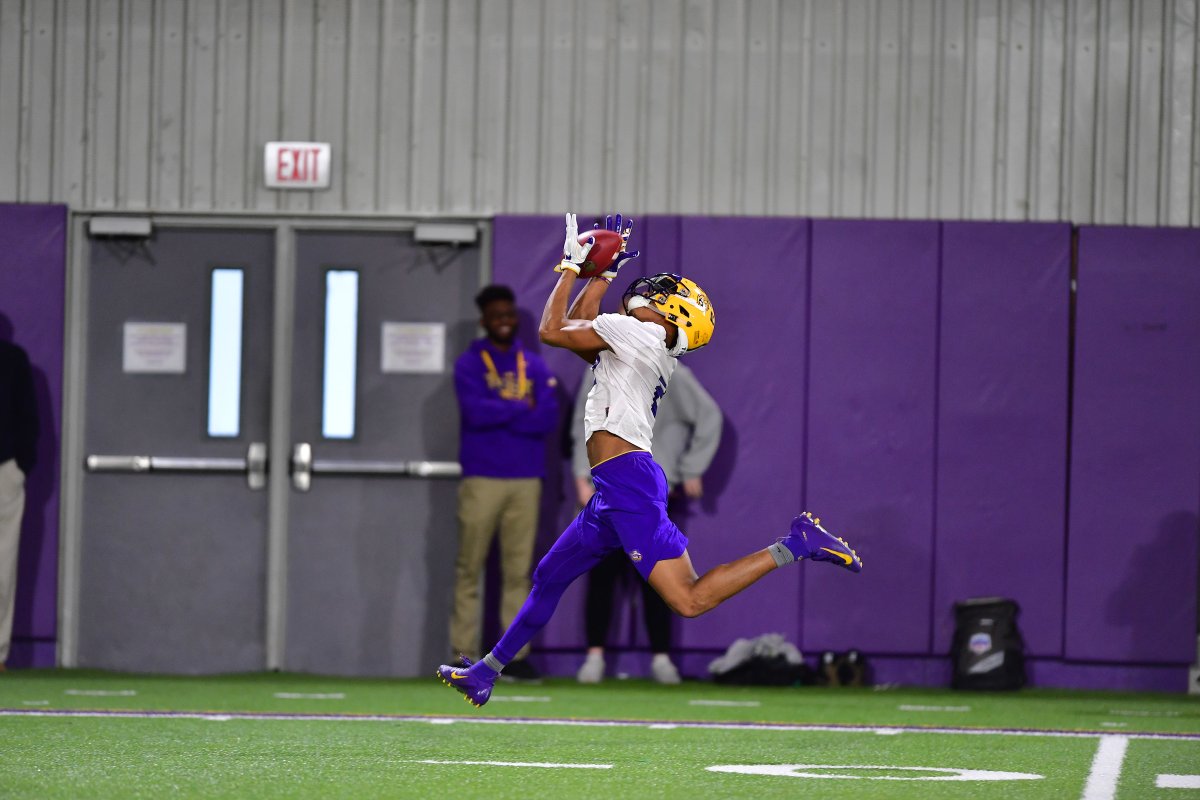 Flash back to last summer. Steve Ensminger is sitting in the side room of a bar in Kenner detailing to a group of reporters his vision for the offense he'd been put in charge of coordinating.
Ensminger spoke of run-pass options and a level of schematic versatility that would allow him to call any play regardless of personnel grouping. The veteran coach wanted enough depth to run four-receiver packages at breakneck speeds and tight ends who could line up all over the field to create mismatches.
So what happened when the lights came on? LSU's young group of receivers outside of Justin Jefferson never showed enough consistency to make those four-receiver sets a reality and every tight end who wasn't Foster Moreau pretty much missed the entire season.
But that doesn't mean Ed Orgeron and Ensminger have given up on the modern attack they've repeatedly called for publicly. In fact, Orgeron hired Joe Brady away from the New Orleans Saints primarily to help make that vision a reality.
Brady, who coached at Penn State before the Saints, is considered a venerable whiz kid and a guru of the RPO, a buzzword around Baton Rouge.
LSU's new passing game coordinator and receivers coach doesn't possess a long lifetime of experience like Jerry Sullivan, his septuagenarian predecessor, but the word is he's bringing a dose of modern football to a fairly old-school staff.
One of Brady's chief tasks this spring has been transforming a receiver group that has far more talent and able bodies than actual production. According to Orgeron, he's going about that in a different way than Sullivan did.
"We move our guys around," Orgeron said. "We don't keep them in the same position. Jerry was a great coach, but Joe is from a school that a guy needs to learn every position. We move them around from the slot to the Z to the X and see what type of routes they run the best.
"They can be playing inside one snap, outside one snap and on the right the next snap. Mix them around. Joe does a good job of that."
If there's a route that's synonymous with the RPO game, it's a slant. The idea is for the receivers to break in behind the linebackers if they vacate their positions and collapse when Joe Burrow sticks the ball in the belly of a running back.
If it works, Burrow simply pulls the ball out and hits his receiver in stride over the middle. With the linebackers gone, the receiver only needs to beat his man to have a one-on-one with the safety in the open field.
"(Brady) has brought a lot of fresh, innovative ideas to our offense, and you can see the difference in practice," Burrow said. "(RPOs) are going to be a big part of our offense, and the direction new age football is going, that has to be a big part of everybody's offense if you want to be explosive."
The quarterback continued: "This is the best we've looked on offense since I've been here as far as matching up against our defense and making big plays against our defense. So I'm excited about where we're going."
Operating a more modern offense comes naturally to Burrow, who began his career at Ohio State under Urban Meyer. He's thrived in it this spring, according to Orgeron. It'll be largely up to Brady to make sure the wide receivers adapt right along with the guy who'll be throwing them the ball.
The 28-year-old assistant will inherit a more experienced group by virtue of LSU having so many returning players who spent a year being drilled by Sullivan on the technical aspects of the position.
Jefferson is a bona fide go-to receiver in the Southeastern Conference. Ja'Marr Chase flashed superstar potential in a breakout Fiesta Bowl. Terrace Marshall, a former top-ranked recruit, is back to full strength. Dee Anderson, Stephen Sullivan, Derrick Dillon and Jonathan Giles are veteran options. Blue chip freshmen Trey Palmer and Devonta Lee will arrive on campus this summer.
There's only one ball, so you wonder how Burrow can keep all those mouths fed. According to Orgeron, LSU will operate at such a pace that it is essential to have as many receivers as possible who can rotate in, understand their role and make plays.
"We go so fast on offense that we're going to have to use a lot of guys," Orgeron said. "We're going to play some four-wide, primarily out of a three-wide set. I think most of those guys are going to get some opportunities."
Players on the other side of the ball have taken notice of the new speed with which the LSU offense is operating.
Especially the few, the proud, the healthy defensive linemen who're taking major reps this spring with so many of their teammates banged up.
"They're really fast, they go fast," confirmed defensive lineman Breiden Fehoko. "Having Joe back for a second year with all the receivers we've got, they've been doing good. Selfishly, I don't like the tempo they're going at because it's really fast, but it's eye-opening. They can move the ball for sure."