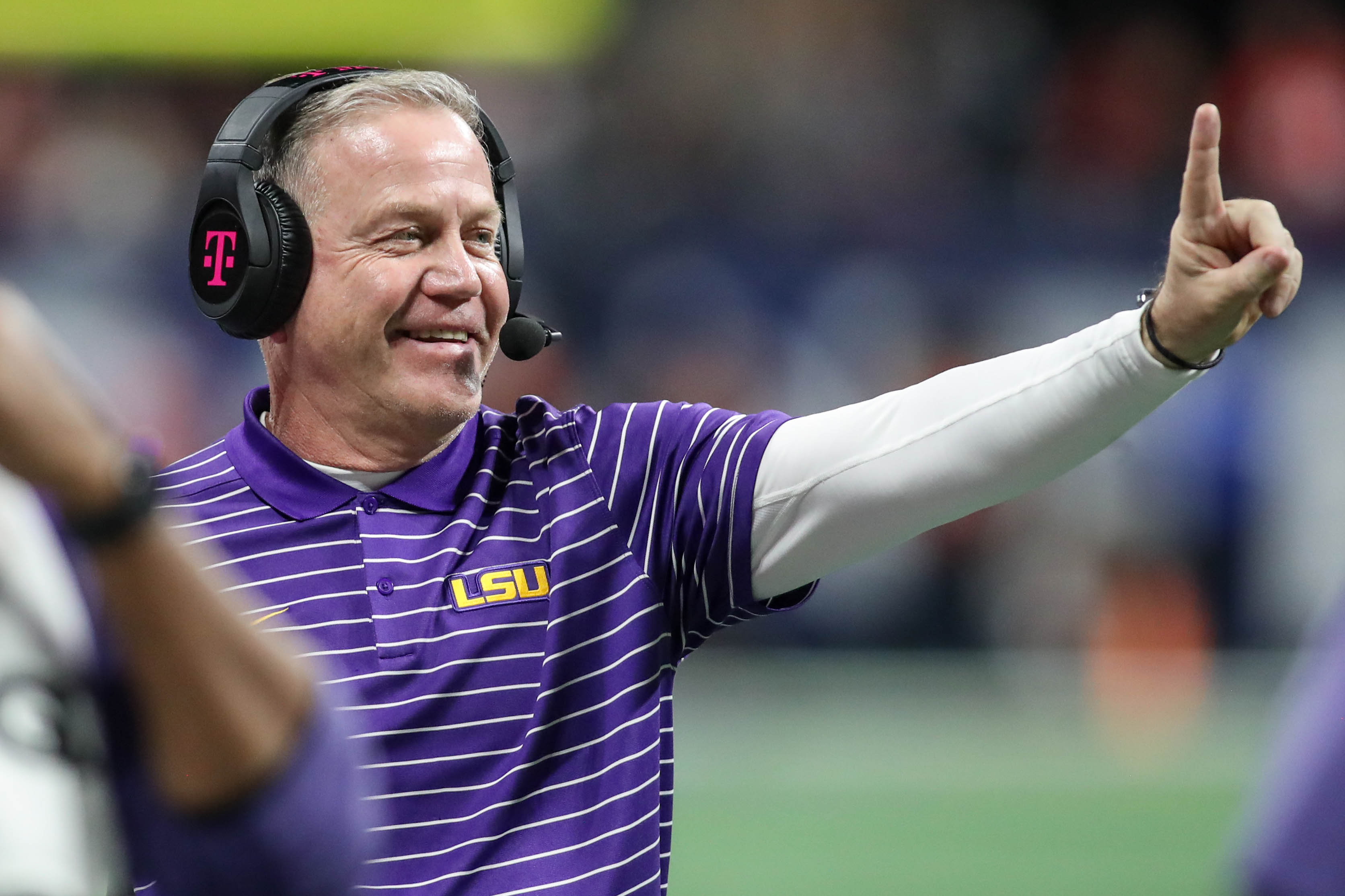 Born out of sheer necessity LSU football coach Brian Kelly attacked the NCAA transfer portal in the weeks upon his hiring last December with such vigor to try and replenish a depth-thin roster.
A total of 21 players transferred, albeit scholarship signee or preferred walk-ons, with 16 of those playing this season with such notables as quarterback Jayden Daniels, defensive tackle Mehki Wingo, cornerback Jarrick Bernard-Converse and punter Jay Bramblett fulfilling major roles for this year's Southeastern Western Division champions.
With the success in the first year of Kelly – a 9-4 record, SEC Championship Game appearance and invitation to the Citrus Bowl – the Tigers feature better stability in their roster compared to this time a year ago.
That's not to suggest there won't some change which LSU's has already encountered with 11 players from the 2022 roster entering the NCAA's first 45-day window into the transfer portal. Four others have declared for the NFL Draft.
The headliners in the latter group include All-SEC first team junior defensive end BJ Ojulari along with senior safety Jay Ward, junior cornerback Mehki Garner and senior wide receiver Jaray Jenkins.
None of the players that have entered the portal were starters this past season, instead leaving in search of additional playing time, potentially a starting role elsewhere.
LSU's positioned for a top-five recruiting class in Kelly's first full season, a two-day period that begins Dec. 21, and is the preferred method of program building by the veteran coach.
"We need to grow, and you've got to do that by recruiting freshmen and giving them the opportunity to step on the field and develop," Kelly said during a Dec. 4 news conference. "You can't do that if you keep bringing in freshmen at one position and then bring in a portal guy who's got one year and putting them in front of them."
Kelly's compiled 25 commitments in the Class of 2023 that covers a broad spectrum with 11 different states represented and a sturdy foundation of 10 players from Louisiana.
He stopped short, though, of identifying the positions and numbers of players the Tigers would like from the transfer portal.
A second transfer portal takes place after spring practice May 1-15.
"But here's what I would tell you," Kelly said. "They've got to be the right fit first. They've got to recognize the value of an education from LSU. They've got to have the right traits. We're not just open for business. We're not just putting a sign up saying, "Hey, we're going to take whoever'.
"They've got to be the right fit," Kelly added. "I prefer that they're from the state of Louisiana if we can find them. And then we're going to address needs based upon how that freshman class marries into it by the particular needs by position class. We're not going to overload a particular position group. In other words, if we've got three or four wide receivers that are freshmen coming in, you may not see a heavy influence in the portal in that position."
Kelly was able to redshirt six players from his first recruiting class at LSU that includes five-star quarterback Walker Howard and four-star edge rusher Quency Wiggins. The Tigers were also able to redshirt cornerbacks Laterrance Welch, Jordan Allen center Fitzgerald West Jr. and defensive tackle Tygee Hill. Cornerback Jaelyn Davis-Robinson was also redshirted but entered the transfer portal on Thursday.
Since the portal opened LSU's made a concerted effort to address defensive line and tight end.
The Tigers have extended scholarship offers for defensive tackle Braden Fiske of Western Michigan, edge rusher Bradyn Swinson of Oregon, defensive tackle Paris Shand of Arizona and defensive end Josaiah Stewart of Coastal Carolina. Defensive lineman Kyon Barrs of Arizona, who also received an offer from LSU, committed to USC.
They've also extended an offer to tight end Kyle Morlock of Division II Shorter University but the Florida native committed to Florida State on Thursday.
Fiske, a 6-foot-5, 300-pounder, has 146 career tackles, 27 ½ tackles for loss and 13 ½ sacks during his career and has one year of eligibility remaining. The 6-4 1/2 , 233-pound Swinson, who has two years of eligibility left, has 35 tackles, 5 ½ tackles for loss and 3 sacks in three years at Oregon.
Shand, a 6-5, 290-pounder with two years of eligibility, has 41 tackles with 5 ½ tackles for loss, two forced fumbles in two years at Arizona. Stewart, a 6-2, 230-pounder, compiled 79 tackles, 25 ½ tackles for loss and 16 sacks in two seasons at Coastal Carolina. The native of Everett, Massachusetts narrowed his finalists Dec. 12 to LSU, USC and Michigan.
"I think everybody's got their own business plan," Kelly said. "I think how we're using it is, internally the second window is much more about how our guys develop. We're giving them an opportunity to develop and do the right things. Make sure that they're going to class, making good choices, making good decisions, doing it the right way. And in the weight room, developing in the manner that we expect them to and if not then, you know that portal opens up in May."