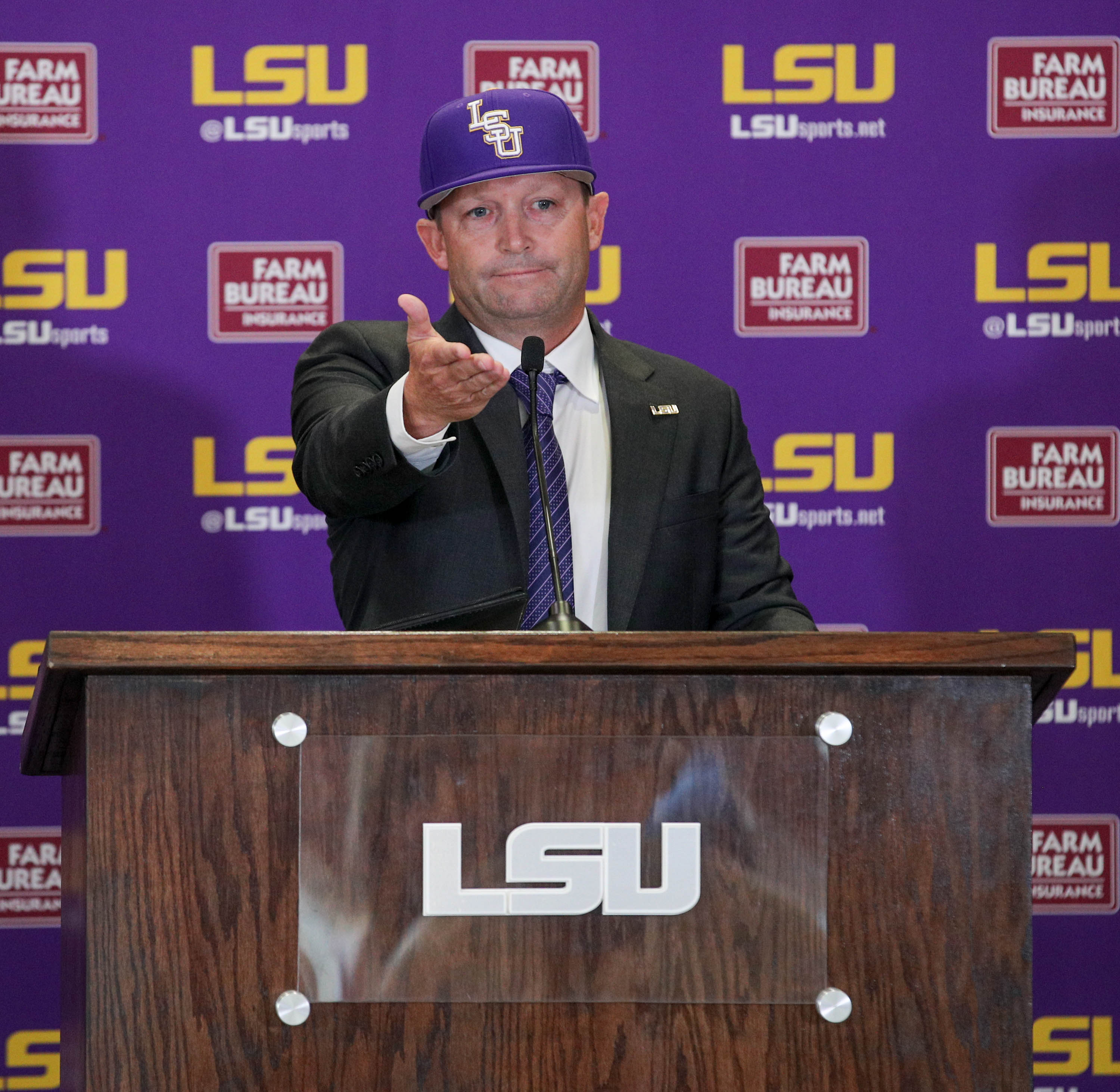 Not long after Jay Johnson became LSU's baseball coach in June, he realized the difference between this program and the one he left behind at Arizona.
This had nothing to do with geography either.
All it took was a night out in Baton Rouge. While at a restaurant with his wife, Maureen, Johnson spent more time taking pictures and signing autographs than enjoying the local cuisine.
"I love it here," Johnson said. "People know who you are and that part of it is cool as a coach. You want to have those expectations and for people to be excited about your program."
Johnson realizes much is expected of him. That bodes well for an LSU team uncharacteristically looking up at the top of the SEC. The Tigers finished ninth in the conference standings last season.
Paul Mainieri retired after coaching LSU to one last NCAA Super Regional, his ninth in 15 seasons.
Johnson, 44, brings a 316-172 record to LSU in nine seasons at Arizona, Nevada and Point Luma Nazarene. Arizona made the 2021 College World Series and were the national runner-up in 2016.
Tiger Rag editor Adam Hunsucker visited with Johnson prior to the season opener against Maine.
Tiger Rag: How have you transitioned from Arizona to LSU? Has the process been what you expected or how was it different?
Jay Johnson: I think probably exactly what I thought to be honest with you. Obviously with the tradition, the interest and the excitement in the program, all those things are at the highest level of college baseball. I'm honored to be a part of that and be a part of a program that so many people care about. It's meaningful to them, which is why they support us the way that they do and that's exciting.
On the flip side of it, to me the work is the work. It's a well thought out, deliberate process of developing the team and the program. Honestly all of that has been the same and really in my wheelhouse.
TR: It's funny you mentioned process. Coaches love that word but how does it differ in baseball, where failure is such a part of the sport?
JJ: The most powerful thing that our players can have is the ability to focus on the task at hand. If they can do that at a high level and do it on a daily basis, that will lead to winning. The problem is when you put the result in front of what it takes to get there, it complicates things and you will not be as effective.
TR: You've said multiple times that you aren't afraid of the expectations at LSU. Does that come from just being a competitor?
JJ: 100 percent. I would not have left the job I was at for any other job in the country other than here. When I think about growing up and being a young baseball player in the 90s, there was a good chance LSU was in Omaha and competing for a national championship. It felt like a 50-50 chance that if you flipped a College World Series game on, there was gonna be a purple jersey on the field. To me, LSU is college baseball and I'm looking forward to the challenge.
It takes discipline to run a program like this and run it successfully in an era where college baseball is more competitive than it's ever been. There's more parity than there's ever been and what a great challenge. I'm full immersed in it.
TR: You're right that college baseball is as competitive as it's ever been. What conversations have you had with LSU brass about committing the resources to return to the top?
JJ: We're supported here with our administration in terms of the way the game is changing with the transfer portal, NIL and what other SEC programs are doing to improve. Arkansas has a beautiful new facility, Ole Miss dumped $40 million into their program and Texas A&M is spending more money on college baseball than any school ever has. It'll be important that we continue to push and I'm confident that there are enough people around here that care about LSU baseball to put those things in order.
I do think we need to start with a reality check. We were a ninth-place team in the SEC last year, so we're not in the top tier right now and that's ok. If you improve with the talent we have, and part of the reason I chose to come here is I believe there's really good players on the roster that we can positively impact, so I'm really looking forward to moving back to where LSU has been. It's a lot easier said than done, so we're paying attention to a lot of details. The players have been great relative to the buy-in.
TR: The preseason polls don't agree with your assessment. LSU is picked anywhere from third to eighth nationally depending on the outlet.
JJ: I don't worry about it. I can't. My job is to develop the team, which means developing the players so my focus goes on not just the winning and the expectations, I'm well aware of what those are, but what we have to do to get that.
If I want the player to do that, then I have to have the self-discipline to do that myself and I'm committed to that. I know that's a boring answer, but I'm committed to that.
TR: You were able to bring three impact players with you from Arizona in Jacob Berry, Riley Cooper and Bryce Collins. How active will LSU be in the portal going forward?
JJ: It was a big positive for us. I've always looked at it as you can complain about it or you can adapt and get moving. I think it's Billy Beane in the movie "Moneyball" that said you adapt or die. The transfer portal and NIL are two of the biggest changes I've seen in my tenure as a college coach, but I think we're being proactive to use them to our advantage.
It helped that those three guys played for me, but it was also in the best interest of LSU. I'm not doing my job if I think a player can help us here, and I don't recruit them as hard as I can. That doesn't make any sense.
TR: You said in January that one of your players gave back his scholarship because he was able to pay for school through his NIL earnings. Do you see NIL having the same impact in college baseball that it has in football?
JJ: It's a big deal. We knew it was coming down the pike, and to be honest, I think we have an opportunity to create a unique platform for our players to create value through their name, image and likeness because there is so much interest in this program. I think we have a brand where you see that step-down LSU logo or a purple jersey and there's no question about who's playing on TV. If the amount of interest we have opens doors for our players to create opportunities for themselves, it's going to help a ton.
TR: You came up as a hitting coach, so you have to feel good about the potential of this lineup with bats like Jacob Berry, Dylan Crews and Tre' Morgan.
JJ: I think we have the potential to be an incredibly difficult lineup to pitch against because we have a lot of versatility. You mention the power, we do have the ability to change the game with one swing, but I think we worked really hard on plate discipline and taking quality at-bats. That's a daily part of our process and I think some guys have improved.
When I analyzed the situation and decided to come here, plate discipline and the amount of quality at-bats were at the top of things we had to improve. I think we can win a lot of games with speed, power and the ability to execute. All those things are important. We can win some games on talent alone and popping one out of the park, but we can't get to Omaha without managing the strike zone and moving the offense and we're working daily to do that.
TR: Pitching is a question mark right now and you've kept that close to the vest —
JJ: I look at it a little differently.
TR: Go ahead.
JJ: I've always believed in what we need to do to win and just because something has been done a certain way for a long time, that doesn't mean that that's the way it always has to be done. I'll use Alabama football as an example. Think of all those great running backs they had. I'm sure Nick Saban would love to run the ball, slow the game down and smother teams on defense. That was a very successful brand of football, but the game changed with the spread and up-tempo. They've changed but the results haven't.
For the first time in a long time at LSU, we don't have that returning weekend starter piece. To try and say these guys are going to do that when they've never done it, that's not fair. I may be asking a guy to do too much and that won't set them up to be successful. I think there are some candidates and we have a way of adjusting to get those outs with a lot of guys contributing to that. I'm just choosing not to box ourselves into not utilizing all our resources.
TR: Will the rotation be sorted out by the first SEC weekend against Texas A&M (Mar. 18-20)?
JJ: I think that's fair, but what's best that weekend against Texas A&M may not be the same thing against Florida the following weekend. It's a boring cliché but taking it one game and one weekend at a time to set ourselves up for success, I think we have to look hard at that until we got those pieces in place.
TR: Who has influenced you the most as a coach?
JJ: My direct biggest influence is my dad, who was an outstanding football coach and track coach. He didn't lose a dual meet for like 10 years in track. Just growing up in the house of a coach, this is all I've ever known is being part of a team and seeing what leading teams looks like.
My college coach, Scott Sarver at Point Loma Nazarene, gave me an opportunity right away once I was done playing. I was 24 years old coaching third base, running and offense and being a recruiting coordinator. Nobody gets to do that at that age, so I got to learn on the fly he was a big influence on me.
When I went to the University of San Diego to be the associate head coach for Rich Hill, outside of my dad he's probably had as big an impact on me as anybody. I honestly believe had he chosen to go to a Power-Five school, he would have been a multiple College World Series and national champion coach. In terms of coaching and leading a program, he's top shelf.
TR: How has your family handled the move to Baton Rouge?
JJ: It's just my wife and I, so that made it a little easier. She wasn't working at the time, but she was an associate athletic director for compliance at Arizona and at the University of Nevada, where we met. She worked for Bob Stoops at Oklahoma and grew up in South Bend around Notre Dame, so she understands this profession as well as any wife could. There was no hesitation on her part. She was really clear that this comes across once in your life and there was no discussion.
I say it all the time that coaches will talk about how supportive their spouses are, but I'm lucky to have one that makes our program better because of her experiences and background. I'm very thankful for that.