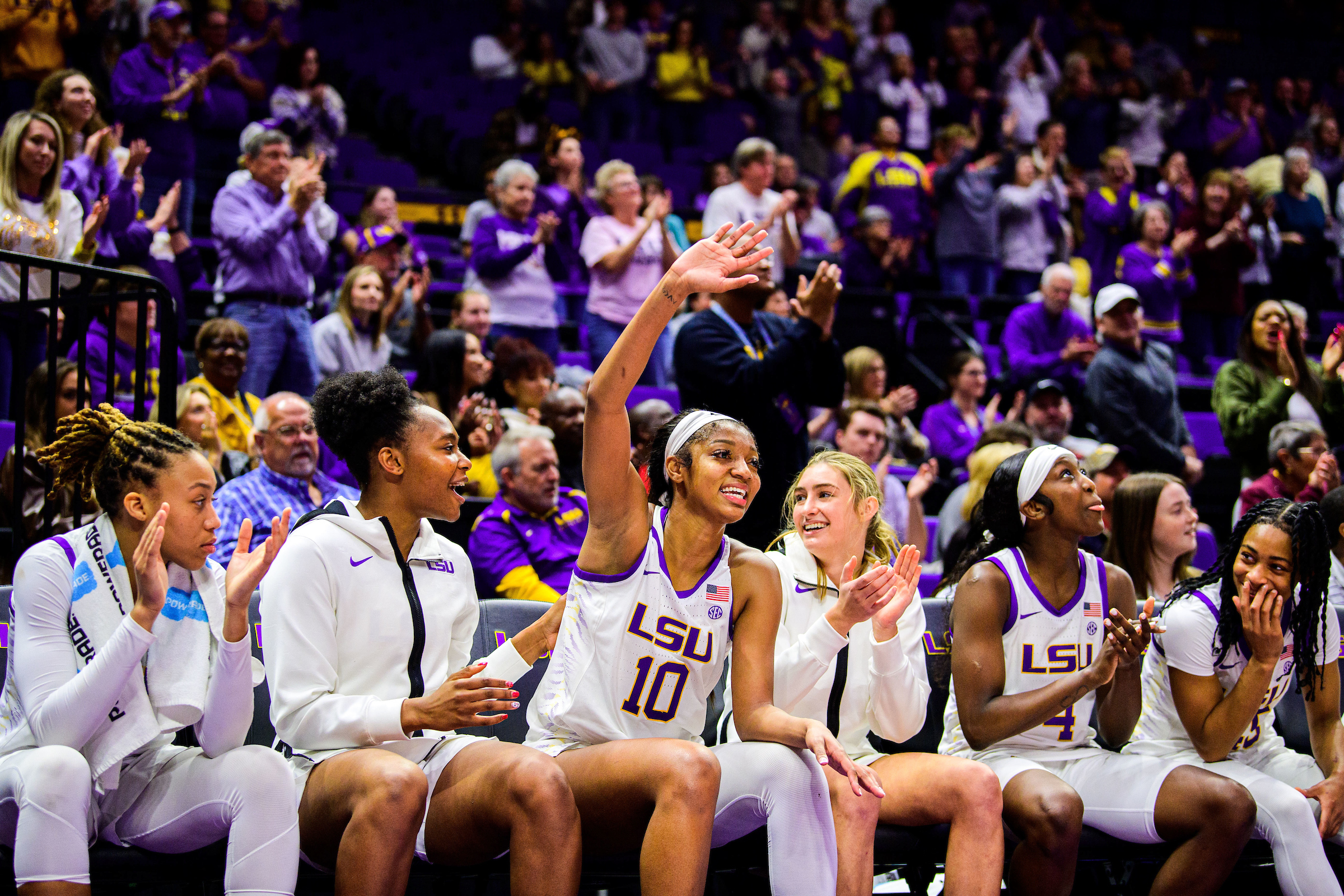 LSU freshman guard Flau'jae Johnson left Thursday's postgame interview following an emphatic 74-34 win over Texas A&M with a message to everyone.
"That's greatness right there," Johnson said in the direction of teammate Angel Reese who was two seats over.
Who's to argue.
Reese, the nation's sixth-leading scorer and top rebounder, became the first Southeastern Conference player in 20 seasons to score 26 points and pull down 28 rebounds, according to ESPN's Stats and Information Research. Her rebound total was a school record established 45 years earlier by Maree Jackson, the mother of WNBA star Lauren Jackson.
The 6-foot-3 Reese, who transferred from Maryland, has been the ultimate stat sheet-stuffer with 15 straight double-doubles to lead No. 7 LSU to a 15-0 start and 3-0 showing in SEC play going into Sunday's game.
The Tigers travel to Kentucky (8-7, 0-3) for a 1 p.m. game at Rupp Arena which will be streamed on SEC Network+ and will be broadcast locally over 107.3-FM.
"She's just relentless in her pursuit to rebound," Texas A&M coach Joni Taylor said of Reese. "You must have a passion to do it. She rebounds out of her own area, and she rebounds her own shots a lot. What I love about her is her motor. She goes hard every time she's on the floor."
Reese already enjoyed one 20-20 game this season with 20 points and 25 rebounds on Dec. 18 in the Maui Classic in an 87-55 blowout of Oregon State.
After missing her first four shots of the game, Reese remained composed against A&M and delivered a memorable performance after a season-low eight points for the Tigers in the opening quarter.
She scored 13 points and had 17 rebounds by halftime that had quite a conclusion.
Reese scored nine of her team's last 13 points and had a steal at midcourt to set up a desperation heave that swished through net at the buzzer for her first 3-pointer of the season.
LSU led 34-12 and wasn't severely threatened by an A&M team with seven healthy players.
Reese controlled the paint area to help limit the Aggies to 14 made field goals and 21% shooting. She also continued to help LSU control the boards and added a pair of baskets in the third quarter, including a reverse layup with 1:12 showing that made it 57-21. The Tigers scored the last 10 points of the quarter and built a 60-21 cushion after Last-Tear Poa's two free throws.
Reese credited her instincts and rebounding prowess to that of her mother, also named Angel, who played collegiately at Maryland Baltimore County.
"I have an eye for the ball," she said. "I get that from my mom. She was a great rebounder. I kind of learned young. I have a good eye for the ball and have good hands. Once the ball goes up, I know exactly where it's going to drop to. I know where all of my misses are going."
Reese seemingly knew where everyone's misses were going Thursday, entering the fourth quarter against A&M seven rebounds shy of Jackson's school record that she last reached in 1978.
With LSU continuing to extend its lead to more than 40 points, the focus turned to Reese's pursuit of the 45-year-old school mark. She tied it with 4:11 remaining on a three-point play following an offensive rebound for a 68-26 lead.
She added a pair of free throws for her 26th point, her third highest of the season, before grabbing a missed 3-pointer from A&M's Sydney Bowles with 2:34 remaining for the record.
Reese's rebound effort was best by an SEC player since the league first sponsored the sport in 1979-80. According to Hoop Stats, she's the third player since 2009 with 26 points and 28 rebounds in the same game and remains four double-doubles away from equaling Sylvia Fowles' school record for 19 straight.
"A lot of great players have come before me," Reese said. "On the 15th, Seimone Augustus has a statute going up. I want to be like that. I want to set records. I want a statue one day. Being able to look up like that, players like Sylvia Fowles, I love to be able to be in those columns. I'm just grateful and blessed to be in the situation that I'm in."