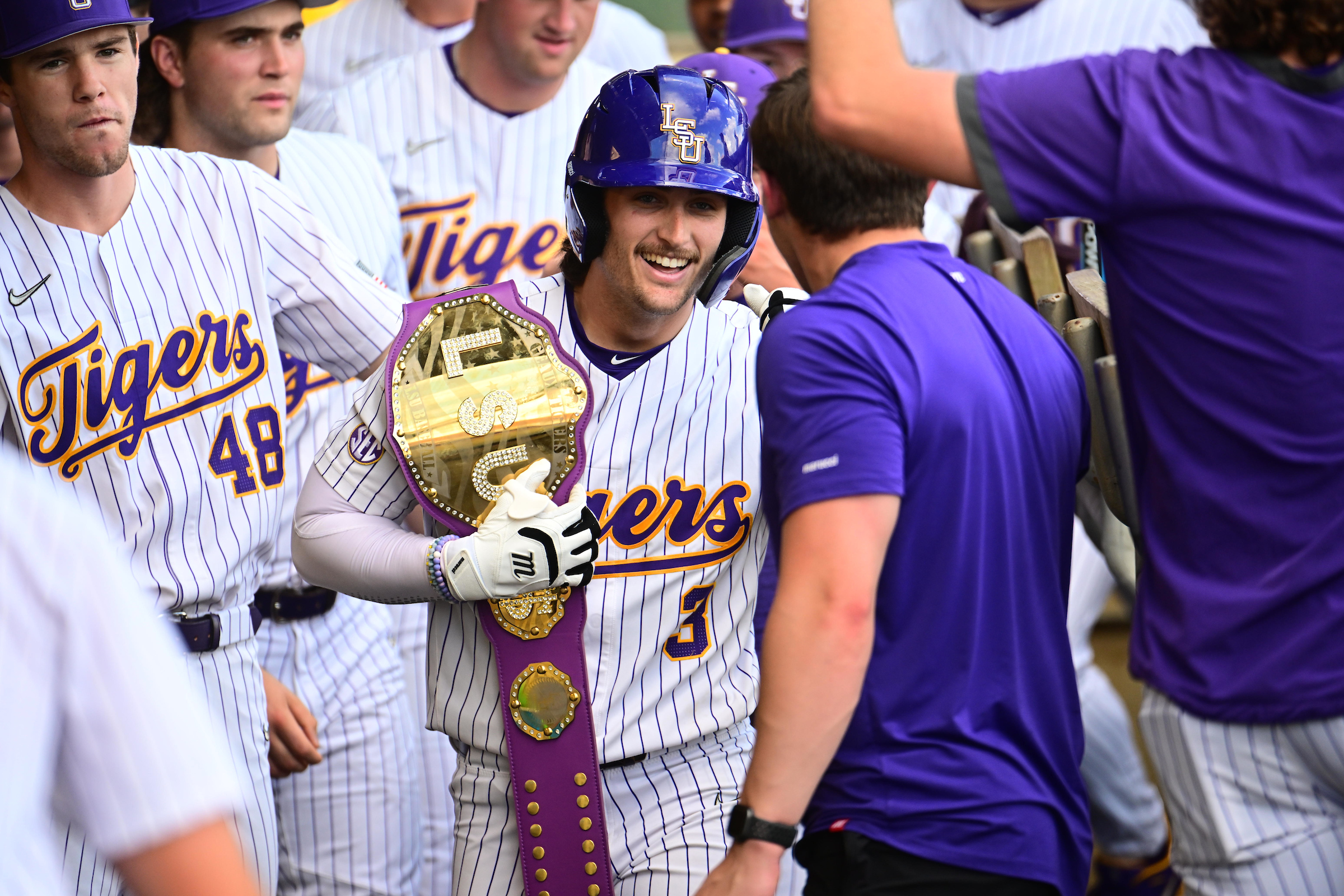 LSU is ranked No. 1 in the 2023 Perfect Game preseason poll, and junior centerfielder Dylan Crews was named Perfect Game's Preseason Player of the Year.
The top ranking represents LSU's second in the past two weeks – the Tigers are also No. 1 in the Collegiate Baseball newspaper preseason poll that was released on December 20.
LSU reports to campus next week, as full-squad preseason practice begins on January 27. The 2023 season starts on February 17, when LSU plays host to Western Michigan in Alex Box Stadium, Skip Bertman Field.
LSU returns six position players that started in a significant number of the Tigers' 62 games last season, including Crews, the 2022 SEC Co-Player of the Year and a consensus first-team All-American last season.
Crews, also named Collegiate Baseball's 2023 Preseason Player of the Year, batted .349 last season with 11 doubles, four triples, 22 homers, 72 RBI and 73 runs. The Tigers' centerfielder was named a semifinalist last season for the Golden Spikes Award and for the Dick Howser National Player of the Year Award.
He finished the season as the SEC leader in runs scored (73), and he was No. 2 in the league in triples (4), No. 3 in RBI (72), No. 3 in total bases (172), No. 4 in home runs (22), No. 4 in slugging percentage (.691), No. 5 in hits (87), No. 5 in on-base percentage (.463) and No. 8 in walks (42).
LSU is one of eight Southeastern Conference teams appearing in the Perfect Game 2023 preseason Top 25, along with No. 2 Tennessee, No. 4 Arkansas, No. 6 Ole Miss, No. 8 Florida, No. 10 Texas A&M, No. 11 Vanderbilt and No. 17 Auburn.
Perfect Game 2023 Preseason Top 25
Rank Team (2022 Final Record)
LSU (40-22)
Tennessee (57-9)
Stanford (47-18)
Arkansas (46-21)
Wake Forest (41-19-1)
Ole Miss (42-23)
Louisville (42-21-1)
Florida (42-24)
Miami (40-20)
Texas A&M (44-20)
Vanderbilt (39-23)
UCLA (40-24)
North Carolina (42-22)
TCU (38-22)
Virginia Tech (45-14)
Texas Tech (39-22)
Auburn (43-22)
Oklahoma State (42-22)
Virginia (39-19)
Oregon (36-25)
NC State (36-21)
Maryland (48-14)
Oregon State (48-18)
Texas (47-22)
Southern Miss (47-19)