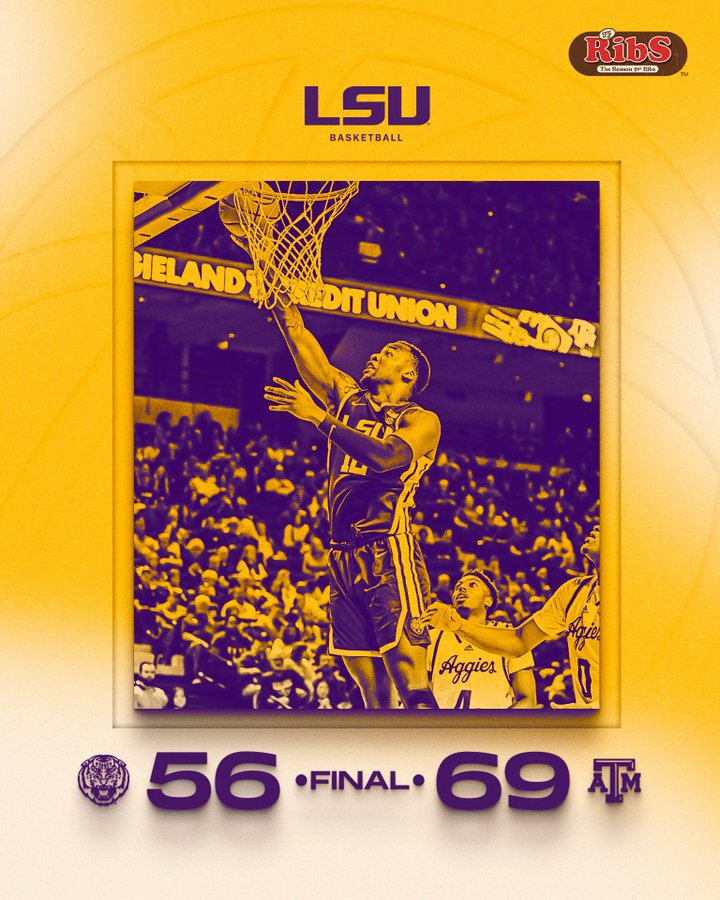 It doesn't matter if you know what's coming at you if you're powerless to stop it.
LSU knew exactly what to expect from Texas A&M in Reed Arena on Saturday, Tigers coach Matt McMahon said.
But that did not matter. LSU could do nothing to combat it.
Consequently, a smaller, much more physical Texas A&M team literally whipped LSU inside all night, had four players score in double figures, and drummed the Tigers, 69-56, in a Southeastern Conference matchup.
For the first time in the McMahon era, LSU (12-3, 1-2 in SEC) is reeling and looking for answers.
"Credit there to Texas A&M," McMahon said. "I knew their physicality coming off their road win at Florida on Wednesday. I thought they played really well, and it was very physical game, so we knew what was coming, but I didn't have our guys ready and prepared to attack it accordingly."

Texas A&M outscored LSU 42-10 in the paint, outrebounded the bigger Tigers, 38-27, and made nine more field goals while outshooting the Tigers, 48.1% to 34.7%.
"I've never seen a team win when they got outscored, 42 to 10 in the paint," McMahon said. "I've never seen it. I'm surprised the game was that close."
A&M (10-5, 2-0 in SEC) beat LSU for the first time since 2017, breaking a 10-game losing streak to the Tigers. The Aggies led virtually the entire game, more than 37 minutes.
Dexter Dennis, a native of Baker, Louisiana, and Julius Marble each scored a season-high 17 points, and Texas A&M pulled away early and won its fourth-straight game.
Tyrece Radford, a graduate of Baton Rouge's McKinley High, added 14 points and Wade Taylor IV had 13 for the Aggies.
LSU was led by Adam Miller's16 points, including five 3-pointers. Cam Hayes and KJ Williams had 10 apiece. All of Hayes' points came in the first half when he played 19 minutes.
Hayes only played six minutes in the second half after appearing to injure his ankle in the first half. Williams, the second-leading scorer in the SEC, scored two points in the first half.
"I thought their domination of the painted area was the difference in the game, but I like to look at it from more of a solution-oriented perspective," McMahon said.
"We've got to find a way to rebound a basketball. We've got to figure out a way. We've got to figure out a way to quit getting beat on these straight-line drives. And then when you're struggling to rebound a ball, you can't give the ball away. And we gave it away too many times today."
LSU turned the ball over 15 times, but Texas A&M scored 17 points off of those turnovers.
The Aggies took the lead for good early in the game and built a 34-23 halftime lead.
Dennis scored 15 points in the first half and that included a pair of 3-pointers, while Taylor added nine points. LSU shot 29% and missed 10 of 14 from deep before halftime.
LSU pulled to within 42-33 but didn't get closer in the second half. Texas A&M shot 50% in the second half.
Texas A&M's last win in the series was an 85-73 victory in Baton Rouge on Feb. 4, 2017. The Aggies moved to 4-0 in SEC home openers under fourth-year coach Buzz Williams.
LSU, which has now lost two SEC games in a row since opening conference play on Dec. 28 in Baton Rouge with a 60-57 win over then No. 9 Arkansas, hosts Florida on Tuesday at 6 p.m. in the Pete Maravich Assembly Center.