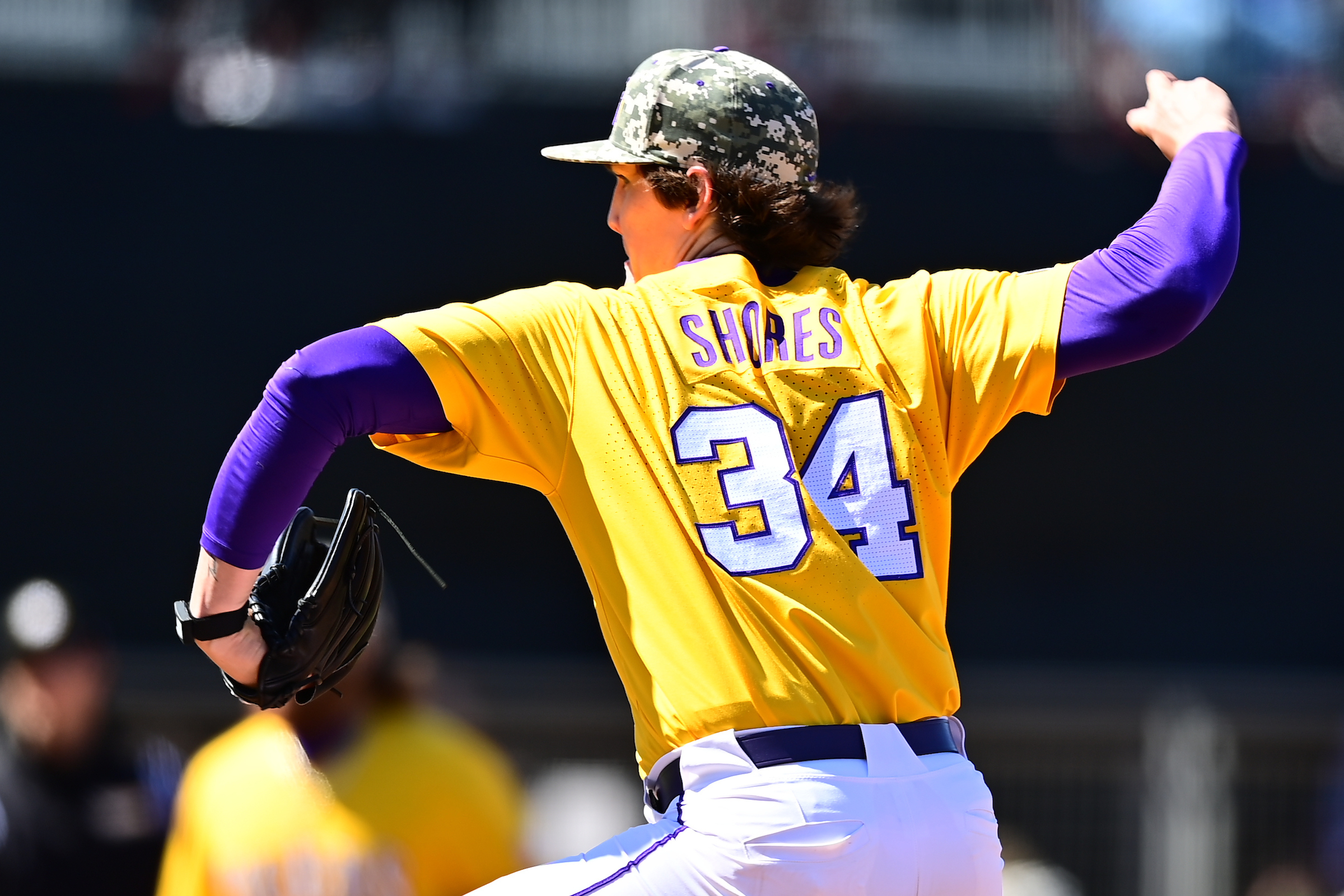 Texas A&M stashed away all the brooms in Bryan-College Station on Sunday. LSU could not find them.
After a blowout (9-0) in Friday's opener, and an offensive explosion that resulted in a rally and a relatively comfortable win on Saturday (12-7), No. 1 LSU found itself in an old-fashioned Southeastern Conference dogfight to the finish at Texas A&M in the series-opening finale on Sunday.
Texas A&M scored four runs in the bottom of the eighth inning to rally from behind and beat the Tigers, 8-6. Run-scoring singles by centerfielder Stanley Tucker and shortstop Hunter Haas highlighted the Aggies' eighth-inning.
The Aggies (14-6, 1-2 SEC) ended LSU's 13-game winning streak. The Tigers are 18-2 overall and 2-1 in the SEC.
Texas A&M reliever Will Johnston (3-0) picked up the win with three innings of work, facing 10 batters. He allowed no runs, one hit and struck out three.
Christian Little (2-1) took the loss for LSU, allowing two runs on two hits in an inning with two walks and three strikeouts.
The Aggies scored four runs on three hits to take to take their first lead of the game heading into the ninth inning.
"I'm proud of the way our guys prepared and competed over the course of the weekend," LSU baseball coach Jay Johnson said. "We played great baseball for the majority of the weekend. We didn't allow a ton of free bases from the mound, but we did today, and Texas A&M is a good enough team to cash in when that happens. I felt like we gave a good effort, but we obviously wanted to finish off the series with a win today."
LSU jumped on Texas A&M early, scoring four runs in the top of the first and did not relinquish the lead until the eighth when the Aggies broke through after chasing all game long.
LSU led 6-4 going into the bottom of the eighth when Texas A&M's Austin Bost got his first hit of the game to lead it off, a single to center field.
LSU reliever Chase Shores then hit Ryan Targac with a pitch and the Tigers coaching staff decided to bring in Little at that point with runners on first and second and no outs to face Jace Laviolette.
Little walked Laviolette to load the bases with no outs after an eight-pitch battle.
Little struck out A&M's Jordan Thompson swinging for the first out. He struck out pinch-hitter Trevor Werner but fell behind pinch-hitter Kasen Wells, 3-1 and eventually walked him on a 3-1 pitch for LSU's seventh walk of the day, to score Bost from third and drawing the Aggies to within one run, 6-5.
Tucker's two-out single through the left side of LSU's infield followed and the Aggies led, 7-6. Haas then hit his eight hit of the series and fourth hit of the game, scoring Wells, to make it 8-6, Aggies.
LSU freshman designated hitter Jared Jones punched a 0-2 pitch into center field for a one-out single in the ninth, but was left stranded when Jordan Thompson struck out and Brady Neal flew out to end the game.
LSU cranked up the offense early and got on the board quickly, scoring four runs on two hits in the top of the first inning. Josh Pearson hit a two-run single to right field to drive in Dylan Crews and Tommy White to give LSU a 3-0 lead.
Thompson singled to center, driving in Dugas to add another run. Cortez had trouble with his command after striking out Paxton Kling on a breaking ball but walked Morgan and Crews and was charged with an error when White hit a sharp grounder at him to load the bases.
Cortez next walked Dugas, scoring Morgan from third and leaving the bases loaded for Pearson, who slapped a 2-2 pitch from Cortez to right for his fourth and fifth RBI of the series.
LSU starter Thatcher Hurd gave up his first home run of the season when Jack Moss hit a solo shot to right center with two outs, to cut LSU's lead to 4-1. Hurd forced Bost to fly out to first base to end the inning.
LSU went up, 5-1, in the top of the second when White hit a two-out, two-strike RBI single to left field scoring Crews, who had reached on a stand-up double. It was Crews' ninth double of the season and extended his hitting streak to 18 games, while White's RBI was LSU's team-leading 34th of the season and the seventh of the weekend series.
Hurd put the Aggies down in order in the bottom of the second, striking out two.
Texas A&M took advantage of two wild pitches by Hurd in the bottom of the third, to cut it to 5-2.
LSU had threatened in the top of the inning when Neal singled up the middle with one out after Thompson had been hit by a pitch. Kling then hit a hard groundball to short. The Aggies cut down Neal at second base, but Kling beat out the double-play attempt throw to first, sending Thompson to third and leaving runners on the corners with Morgan batting. He grounded out to shortstop to end the threat.
Texas A&M's Kaeden Kent led off the bottom of the inning with a single to the left side of the Tigers' infield, catching LSU in a shift. Hurd struck out Bard and then forced Tracy to fly out to left, but with two out, Haas singled to shortstop and then Kent and Haas advanced to second and third on a wild pitch. On the next pitch, Hurd threw another wild pitch off the back stop, scoring Kent from third to make it, 5-2, and advancing Haas to third.
Hurd then walked Moss, putting runners on the corners with two outs before Bost flied out to shallow right field for the final out.
Hurd's command issue reappeared in the bottom of the fourth.
Hurd hit Targac on the first pitch, but then struck out Jake Laviolette swinging. Thompson then flared a single over Gavin Dugas, moving Targac to second base with one out when left-hander Riley Cooper relieved Hurd.
With the count full, Kent grounded back to Cooper who fielded it clean and fired it to Thompson at short for a 1-6-3 double play, LSU's first of the series, to end the Aggies' threat.
Haas hit a two-run double to right-center to score Max Kaufer and Stanley Tucker to help Texas A&M push across two runs with no outs in the bottom of the fifth, cutting LSU's lead, 5-4.
Cooper then walked Moss in four straight pitches and was replaced by freshman Chase Shores. Bost was the first batter faced by Shores, and Shores immediately forced Bost into a 4-6-3 double play that was close at first base. The Aggies challenged. The double play withstood the replay challenge but left Haas on third with two outs.
Shores then knocked down a hard comebacker from Targac, picked up the ball and fired it to first put him out and snuff out the threat.
Crews hit his second double of the game, his 10th of the year, a deep fly to right that Aggies' right fielder Thompson misjudged and the ball bounced into the stands for a ground-rule double. Lamkin then punched out White to record his fifth strikeout. Dugas fell behind Lamkin 0-2 with two outs, evened the count at 2-2, but then flew out to deep to left field where Tucker made a diving catch to end the inning.
LSU led 6-4 when Pearson walked to lead off the seventh for LSU, advanced to the second on a wild pitch from Hogan and scored on a sacrifice fly by Neal two batters later.
The Tigers got out of the bottom of the seventh unscathed but not without some drama first.
Shores struck out Kaufer to begin the frame, but then walked Tucker and Haas promptly singled to right, his seventh hit of the series and third hit of the game. Haas' single sent Tucker to second. Moss lined out to third for the second out, but Tucker appeared to slide safely into third on the play but then was ruled to have slid past the bag and was tagged out. The play stood upon review and LSU still held a two-run lead.
Texas A&M's left-handed reliever Will Johnston sat down Crews, White and Dugas down in order in the top of the eighth.
LSU returns to action at 6:30 p.m. Tuesday when the Tigers play host to Central Arkansas in Alex Box Stadium, Skip Bertman Field. The game will be broadcast on affiliates of the LSU Sports Radio Network, and it will be streamed on SEC Network +.