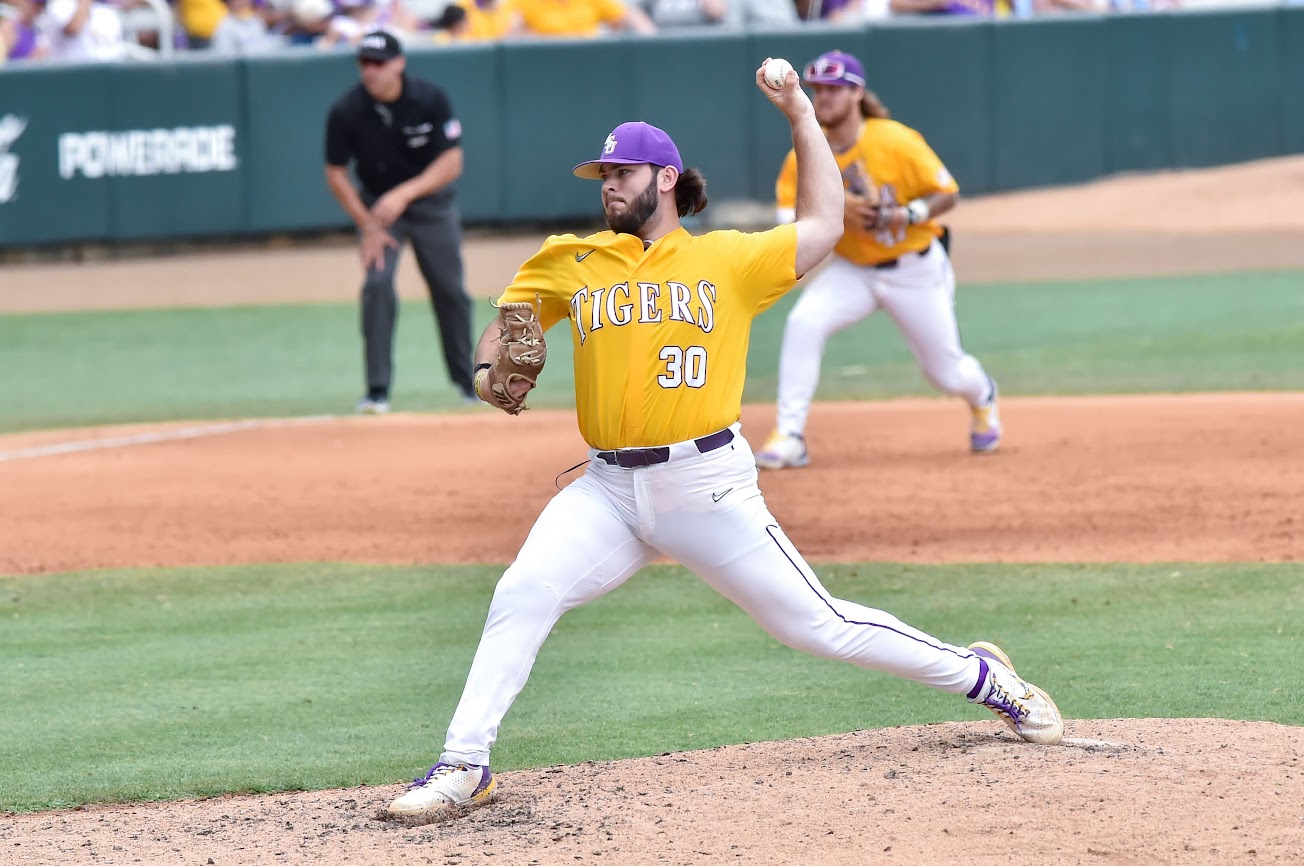 Just when LSU's pitching future looked so bright and fans could see Omaha, the pitching coach is out of here.
As LSU was wrapping up its 13-7 victory over Oregon State on Monday that captured its first home NCAA Regional title since 2019, word spread that Georgia had confirmed the hiring of LSU pitching coach Wes Johnson to be its head coach. He will replace Scott Stricklin, who was fired two weeks ago.
The postgame huddle in right field was not all celebratory with giddy preparation notes for the Super Regional this weekend at Alex Box Stadium. It partly focused on Johnson leaving after just one season. He will continue to coach LSU (46-15) in the Super Regional against Kentucky (40-19), which beat Indiana, 4-2, on Monday night to advance.
Johnson will stay through the College World Series in Omaha, Nebraska, should the Tigers advance.
Still, the news hit hard. Johnson arrived at LSU less than a year ago after coaching the Minnesota Twins pitchers in Major League Baseball from 2019 through midway through the 2022 season.
"Absolutely," LSU catcher Hayden Travinski said. "There are multiple pitchers he helped propel forward in a big way. He's a great baseball mind. Great human. He's going to do great things at that school. And I couldn't be happier for a person."
LSU had not won three straight games over a four-day period since it swept three from Alabama on April 28-30. And the Tigers did so because of consistent pitching that it did not have through virtually all of May. The Tigers dropped series to Auburn and Mississippi State last month, could not sweep last place Georgia and lost two straight in the SEC Tournament.
LSU's pitching blew leads throughout May.
"I think the preparation and the execution of the pitching staff this weekend speaks for itself," LSU coach Jay Johnson said.
Not bad by Wes Johnson, who accepted the Georgia job last week.
"Yeah, he's locked in," Jay Johnson said. "This has been done for about five days. I love him like a brother. I can't imagine only spending 11 months with somebody and connecting the way that we have. I just love working with him."
Paul Skenes (11-2) was his usual self on Friday in a 7-2 win over Tulane in the NCAA Regional opener. He threw a season-high nine innings and struck out 12 with no walks and seven hits. His last pitch was 102 miles per hour.
ESPN announcer Ben McDonald credited Wes Johnson with Skenes' sudden development from a second-round pick entering the season to the top of the first round.
"When he showed up for fall ball, and just because of a different weight program, he picked up three miles per hour to 96," said McDonald, a former All-American LSU pitcher who was the first pick of the Major League Baseball Draft in 1989. "And then he got with Wes Johnson, and he cleaned up his mechanics, and he picked up another two or three miles per hour on top of that. So, the fastball has gone from averaging 93 mph a year ago to above 98 this year."
Johnson worked on Skenes' mechanics.
"Wes said he wasn't using his legs and his body," McDonald said. "He wasn't mechanically as smooth as what he should have been. He revamped the breaking ball. He's throwing that sweeping slider that all the big league guys are throwing now. That comes from Wes Johnson having big league experience. He credits Wes a lot to his success and his jump. When the season began, he was projected as the No. 4 college pitcher off the board, and clearly he's going to be the first college pitcher off the board."
After a rain delay on Saturday, Thatcher Hurd (6-2) continued his late-season improvement run on Sunday. He struck out 12 and allowed four runs on seven hits through five innings of relief after a delay for inclement weather for the win. Ty Floyd started the game and looked good, allowing five hits, a run with five strikeouts and two walks over three innings before the delay. Gavin Guidry struck out two in one inning of one-hit relief for his second save.
And on Monday, four LSU pitchers scattered eight hits. The Tigers led 12-4 after eight innings before some meaningless runs in the ninth inning by Oregon State. Little-used Griffin Herring (4-2) picked up the win with three innings of three-hit relief with four strikeouts and one walk.
"This is a development-based business," Jay Johnson said. "Sometimes guys develop at different times. Griffin Herring probably wasn't ready to do what he did today in March. But he developed over the course of time. And because we had gotten him in some of those situations, he was totally in control of himself out there."
Thank you, Wes Johnson.
"He's made a big impact on our guys, and it's been great," Johnson said. "It is what it is."
Reliever Riley Cooper started for only the third time all season and shut out Oregon State on no hits through the first three innings before allowing two runs and two hits in the fourth. LSU had already taken a 4-0 lead in the top of the fourth, though, as Josh Pearson tripled in two runs.
The Tigers took a 6-2 lead in the fifth on back-to-back home runs by Travinski (10th) and Cade Beloso (13th). Dylan Crews led off the sixth with his 17th home run of the season for a 7-2 lead. LSU scored five in the seventh for the 12-4 advantage. Gavin Dugas led off with his 14th home run. Tommy White drove in two runs with a single and Travinski singled in another run. Tre Morgan doubled in a run in the ninth for a 13-4 LSU lead.
"It was very complete baseball," Johnson said. "I think it was complementary baseball."
And not a moment too soon. Johnson is now two wins away from taking LSU to Omaha for the first time since 2017 in his second season.
"I have no concern whatsoever of them being ready to play next weekend," he said.
And that includes his pitching coach having basically one foot out the door. 
"I don't have any reason to worry about how we're going to roll going forward," Jay Johnson said.