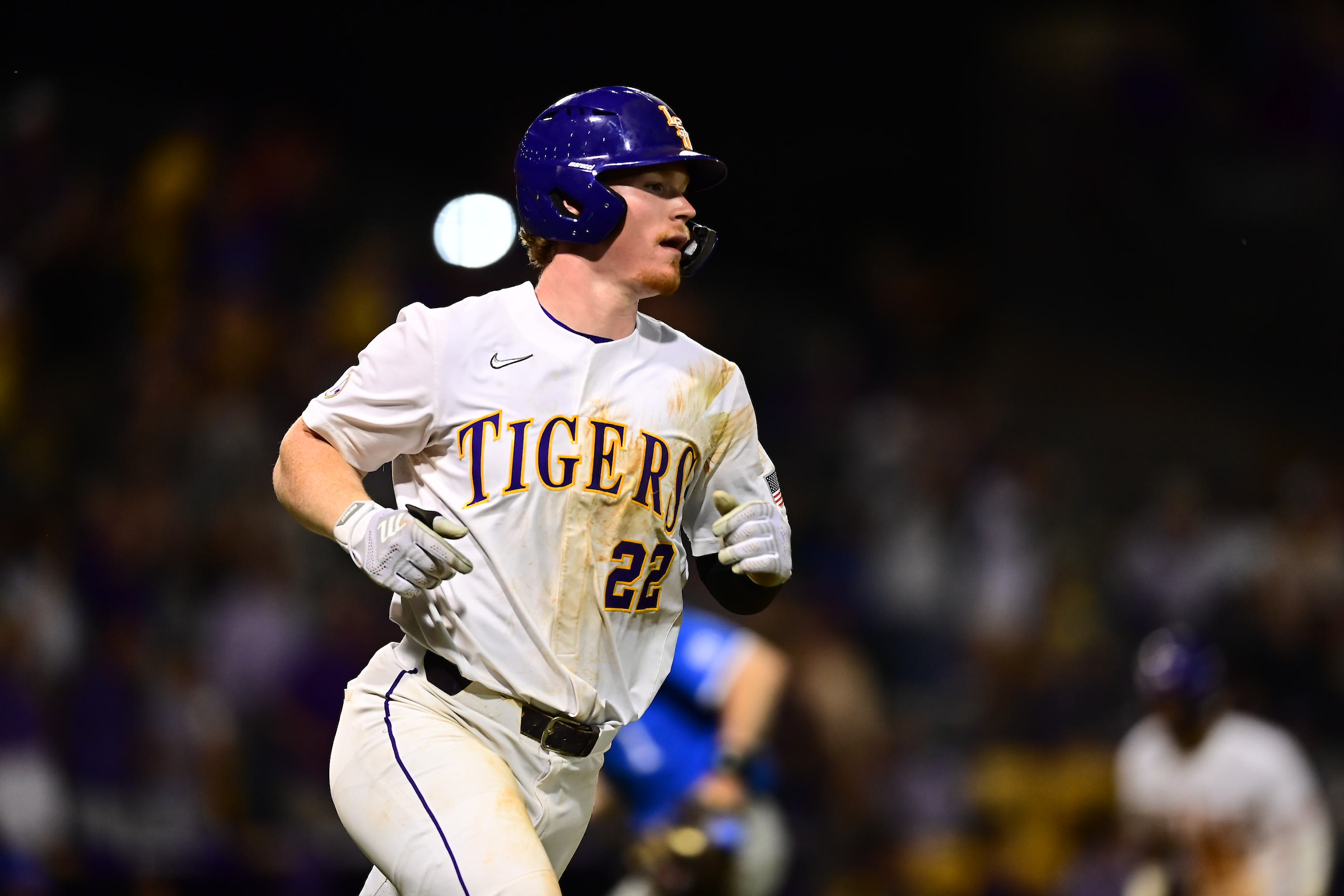 No. 1 LSU Tigers (29-7, 9-5 SEC) at Ole Miss Rebels (21-16, 3-12 SEC)
DATES/TIMES
Friday, April 21 @ 6:30 p.m. CT (SEC Network +)
Saturday, April 22 @ 2 p.m. CT (ESPN2)
Sunday, April 23 @ 1:30 p.m. CT (SEC Network +)
STADIUM
Oxford-University Stadium, Swayze Field in Oxford, Miss. (10,715)
RANKINGS
LSU – No. 1 in all college baseball polls
UM – unranked
RADIO
· LSU Sports Radio Network affiliates, including 98.1 in Baton Rouge
· Live audio at www.LSUsports.net/live; Live stats at www.LSUstats.com
TV/ONLINE
All three games will streamed on SEC Network +
Saturday's game will also be televised on ESPN2
LSU SERIES RECORD VS. OLE MISS
LSU leads Ole Miss, 179-159, in a series that began in 1906 … LSU has captured seven of the past 11 regular-season series with Ole Miss; however, the Rebels swept the Tigers in three games last season in Baton Rouge … LSU posted a 2-1 series victory over Ole Miss in its last visit to Oxford in 2021 … the Tigers have won three of their last five series in Oxford, dating back to 2012.
LSU PITCHING ROTATION
Game 1
LSU – Jr. RH Paul Skenes (6-1, 1.69 ERA, 53.1 IP, 9 BB, 104 SO)
Game 2
LSU – Jr. RH Ty Floyd (5-0, 3.92 ERA, 39.0 IP, 17 BB, 40 SO)
Game 3
LSU – Jr. RH Christian Little (2-1, 3.86 ERA, 23.1 IP, 13 BB, 32 SO)
QUOTING LSU COACH JAY JOHNSON
"The top of the Ole Miss lineup is as good as any in college baseball. It's a complete team with a lot of experience back from last year's national championship. We're looking forward to the challenge this weekend. We're playing the national champs on the road; we're excited to play in a great environment and have the opportunity to get after those guys."
ABOUT THE TIGERS
· LSU's 29-7 record is its best through 36 games since 2015, when the Tigers were 31-5 … the 2023 Tigers have been ranked No. 1 in all of the college baseball polls for 10 consecutive weeks.
· LSU enters this week at or near the top of several NCAA statistical categories … the Tigers are No. 1 in the nation in on-base percentage (.454), scoring average (10.3 runs per game) and shutouts pitched (7) … the Tigers are No. 2 in runs scored (370); No. 3 in slugging percentage (.584); No. 4 in strikeouts pitched per nine innings (11.7); and No. 5 in batting average (.328), hit-by-pitch (82) and hits allowed per nine innings (7.12).
· LSU centerfielder Dylan Crews is No. 1 in the nation in batting average (.491), on-base percentage (.647), walks (42) and runs scored (61); Crews is No. 9 in slugging percentage (.828) … third baseman Tommy White is No. 1 in the nation in RBI per game (1.88), and he is No. 3 in total RBI (62) … right-hander Paul Skenes leads the nation in strikeouts (104), strikeouts per nine innings (17.55), hits allowed per nine innings (4.72) and WHIP (0.69) … Skenes is No. 3 in strikeout-to-walk ratio (11.56) and No. 6 in ERA (1.69).
· Sophomore third baseman Tommy White was named SEC Player of the Week on Monday, as he led LSU to three wins in four games last week, including an SEC series victory over NCAA RPI No. 1 Kentucky … White batted .389 (7-for-18) in four games with four doubles, one homer, 11 RBI, four runs and a .429 on-base percentage … he hit .385 (5-for-13) in the Kentucky series with three doubles, one homer, eight RBI and four runs scored … White provided the game-winning RBI in all three of LSU's wins last week – he delivered a sacrifice fly in the fifth inning at Tulane last Tuesday to break a 3-3 tie, and LSU went on to an 11-5 win; White's two-run double in the bottom of the first inning last Thursday versus Kentucky gave LSU a lead it never relinquished in a 16-6 victory; White was hit by a pitch with the bases loaded in the bottom of the eighth inning on Saturday, breaking a 6-6 tie and lifting the Tigers to a 7-6 win.
· Junior right-hander Bryce Collins posted two wins in two relief appearances last week over Tulane and NCAA RPI No. 1 Kentucky … he worked a combined 5.0 innings, allowing no runs on one hit with three walks and six strikeouts … he worked the final 2.1 innings of Saturday's win over Kentucky, blanking the Wildcats on one hit with one walk and four strikeouts … Collins entered Saturday's game in the seventh inning after Kentucky had scored three runs to take a 6-4 lead, and he recorded a strikeout to end the inning with a runner at first base; he then fired two shutout innings to earn the win after LSU scored two runs in the seventh and the go-ahead run in the eighth … Collins entered the Tulane game last Tuesday in the fourth inning with one out, a runner at first base and the scored tied 3-3; he worked 2.2 scoreless innings as LSU grabbed the lead, allowing no hits with two walks and two strikeouts.
· Freshman first baseman Jared Jones batted .500 (7-for-14) in four games last week with three doubles, two homers, five RBI, six runs and a .611 on-base percentage … in LSU's SEC series win over NCAA RPI No. 1 Kentucky, Jones hit .400 (4-for-10) with two homers, five RBI and five runs … he blasted two solo homers in the Tigers' 7-6 win over Kentucky on Saturday, and each dinger – one in the second inning and one in the sixth inning – gave the Tigers a lead … Jones smashed three doubles in LSU's win at Tulane last Tuesday, tying the school single-game record for doubles … Jones is second on the LSU squad this season in homers (11), and he is second on the club in RBI (37) and third in doubles (9).
ABOUT THE REBELS
Ole Miss, the reigning College World Series champion, is in seventh place in the SEC Western Division with a 3-12 conference mark … the Rebels posted a 6-3 non-conference win at Arkansas State on Tuesday.
· Ole Miss coach Mike Bianco is in his 23rd season at the helm of the Rebels' program … Bianco was LSU's starting catcher in 1988 and 1989, and he helped lead the Tigers to the 1989 College World Series … Bianco was an assistant coach under Skip Bertman on LSU's 1993, 1996 and 1997 national championship teams … Bianco's son, Drew Bianco, played four seasons (2019-22) at LSU as an infielder/outfielder before transferring to Houston for the 2023 season.
· Ole Miss freshman infielder Will Furniss is the son of former LSU All-America first baseman Eddy Furniss, who helped lead LSU to the 1996 and 1997 College World Series titles, and he was voted the winner of the 1998 Dick Howser Award as the nation's most outstanding player.
Ole Miss ranks sixth in team batting average (.297) in the SEC, and the Rebels have slugged 58 homers … Kemp Alderman leads the Rebels in batting average (.356), homers (15) and RBI (51) … shortstop Jacob Gonzalez is batting .338 with seven homers and 37 RBI, and Ethan Groff, a transfer from Tulane, is batting .329 with five homers and 38 RBI.
The Rebels are No. 11 in the SEC in team ERA (5.55), and Ole Miss is No. 1 in the league with a .982 fielding percentage.