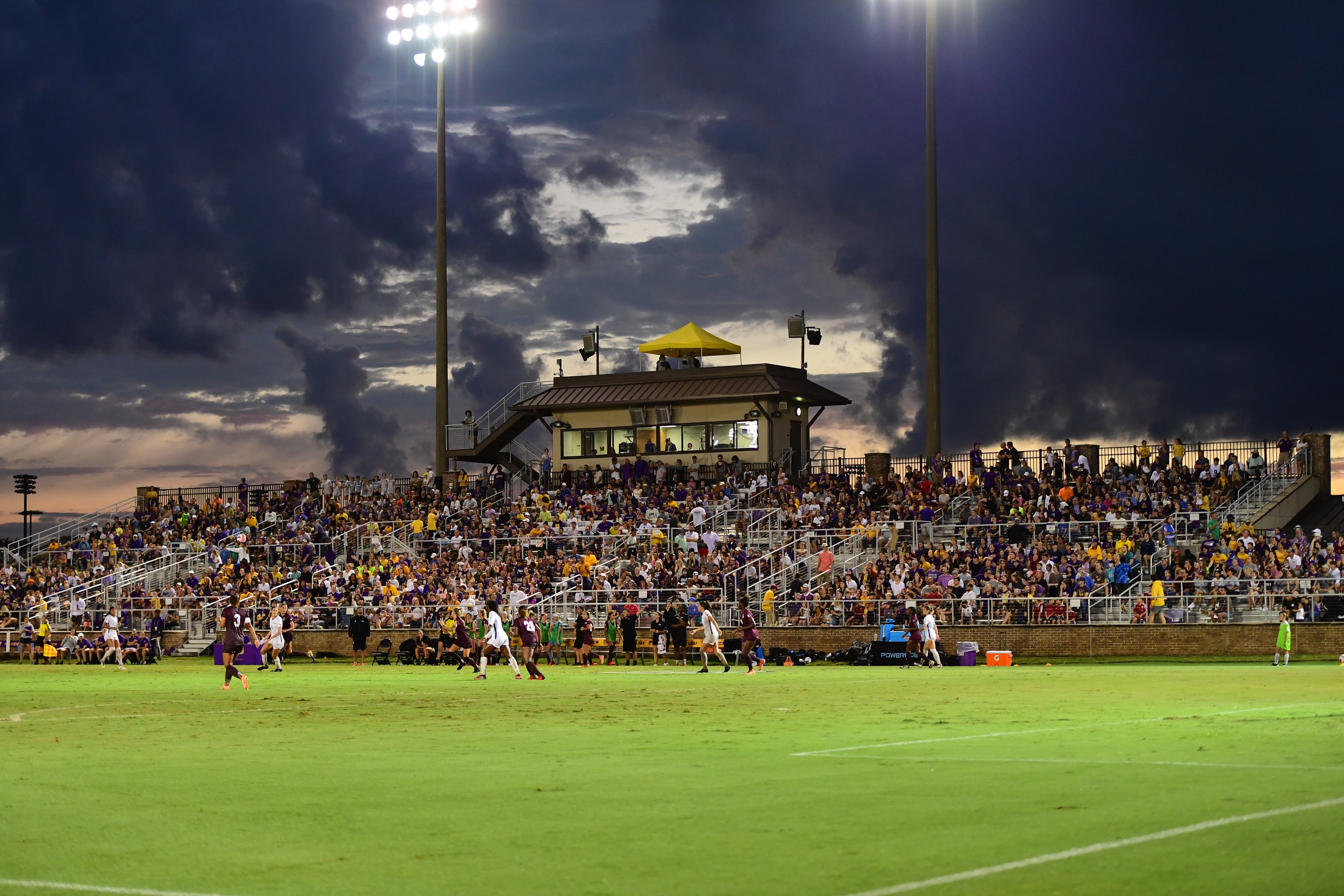 Unbeaten and No. 6 LSU combined good fortune with sheer brilliance from its top offensive player for 2-0 win over Mississippi State in an SEC soccer opener for both teams Friday before the largest home crowd in Tigers' history.
The appreciative Purple and Gold gathering of 3,022 (surpassing the 2012 record of 2,624) saw the Tigers (8-0) make a pair of first-half goals stand for the win behind goalkeeper Mollee Swift's third shutout of the season. LSU's eight wins to start a season is a school record.
"First off, we want to thank this record-breaking crowd for such an electric atmosphere," LSU head coach Sian Hudson said. "To open SEC play like that with factors such as a huge crowd and a tough playing surface was a great performance from the team. The players dealt with the challenges handed to them and created some great moments for them and made things difficult for Mississippi State."
Mississippi State (2-3-0) gave a valiant effort. The Bulldogs were without 10 players because of either injuries or COVID-19 protocols.
Both teams had to deal with less-than-ideal field conditions after a soggy field took on additional rain 75 minutes before kickoff.
After both teams missed on ideal scoring opportunities in the first half which included Mississippi State's defense eventually clearing a ball after LSU registered three shots from within the 6-yard box. The Tigers took a 1-0 lead in the 28th minute when Grace Haggerty's corner was unintentionally knocked into the goal off the right shoulder of State's Hannah Telleysh.
LSU made it 2-0 six minutes later when Lindsi Jennings passed to Tinaya Alexander, who took one touch around a defender and launched a shot with her left foot from 16 yards out and into the upper left corner at the 34th minute.
The Tigers had three quality chances to extend their lead in the second half. Meghan Johnson, who took a pass from Alexander between the two boxes, misfired to the right and Alesia Garcia hit the top of the crossbar from 16 yards out and pushed a shot from the 6-yard box wide left after a pass from Chiara Ritchie-Williams.
LSU held a distinct advantage in shots taken 19-7 and shots on goal 5-2.
Swift (8-0-0) finished with two saves and had a terrific block when she came off her line near the top of 6-yard box at the 42nd minute, preserving her team's two-goal lead.