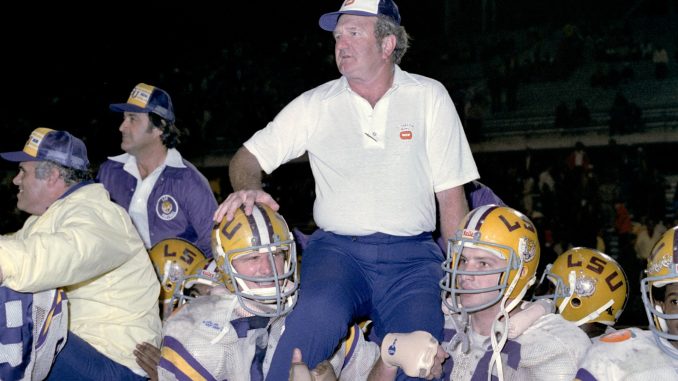 A Facebook friend recently posted his list of LSU's best football coaches since 1955. Nick Saban headed the list presented by Paul Hood followed by Brian Kelly, Paul Dietzel, Bill Arnsparger, Les Miles, Charles McClendon and Ed Orgeron.
I appreciate Paul's enthusiasm for Coach Kelly, but BK's 10-4 honeymoon season was a below average record for LSU in the 21st century, and the Tigers lost three games by at least 15 points for the first time since the previous century.
Kelly is a solid coach, but until he wins a national championship inside four years at LSU, he ranks behind his three predecessors, Saban, Miles and Orgeron. Saban captured the national title in his 52nd game at LSU, Miles did in his 40th game at the helm and Orgeron capped the 2019 title run in his 47th game as Tiger coach. Like Miles, Dietzel also plucked his LSU title in his 40th game in 1958.
Tall Paul was 34 when he won it all, Saban was 52, Miles was 54 and Orgeron was 58. Kelly tuns 62 on Oct. 25.
If Kelly makes a championship run this season, the title will come in his 29th game as head coach at LSU. With three crowns in in the last 20 seasons, LSU statistically opened the 2023 season with a 15-percent chance of taking it all in Houston on Jan. 8, the same day that Louisiana inaugurates a successor to Gov. John Bel Edwards.
When Edwards took the oath of office for his second term on Jan. 13, 2020, it was the same date that Joe Burrow and the Bengals blitzed Clemson 42-25 to win national honors. When LSU lost to Alabama on Jan. 9, 2012 in a 21-0 BCS rout in the Superdome, it was the same date that Bobby Jindal was inaugurated a second time. Kelly is counting on replicating the JBE experience rather than the Jindal Era debacle. In four months, we will know the outcome of the sophomore year for the for the Massachusetts Democrat, who directs the most prominent brand in this state.
With a guaranteed nine-figure contract, Kelly faces no financial incentive to achieve greatness at Death Valley. Yet there is pressure of a different kind. An intense competitor, he desires to leave a legacy of accomplishment at the place he chose to log his last decade on the sidelines.
Kelly faced great expectations at Notre Dame where he resided longer than any Irish coach since Knute Rocke. Despite only one losing season in 12, Kelly did not increase the school's list of seven Heisman winners and eleven national titles.
Kelly stated upon his hiring in Baton Rouge that he wanted to be "in the bright lights." Arguably there is no grander stage in the college football world than the stadium at 2010 Moose Krause Circle in the shadow of Touchdown Jesus. Notre Dame has not captured a football national title since Ronald Reagan was president, yet the championship echoes of Rockne (three titles), Frank Leahy (four titles), Ara Parseghian (two titles). Dan Devine and Lou Holtz (one title each) resonate through the hearts of the robust nationwide following of America's flagship university for Roman Catholics.
LSU with a much larger student body boasts more Catholic students than does Notre Dame, though on Saturdays in the fall, there are more libations than holy water flowing on campus. The demands from the LSU faithful are similar urgings to the pleas for victory at Notre Dame.
Kelly was blessed by the 11-11 mark that LSU recorded in the two years prior to his arrival. His ten victories marked an improvement of four wins from the season before. It was the best turnaround since Saban scored eight victories in his rookie year of 2000 after LSU stagged to a 3-8 record in 1999.
Kelly's stock this year is related to the promise that 2022 was the start of something big, Really Big. All that is required for this coach to receive absolution is to post at least ten wins and beat Alabama. That may be sufficient to keep the devoted denizens satiated for another winter.
LSU must then start collecting national championships soon and very soon for Kelly to keep pace with Dietzel, Saban, Miles and Orgeron. Amazingly, the four coaches who delivered LSU's version of Heaven on Earth to the Tiger congregation were not blessed with Sainthood by the masses. They are remembered more for real and contrived controversies than for glorious victory parades.
The most revered football coach in LSU's history is our next topic.
Charlie Mac at 100
As we approach the Oct. 17th century mark for the birth of Charles McClendon, LSU's winningest football coach is saluted in this issue. Mac, who died on Dec. 6, 2001 at 78, did not capture a national title, but he fielded some of the nation's best teams in his top years. McClendon's 1967 Sugar Bowl champions were eleven points from perfection and his 1969 squad was four points from going 10-0 and facing Texas for the national championship in the Cotton Bowl.
McClendon teams beat undefeated Texas in the 1963 Cotton Bowl, unbeaten Arkansas in the 1966 Cotton Bowl and undefeated Wyoming in the 1968 Sugar Bowl. The Tigers also lost close ones to unbeaten Penn State in the 1974 Orange Bowl and to undefeated Nebraska in the 1971 Orange Bowl.
If LSU had not lost 3-0 at Notre Dame in 1970, the Tigers would have had the opportunity to take the national crown with a win over the Cornhuskers on Jan. 1, 1971. Instead, a highly motivated Nebraska unit with much more to gain in victory edged McClendon's troops narrowly, 17-12.
Like Dale Brown, McClendon's remarkable cast of characters is the most profound testament to his greatness over 18 seasons as head coach. His athletes rarely occupied jail cells and many have thrived in careers of business, law, medicine and coaching with at least one world renowned journalist and novelist.
Here are 40 players who shine in the galaxy of All-Star performers assembled by McClendon in his tenure from 1962-79. All America stalwarts are in bold print, and years listed are for the Coach Mac Era alone.
Offense
Quarterbacks
Bert Jones 1970-72 Ruston
Nelson Stokley 1965-67 Crowley
David Woodley 1977-79 Shreveport
Offensive Line
John Ed Bradley 1976-79 Opelousas
Godfrey Zaunbrecher: 1967-69 Crowley
Tyler LaFauci 1971-73 New Orleans
Robert Dugas 1976-79 Luling
Remi Prudhomme 1962-64 Opelousas
Roy Winston 1961 Baton Rouge
Tight End
Billy Truax 1961-63 New Orleans
Receivers
Carlos Carson: 1977-79 Lake Worth, FLA
Andy Hamilton: 1969-71 Ruston
Doug Moreau 1963-65 Baton Rouge
Backs
Charles Alexander 1975-78 Galveston, TX
Jerry Stovall 1961-62 West Monroe
Terry Robiskie 1973-76 Lucy
Art Cantrelle 1969-71 Biloxi, MS
Brad Davis 1970-72 Hammond
Defense
Linemen
George Atiyeh 1977-79 Allentown, PA
John Adams 1976-79 DeRidder
Steve Cassidy 1972-75 Baton Rouge
A.J. Duhe 1973-76 Reserve
Ron Estay 1969-71 LaRose
John Garlington 1965-67 Jonesboro
Leonard Marshall 1979 Franklin
Fred Miller 1962 Homer
George Rice 1963-65 Baton Rouge
Linebackers
Mike Anderson 1968-70 Baton Rouge
George Bevan 1966-67, 1969 Baton Rouge
Warren Capone 1971-73 Baton Rouge
Bo Harris 1972-74 Shreveport
Albert Richardson 1979 Baton Rouge
Backs
Tommy Casanova 1969-71 Crowley
James Britt 1978-79 Minden
Willie Teal 1976-79 Texarkana, TX
Chris Williams 1977-79 Tioga
Mike Williams 1972-74 Covington
Special Teams
Kicker
Mike Conway 1975-78 Texarkana, AR
Punter
Eddie Ray 1967-69 Baton Rouge
Returner
Sammy Grezaffi 1965-67 New Roads Notably, 34 of the players on the list hail from Louisiana high schools. McClendon was not known for attracting high profile recruits outside the borders of the Bayou State. Yet nobody was better at snaring recruits in his home state. The biggest Louisiana defector was quarterback Joe Ferguson of Shreveport Woodlawn. He opted to play at Arkansas in 1969, and that setback sparked an even better player coming to LSU. Ruston's Bert Jones became the best quarterback in the Charlie Mac Era.