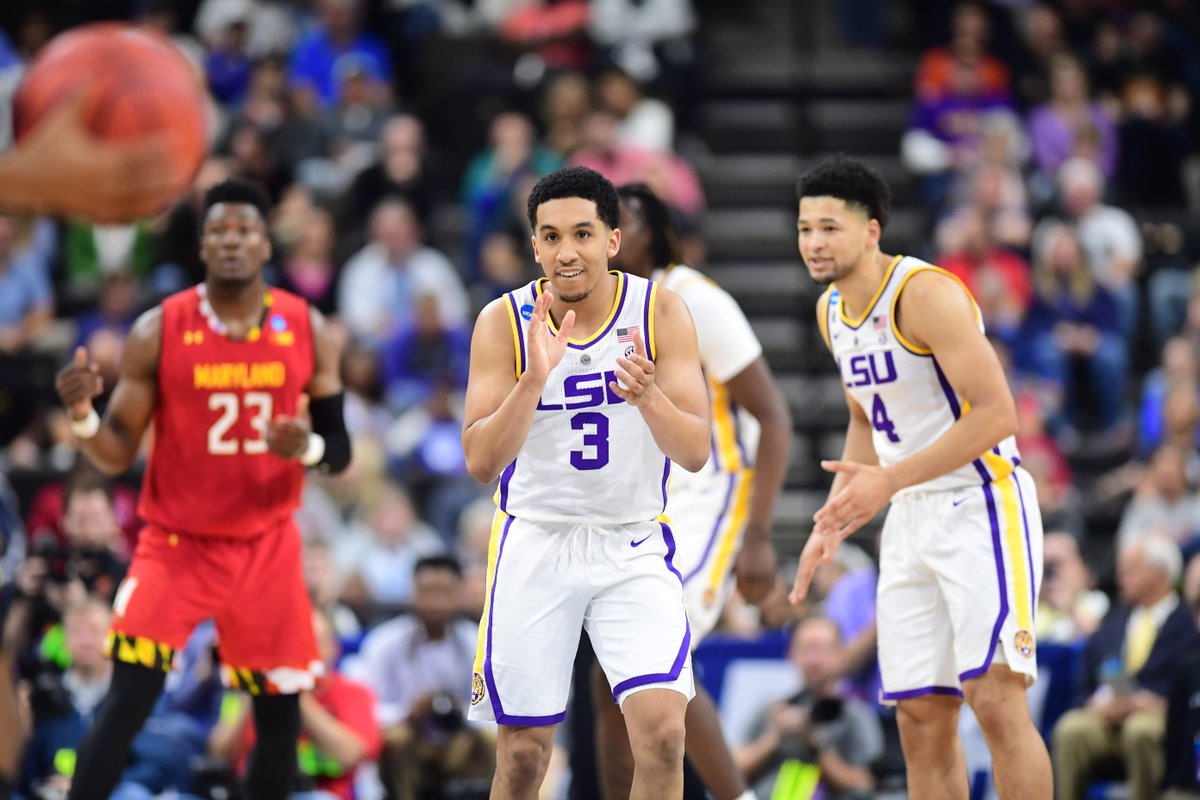 JACKSONVILLE, Fla. — After the dust had settled a bit in No. 3 seed LSU's locker room and reporters began asking the Tigers about their 69-67 victory against No. 6-seed Maryland, LSU sports information guru Kent Lowe could be seen pulling some of them aside, befuddled, not because of what had just happened, but because it happened again.
The last time the Tigers played the first two rounds of the NCAA Tournament in VyStar Veterans Memorial Stadium, LSU guard Darrell Mitchell sent them to the Sweet 16 with a miraculous 3-point shot in the final seconds that beat Texas A&M 58-57 ultimately prompted a Final Four run.
That was in 2006. In 2019, the heroic moment belonged to none other than Tremont Waters, and it wasn't a 3. It was something a bit more his style.
Using a screen from forward Naz Reid, Waters got past Maryland guard Darryl Morsell, drove downhill toward the basket and put up a scoop shot under forward Jalen Smith that bounced off the backboard and into the basket with 1.6 seconds left.
Eric Ayala put up a prayer that bounced off the top of the backboard to seal LSU's victory and punch its ticket to the Sweet 16 in Washington D.C.
"Yeah, we wanted to pretty much hold the ball, take the last shot and not shoot the ball too quick so they wouldn't have a chance to clear on the other end and put up a shot," Waters said. "So Coach Benford and the coaching staff and actually my teammates said they wanted me to take the shot, so we just held the ball out, Naz came and set a screen and I made a play."
Waters finished with 12 points and five assists with just two turnovers, and no bucket was bigger than his last. LSU guard Skylar Mays led the Tigers in scoring with 16 points, half of which he scored in the final five minutes of the game with two big-time 3-pointers and a pair of clutch free throws.
In the battle of the big men down low, Naz Reid finished with 13 points but only grabbed four boards, while Kavell Bigby-Williams got just one bucket for two points but grabbed eight rebounds.
Star Maryland forward Bruno Fernando finished with a double-double with 10 points and 15 rebounds. He served as one of five Terrapins to finish with double-digit scoring tallies, including Jalen Smith (15 points, 8 rebounds), Anthony Cowan (11 points, 6 assists), Morsell (10 points) and Aaron Wiggins (11 points).
The game-winning shot may have been cause for celebration, but the second half leading up to that point had LSU fans anything but thrilled.
Once again, the Tigers jumped out to a significant lead, and once again their opponent stormed back in the second half and took the game down to the wire.
LSU led by 15 points with 16 minutes left in the game, but a cold stretch in which it struggled against the Terrapins' zone and made just two field goals in the span of nearly eight minutes allowed Maryland to erase that deficit and take its first lead of the game with 5:52 remaining.
For the third straight postseason game, LSU dominated the first half, doubling the Terrapins up with a 30-15 lead with more than five minutes left in the half.
The Tigers' bench served as the biggest difference early, with Javonte Smart, Darius Days and Emmitt Williams scoring 14 of their first 18 points and 20 points total in the first half.
After a less-than-stellar performance against Yale in the first round, Days immediately made an impact as the first LSU player off the bench.
He hit an open 3-pointer in his first possession of the game and drew a foul shortly after, scoring five points within his first minute of playing time.
"I waited my time, and my time came," Days said. "I knocked down shots when I needed to. I got rebounds and I kept talking to my team.
"In the first game, the Yale game, I didn't play as much as I wanted to. Everything happens for a reason. I feel like God wanted me to be patient."
LSU went back up by 15 with roughly 90 seconds left in in the half, but the Terrapins cut the deficit back to single digits with back-to-back 3-pointers from Aaron Wiggins.
It looked as though the Tiger had solved their second-half woes in the opening minutes of the period. LSU quickly extended their lead back to 15 points after two free throws by Skylar Mays that came after Maryland head coach Mark Turgeon was called for a technical foul for disputing a moving screen call.
But after that, things began to unravel for the Tigers.
Maryland went to its zone defense — in which it routinely switched between a 3-2 and a 2-3 zone — and the Tigers never really found a good way to get to the basket for the rest of the game.
LSU shot 1-for-14 over a stretch of nearly eight minutes, allowing the Terrapins to crawl back in the game and eventually take a 57-55 lead with less than six minutes remaining.
"The goal was to get it to touch (where the SEC logo just beneath the free throw line on LSU's floor sits) and play out of that," said LSU assistant coach Greg Heiar. "When we did, good things happened. We just didn't do it enough."
During the final "six minute game," that suspended LSU coach Will Wade instilled as a crucial point in the game, the Tigers and Terrapins took turns taking shots at each other.
Ayala hit a 3 pointer with 5:10 left to give Maryland a 60-57 lead, then Mays tied the game up 40 seconds later with a 3 on the fast break.
Maryland forward Bruno Fernando hit a layup, Smart hit a floater.
Smith hit two free throws, Mays hit two free throws.
LSU finally took an advantage when Mays pulled up and hit a 3-point jumper with 40 seconds left, putting the Tigers ahead 67-64 and forcing Maryland to call a timeout.
Then Smith tied the game 12 seconds later with a corner 3.
Ultimately, the game came down to which team had the final shot. That shot just happened to be Waters' scoop layup.
After the game, fans and players alike could be seen flashing hands, four fingers up in each of them, with some of them chanting "forty-four."
Skylar Mays got emotional after the win and said what he's been saying all season. Wayde Sims' spirit has served as LSU's sixth man on the floor. He's who guided Mays' 3-pointer in. He's the one who made sure Waters got a clean look.
He's the one who led the Tigers to the Sweet 16.
"He's with us every day," Mays said. "He's the driving force of this thing. We always try to bring attention to him. Wayde is who this is all about."
Photo Courtesy of LSU Sports Information