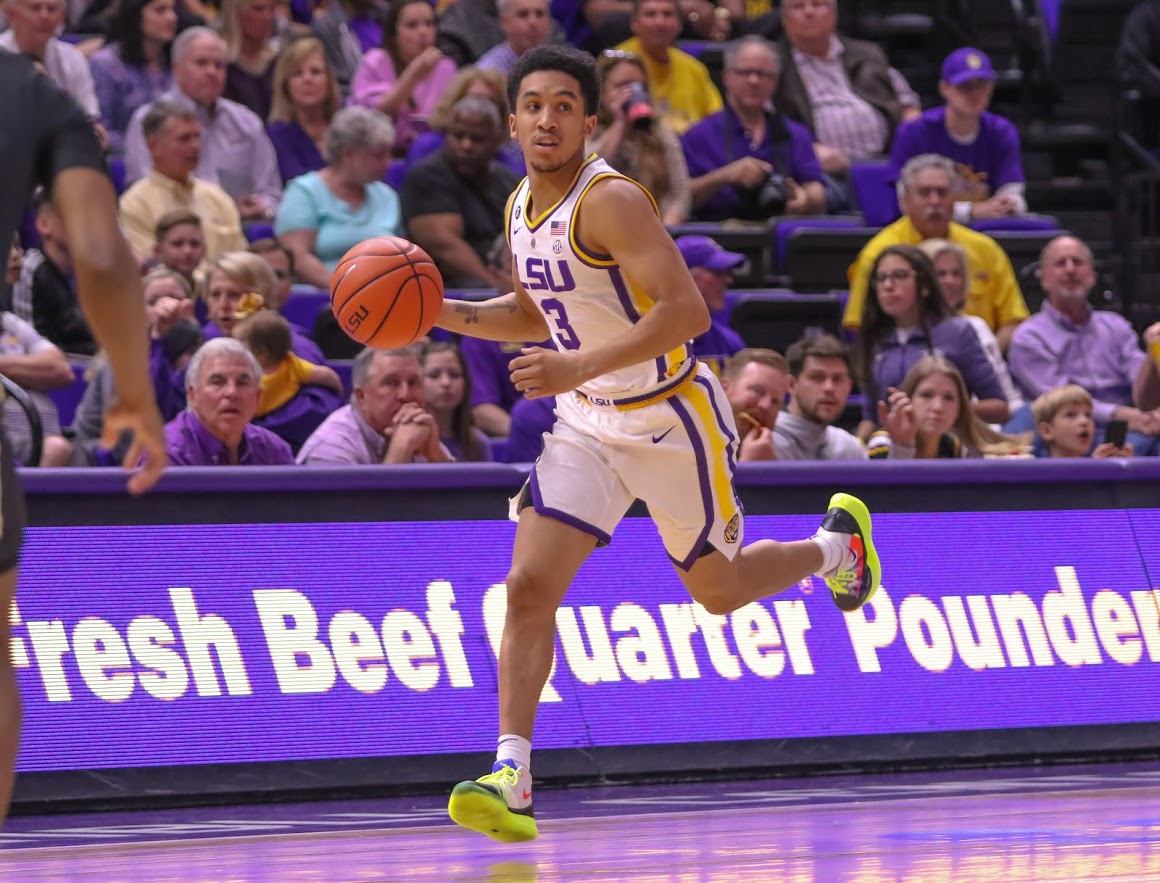 JACKSONVILLE, Fla. —One could make comparisons entering No. 3 seed LSU's Round-of-32 game against No. 6 seed Maryland on Saturday at 11:10 a.m. CST in VyStar Veterans Memorial Arena that will be broadcast on CBS.
They could compare this edition of the Tigers to the last one that earned a Sweet 16 bid in 2006. Those Tigers also played in Jacksonville, where they knocked off Texas A&M with a game-winning 3-pointer from Darrell Mitchell in the closing seconds.
But the more interesting comparison is perhaps that with their opponents, the Terrapins.
At nearly every position, LSU (27-6) and Maryland (23-10) have similar players that create an interesting matchup.
Where LSU has Naz Reid and Kavell Bigby-Williams down low, Maryland has Bruno Fernando and Jalen Smith.
LSU has a dynamic, undersized point guard in Tremont Waters. Maryland have Anthony Cowan, who averages 15.8 points and 4.3 assists per game.
LSU has Skylar Mays, Maryland has Darryl Morsell. LSU has Javonte Smart, Maryland has Eric Ayala. LSU has Marlon Taylor, Maryland has Aaron Wiggins.
The two teams are astoundingly similar from a matchup perspective.
"Actually, they play like us," Reid said when asked if he could think of a team Maryland plays like. "They go through the post, and their bigs can really go. That helps them a lot.
"It's going to be a battle. It's not going to be easy, but hopefully we can get the win."
Where LSU has an edge is depth. While Maryland presents a balanced attack with three players averaging double-digit scoring tallies and six players averaging at least 8 points per game, the offensive production drops significantly after that.
The Terrapins' next leading scorer after their first six is Serrel Smith who averages 3.5 points.
The Tigers' bench is loaded with Emmitt Williams (7.1 points, 5.5 rebounds per game), Smart (11.5 points, 3.4 rebounds, 1.3 steals per game) and Darius Days (5.2 points, 4 rebounds per game). All three of these guys contribute regularly and have shown ability throughout the season for big time performances.
If Maryland intends to pull off the minor upset, it will need big games from its starting five, and if LSU wants to advance, it will have to take advantage of its bench depth.
LSU interim head coach Tony Benford said the key to the game is pretty simple: the team that crashes the boards best will earn the trip to Washington D.C.
"It's going to be a pretty good matchup," Bigby-Williams said. "Obviously they're great players, and like I said, I"m looking forward tot he matchup. I know they're physical, big, long, athletic, so it's going to be a good matchup. But I feel like me and Naz, we're going to be prepared for them."
Marlon Taylor, LSU's high-flying swing guard with a penchant for impressive dunks and rebounding the basketball, said he will have to play to his strengths, both verbally and non-verbally.
"I need to rebound," Taylor said. "Definitely rebound, and…"
Taylor then mimicked a two-handed dunk and laughed.
"You feel me?"
THE DETAILS
WHO: No. 3 seed LSU, No. 6 seed Maryland
WHEN: Saturday, March 23, 11:10 a.m. CST
WHERE: VyStar Veterans Memorial Arena, Jacksonville, Fla.
BROADCAST: CBS
THE STAKES: A spot in the Sweet 16
THE LINE: -2.5 LSU
KENPOM PROJECTION: 74-73 LSU