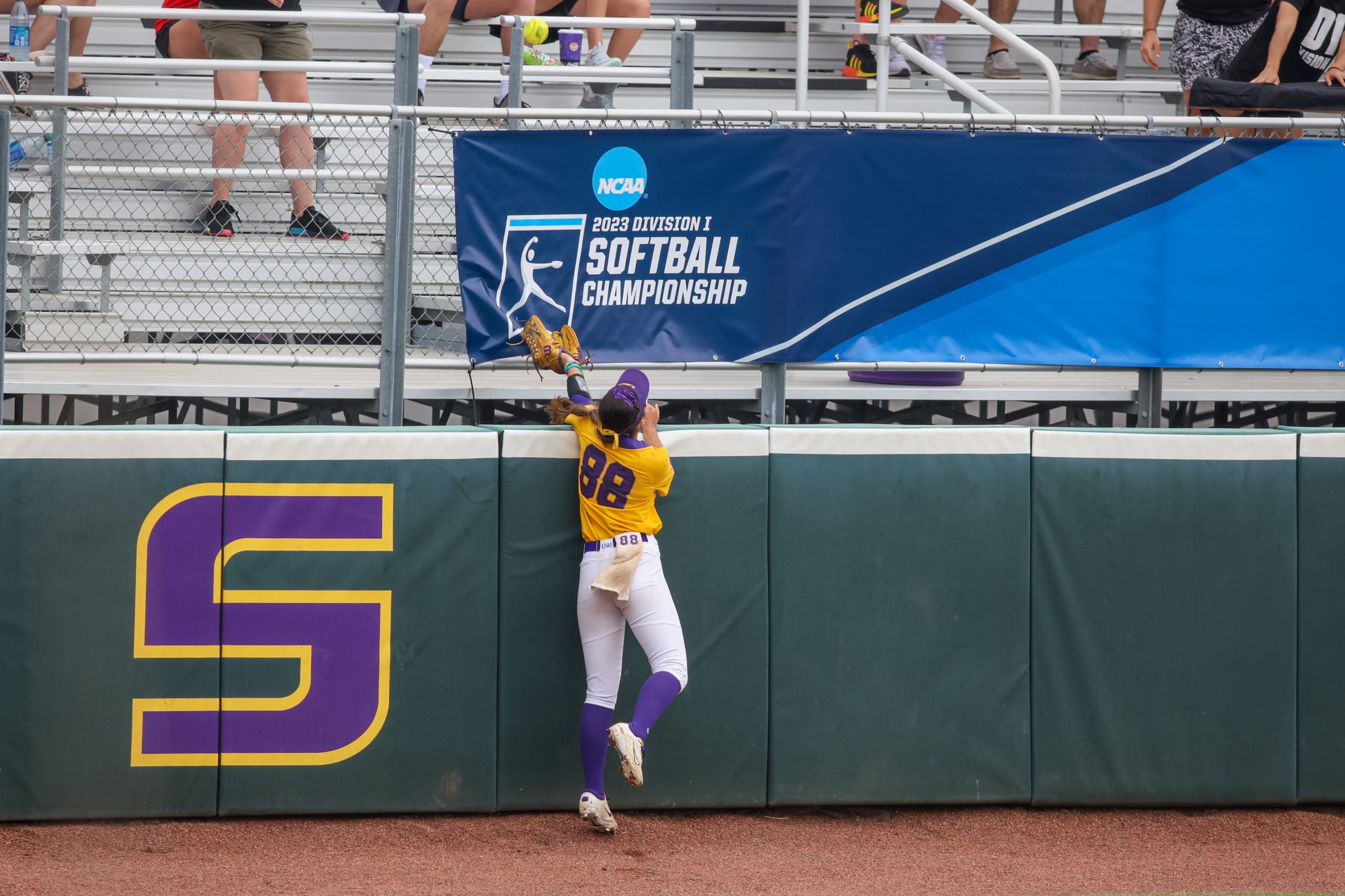 Instead of authoring what would have been the program's greatest rally in school history, LSU's softball team is left to pick up the pieces of late-inning collapse that ended their season.
The top-seeded Tigers, who rallied from a six-run deficit to take a two-run lead, couldn't hold the lead after second-seeded UL-Lafayette scored twice in the top of the seventh for a dramatic 9-8 victory Sunday in the NCAA Regional final before a crowd of 2,166 at Tiger Park.
"That was an incredible battle that they just tried to pull off," said LSU softball coach Beth Torina, choking back years. "It was almost the greatest story we've ever told."
For only the second time in school history LSU (42-17) was swept on Sunday, losing a 7-4 decision in the first game after the Tigers led 4-1.
The Ragin' Cajuns (50-14) defeated the Tigers for the third time in a regional championship and advances to this week's Super Regional at No. 7 Washington.
LSU scored eight straight runs to take an 8-6 lead in the fourth inning on a RBI single from Taylor Pleasants (2-for-4, 2 RBIs) to score Ciara Briggs who doubled with two outs.
The Tigers, who finished with 10 hits, didn't score against two relievers with Chloe Riassetto (2-1) picking up the win with three scoreless innings. She allowed three hits, including a two-out single from Raeleen Gutierrez in the seventh, but Savannah Stewart fouled out to left fielder Maddie Hayden to end the game.
"It's been one of the joys of my life to coach this team," Torina said. "They deserve more. I've really enjoyed this season with them. I'm devasted for them."
Freshman starter Sydney Berzon (14-8) withstood a rocky first inning, allowing six runs on two hits, to near the finish line and throw a complete game. She allowed a solo homer to Karly Heath in the fifth and allowed consecutive singles to Lauren Allred and Heath to start the seventh and both runners moved up a base on Alexa Langeliers' sacrifice bunt.
Right fielder/designated hitter Jourdyn Campbell, whose three-run homer in the first game gave UL-Lafayette the lead for good, capped her team's six-run uprising the second game with a grand slam homer against Berzon.
Torina said she planned to intentionally walk Campbell and load the bases, but Berzon instead threw a wild pitch past catcher Ali Newland to score Alldred with the game-tying run. Berzon then ran the count to 2-2 before Campbell made it 9-8 with a RBI single to right, her eighth RBI of the doubleheader.
Berzon allowed nine run (eight earned) on nine hits. She walked four and struck out two in a 120-pitch effort.
"In hindsight Sydney Berzon's probably never done that in a game before," Torina said of intentionally walking a batter. "We haven't done it a lot and have done it a few times in practice. We're going to be better at that going forward. I'm going to think about it every day for the next six months. I'm going to think about that decision. She was just inexperienced in executing it and that's on me."
Torina also had graduate student Ali Kilponen warming up in the bullpen before Campbell's plate appearance but never brought her into the game.
"I did consider going to her for Jourdyn Campbell," Torina said of Kilponen, the starter in Sunday's first game. "Another a decision that I will continue thinking about for the next six months, maybe the next six years, maybe the next 16 years."
LSU chipped into the six-run deficit, getting a solo homer from Georgia Clark (2-3, 3 RBIs) – her team-high 13th of the season – in the second inning.
UL-Lafayette kept the door open in LSU's five-run second inning with a pair of fielding errors with two outs.
The Cajuns came back with Sunday's first game winner Sam Landry after Pleasants' RBI-single, but Clark made it 6-4 with a two-run single up the middle. Following a walk to Newland, McKenzie Redoutey (2-4, 2 RBIs) tied the game at 6-all with a two-run single to left-center field.
LSU took a 7-6 lead on Karli Petty's RBI single to right field off reliever Kandra Lamb. The Tigers were able to extend that margin to 8-6 in the fourth on Pleasants' RBI single to right field but couldn't score again after getting five hits and leaving six runners on base in the last four innings.
"We kept trying to chip away at it," Newland said. "They're a great team."
UL-Lafayette 7, LSU 4: The Ragin Cajuns pounded out 11 hits, including three home runs, to turn an early three-run deficit into a four-run victory.
Landry (19-5) was sterling in her five-inning relief effort of starter Meghan Schorman. She kept LSU scoreless during her stint, allowing only Pleasants' double in the seventh, to go with three walks and two strikeouts.
Pleasants dropped in a double in front of a diving Mihyia Davis in center, sending Briggs to third base. Clark quickly fell behind Landry 0-2 before fouling off several pitches – including her long drive to left field.
UL-Lafayette reeled off a stretch of six unanswered runs – capped by pinch-hitter Campbell's three-run homer – to erase a 4-1 deficit for a 7-4 lead after four innings.
The Cajuns homered three times off of Kilponen and relievers Alea Johnson and Raelin Chaffin and had 11 hits through four innings.
Langliers (2-for-3) hit the first of UL-Lafayette's home runs – leading off the second inning – followed by Campbell's three-run shot off the light post in left and catcher Sophie Piskos added a solo shot to lead off the fourth.
LSU erased a 1-0 deficit with a three-run second inning that second baseman Karli Petty ignited with her fourth homer of the season – ending a 0-for-25 slump. Petty's shot to right-center came with Redoutey aboard following a lead-off walk.
The Tigers showed off their speed in producing their next two runs for a 4-1 lead.
Gutierrez hustled into third with a triple after Davis was unable to secure a catch over the fence and then scored on Danieca Coffey's fielder's choice with a slide at the plate. Briggs then produced an RBI-fielder's choice with a grounder up the middle to score Stewart.