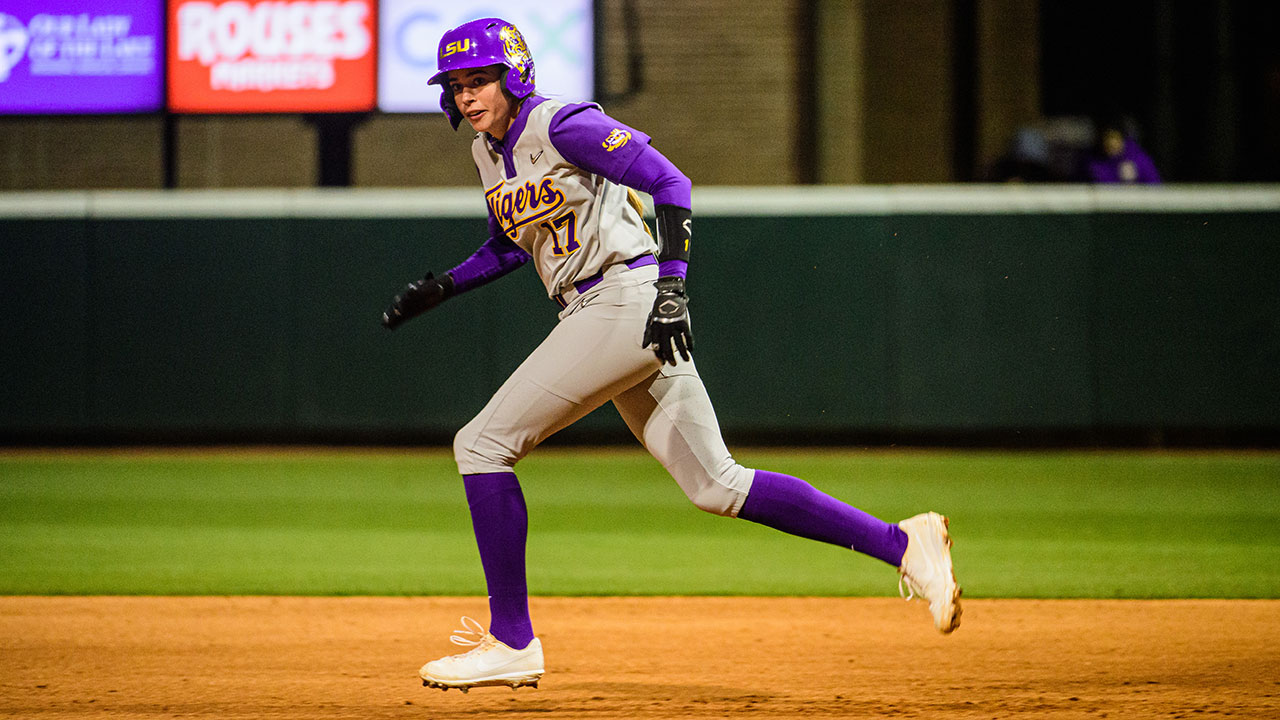 Don't look now, but there's a red-hot women's team on LSU's campus and it doesn't compete in the Maravich Assembly Center.
The No. 15 LSU softball team has gotten off to a 20-1 start after a 5-0 sweep of teams March 5 in the Judi Garman Classic last weekend. That's a pretty good head of steam going into the first weekend of SEC play in which LSU plays at South Carolina beginning Saturday.
Games in the LSU-USC series are scheduled for 5 p.m., 3 p.m. on Sunday and 6 p.m. Monday and will be televised by the SEC Network and carried locally by 107.3-FM.
It's got to be quite a relief for LSU coach Beth Torina, who watched her overstocked team last year stagger under its own weight to a 34-23 record. The Tigers went two-and-out in the NCAA Tournament, the first time in eight years Torina didn't get her team at least to the Super Regionals.
After 21 games last year, the handwriting was on the wall for that team. It was 15-6 and Torina was struggling to manage a team with 28 players. It sounds like a good problem to have but unity, leadership, practice time, attention from the coaches – you name it – was anything but smooth.
The cause was an example of LSU being a victim of its own success. The extra seasons of eligibility awarded to athletes by the NCAA because of the COVID-19 pandemic coincided with two large recruiting classes back-to-back and upset the careful balance between incoming players and roster attrition.
The reputation of Torina, hitting coach Howard Dobson and the rest of the program is pretty salty, and nobody wanted to leave, so LSU carried 28 players. The transfer portal helped the Tigers with that, coming and going.
Fifteen players moved on from the 2022 squad and nine new faces arrived, including two players through the transfer portal. That's a pretty big turnover most teams don't have to deal with, but it was the perfect medicine.
The team has blended and bonded just as Torina predicted in her preseason address.
"There has been a very different feel at practice than the last two years," Torina said at media day. "This is a player-led team."
One of those main leaders is graduate first baseman/designate player Georgia Clark, who had the same sense of coming success. When asked how the bonding progressed, she snapped her fingers and said, "Like that; from the second everybody stepped on campus, we all really clicked."
Clark is as outspoken an athlete you will find of any gender, and she's leading by example with five homers and 17 RBI. But leading the offense is perhaps the most underrated star player on campus and that would be shortstop Taylor Pleasants.
Pleasants was poised for a big year last season but stumbled to her worst batting average (.295) with 12 homers and 48 RBIs. She's already approaching those homer-RBI totals this season with eight and 32, respectively, which puts her atop the SEC in RBIs and tied for third in homers. She's batting .358.
But Pleasants outperforms her batting numbers by light years. She has started every game – 159 – since arriving as a highly-touted freshman from Fredericksburg, Texas. She's an impressive athlete standing still at 6-feet, which is tall for an infielder in baseball or softball. When she moves it's with uncommon grace and smoothness.
She literally saved a game early in the season with a diving catch in short center field and took another hit away from an opposing batter with a diving catch in short left field. She's having that year, this year.
"This is the Taylor Pleasants we've had all along," Torina said of Pleasants, who is fifth all-time at LSU with 36 homers and No. 10 with 145 RBIs. "She's really special, an incredible player. She's one of the best in the country. We're lucky to have her. I think it every day, a million times a day how lucky we are to have her. She's incredible defensively, offensively and as a human being too."
Pleasants gets plenty of help. There aren't two better table setters at the top of the batting order than Danieca Coffey and Ciara Briggs, who are batting .471 and .435, respectively, with on-base percentages above .500.
About the only negative was the loss of Hannah Carson, a transfer catcher from Michigan, who is out for the season after tearing an ACL. She was to serve as a tutor for freshman phenom Maci Bergeron while providing experience behind the plate while sharing the starting job.
The other transfer, Karli Petty from Oklahoma State as she's nailed down the second base job and hit her first LSU homer, a grand slam, at the Garman Classic in her team's 12-4 finale against Cal Poly.
Hitting is only part of the story.
Senior Ali Kilponen is off to a great start with a 6-0 record, 1.58 ERA and three saves. She's also been an effective mentor to freshman Sydney Berzon, who is 7-0 with a staff leading 0.63 ERA and three saves. Another freshman, Alea Johnson is 4-0 and forming with Berzon a solid foundation for the future.
Despite last season's uncharacteristic finish, Torina is secure in her 12th year and with the results so far, 2022 is looking like an outlier. She's taken LSU to four WCWS and built a 469-204 record there. Even though LSU hasn't been to the WCWS since 2015, it looks like a streak that could end this year.