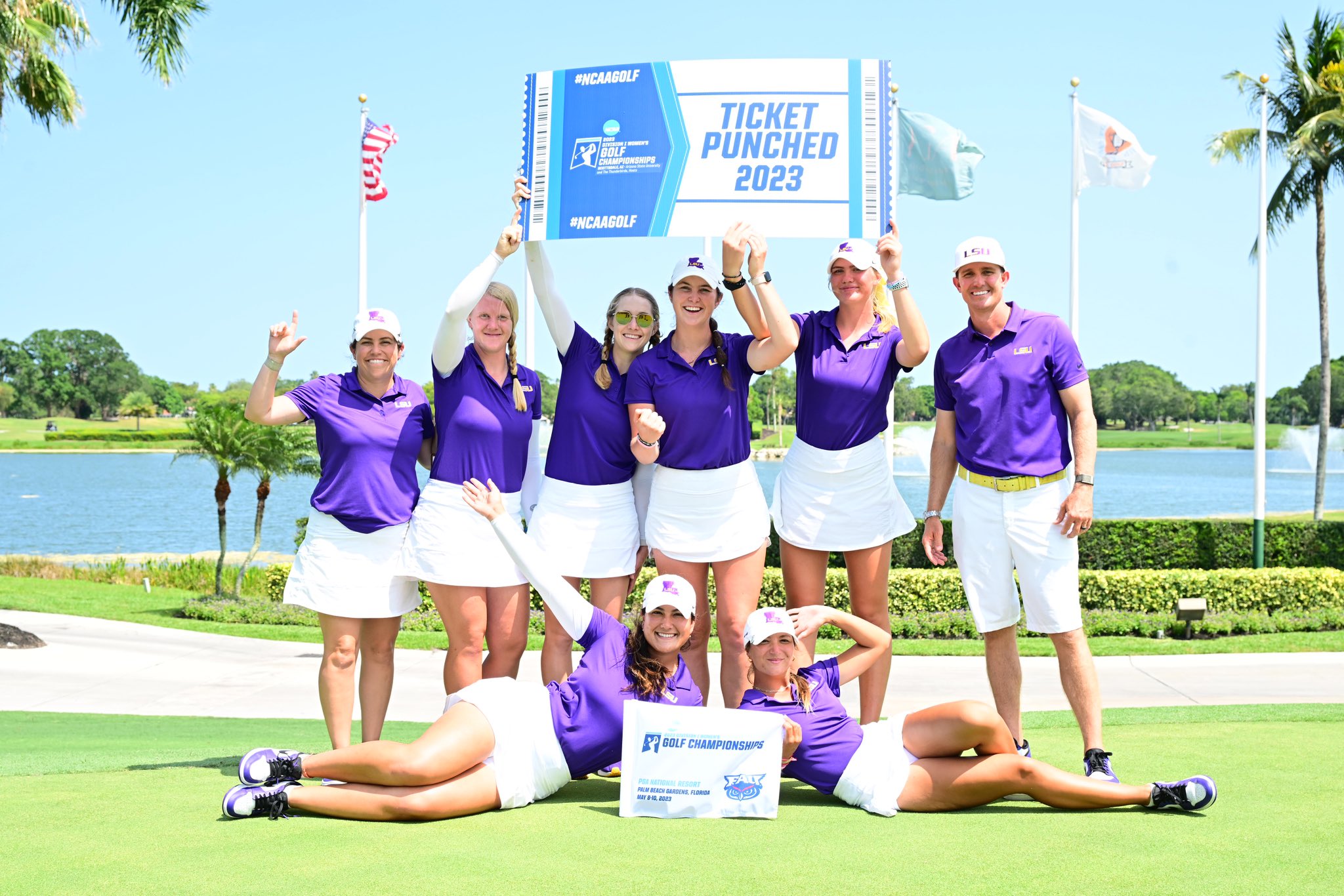 PALM BEACH GARDENS, Florida – After starting the day five strokes behind the advancement spot, the No. 3 LSU women's golf team carded the lowest score of the round with a 3-under 285 to finish fifth in the NCAA Palm Beach Regional and punched their third straight ticket to the NCAA Women's Golf Championship in Scottsdale, Arizona.
The NCAA Championships begin with stroke play on May 19 at 8:10 a.m.
"At the beginning of the year, we said this was the place we wanted to go for regionals and we were fortunate to get here," LSU women's golf coach Garrett Runion said. "One thing we focused on all year was our final five holes. The first two rounds we struggled a little bit. Today that proved to be the difference. Ingrid, Latanna and Carla did not make a bogey on the final nine holes. They showed up big when the most pressure was on. They knew where we stood and they stepped up and hit golf shots and some big putts in the big moments.
"I'm proud of the way they showed up when they needed it most," Runion said. "A lot of regionals have some funny things. There are some crazy moments at the end and if you look at our roster, it looks like an older roster, but the reality is we haven't really had too much regional experience."
Carla Tejedo led the Tigers on the day with a bogey-free 3-under 69 round. Ingrid Lindblad and Latanna Stone joined their teammate under par with a 1-under 71 and the final counting score on the day came from Aine Donegan, who posted a 2-over 74. Edit Hertzman was the dropped score with an 8-over 80.
Stone finished 54 holes with a 3-under 213 tally, which tied her with Michigan State's Brooke Biermann for medalist honors. It is the second medalist honor of the season and in her collegiate career for Stone.
"Latanna, it seems she shoots 71 every time," Runion said. "She's been so consistent this year and she proved that this week. She plays tough golf courses well. She proved that. To have that anchor for all three rounds. Carla stepped up big today. She didn't play as well as she would have liked the first two days, but when she needed it the most, she showed up which is a huge reason we are advancing. Ingrid birdied three-of-her-last-six holes and we advance by one, that's big-time playing. That's stepping up. Aine was there all three rounds playing consistent golf that helped up through."
The Tigers shot a final round of 3-under par 285 on the par 72 layout that hosts the PGA Tour's Honda Classic, and moved from a tie for seventh to a final finish of fifth in a day full of drama that had LSU edging Arkansas for the last qualifying spot.
LSU finished at 15-over par 879 (298-296-285).
LSU started the day five shots out of fifth place in a tie with the Arkansas Razorbacks at 18-over par. The Tigers started on the 10th hole and really wasn't able to get much going on the front nine, falling to 22-over par at one point in the round and eight shots off the cut line.
The top 15 teams from the first three rounds advance to play in the fourth round, and the field is again cut to the top eight teams who qualify for match play May 23-24.