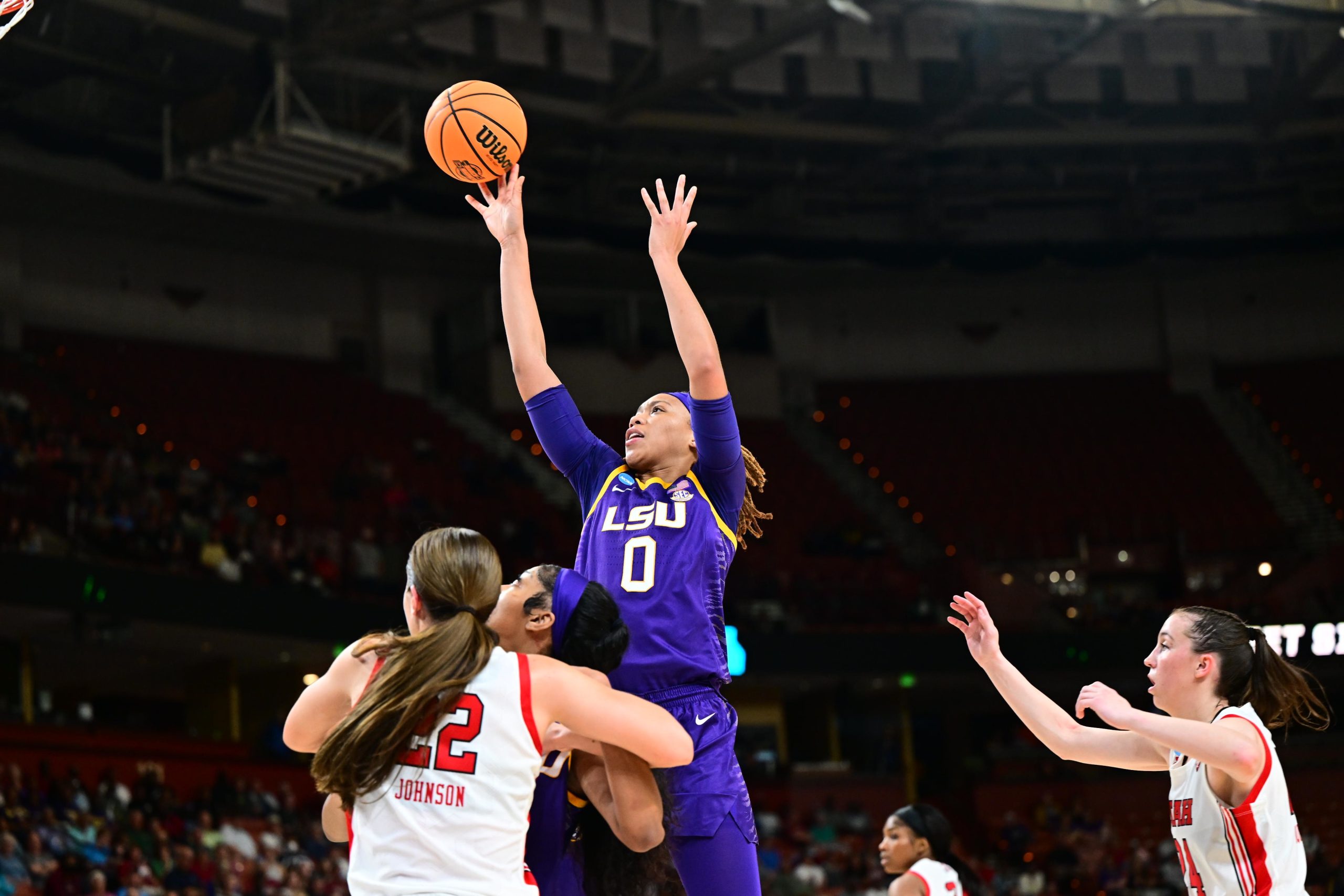 She spent the majority of the season in the shadow of All-American Angel Reese. That was until LSU's leading scorer and rebounder picked up two fouls Friday and spent the remaining eight-plus minutes on the bench.
Foul trouble also cost the Tigers premium minutes with SEC Freshman of the Year Flau'jae Johnson and starting guard Kateri Poole on the floor.
Not to worry, though, the Tigers had graduate forward LaDazhia Williams to help them navigate through the treacherous waters of the NCAA's Sweet 16 against Utah.
With three teammates (Reese, Johnson and Poole) eventually fouling out of the game Williams shone brightly at the most opportune time. She made 11 of 14 shots and scored a season-high 24 points, including 13 in the second half, and added six rebounds to help third-seeded LSU to a 66-63 victory over second-seeded Utah at the Bon Secours Wellness Arena in Greenville, South Carolina.
The Tigers (31-2) advanced to meet ninth-seeded Miami in Sunday's Elite 8 at 6 p.m.
"Her stock is rising," LSU coach Kim Mulkey said of Williams. "If the WNBA hasn't noticed what she's done in big-time games, then I don't know what they're looking for."
Williams had another well-placed endorsement from Reese, who is considered a potential high draft pick in future WNBA Drafts.
"If you didn't have LaDazhia Williams on your draft stock," Reese said, "put her on now."
Williams has the complete opposite personality of the more outspoken, in-your-face Reese, choosing to remain more behind the scenes in her first season at LSU. She spent the first two years of her career at South Carolina before transferring to Missouri where she spent the past two seasons.
Williams has been the team's fifth-leading scorer at 9.1 points and second-leading rebounder at 6.1. She's shown to be an above-average post player where she reached double-digits in scoring 13 times with a previous high of 17 in the second game of the season.
She's been adept at nimble post moves on the block with an affinity for a professional up-and-under move that often results in easy layups.
With Utah committing multiple defenders against Reese, the Utes conceded the area above the free throw line and Williams was able to comply with a series of 15-17-foot jump shots that kept the Tigers afloat with Reese on the bench.
"I wanted to do anything that I could to extend our season and help the team out when we were in foul trouble," Williams said. "I just felt it as the game was going on."
Williams mixed in a spinning layup and her familiar up-and-under move to get past a defender around picking up her second foul in the second quarter.
Unlike Reese, Mulkey kept Williams in the game at a spot where the Tigers were vulnerable with only freshman Sa'Myah Smith providing minutes off the bench
"The high-post shot, she hasn't shot that enough all year," Mulkey said of Williams. "The reason she hasn't is because we've been able to get it to Angel all year. But tonight, they wouldn't let us get it in there to Angel. She can shoot that shot. It's a beautiful shot."
With LSU trailing 37-31 at the 8:57 mark of the third quarter, Williams showed off that range to tie the game at 37-37. She took a pass from Reese and drilled a 15-footer and added another 15-foot jumper in just over a minute's time.
Williams buried another 15-footer on a second-chance opportunity that momentarily gave LSU a 46-44 lead with 43 seconds left when Utah retook a 47-46 lead going into the fourth quarter.
"It was really physical and you kind of have to pick your poison with that," Utah coach Lynn Roberts said of double-teaming Reese at the expense of backing off Williams. "I thought we let her (Williams) get into a bit of a rhythm in the third (quarter). We weren't going to go one-on-one with Angel in the low block. As I said before, they're not a one trick pony. They're a good team. Angel gets a lot of the attention and rightfully so, but they've got a lot of other good players."
Williams ignited a 7-0 LSU run with back-to-back baskets to start the fourth quarter. She drove to the basket and added a free throw with 3:02 to play for a 61-54 lead until Alexis Morris' clutch free throw shooting in the last 10 seconds resulted in a three-point victory.
"I would say that's the best game I've had," Williams said. "Being a senior, I'm not ready to go home. We already know where we want to go. Angel getting into that early foul trouble, I just felt like I needed to step up as a senior and just be a leader on the court, and just do what I can for my team."