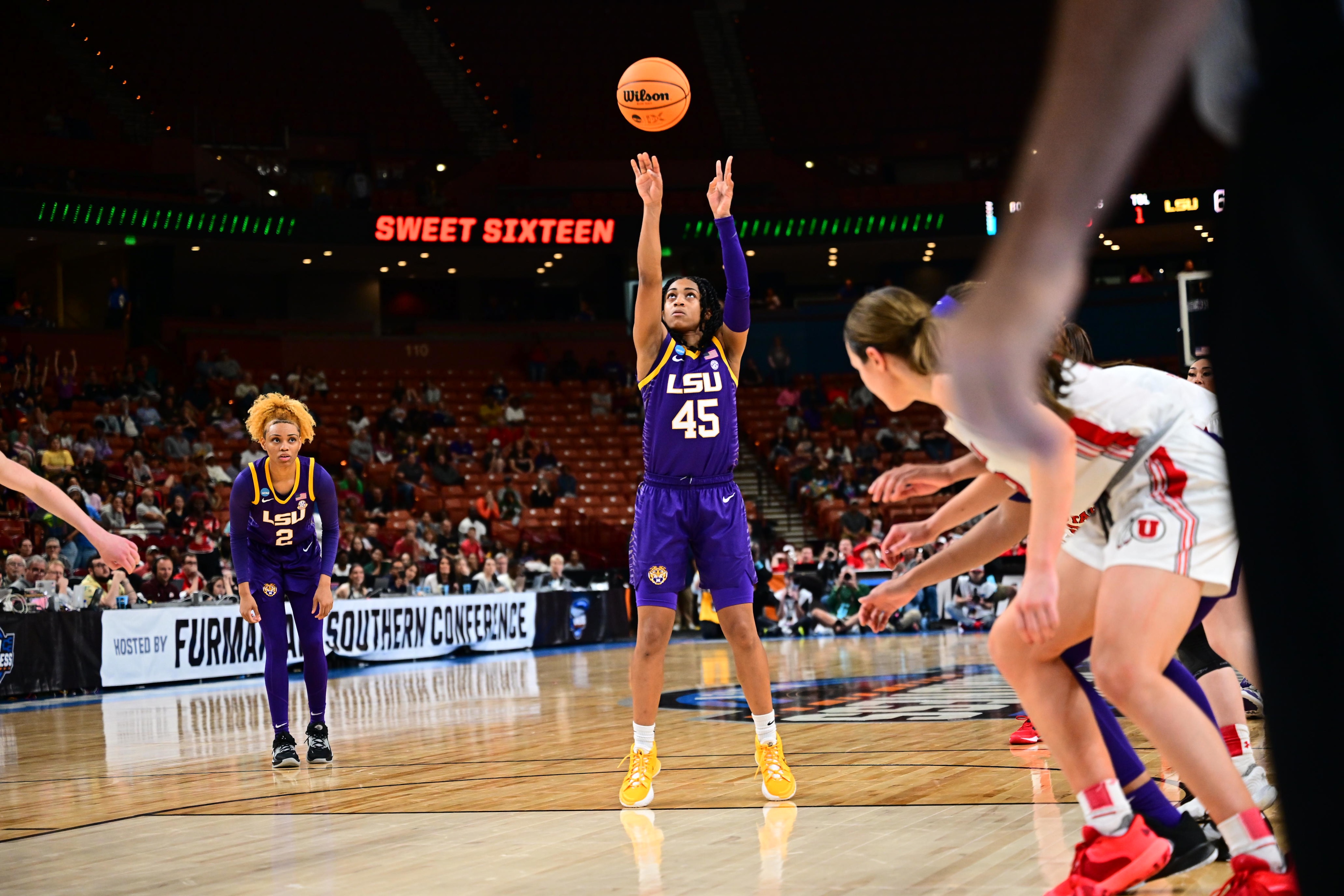 The swings in momentum almost were too much for third-seeded LSU to conquer. The Tigers had lost the handle on an eight-point lead against second-seeded Utah with more than 3 ½ minutes to play and lost their third starter – first team All-American Angel Reese – to fouls with four seconds to play.
Somehow, though, fifth-year senior Alexis Morris swung the pendulum in her team's favor and provided the difference in Friday's Sweet 16 NCAA Tournament game. She hit the go-ahead free throws with 10 seconds remaining and added two more with two seconds to go for a pulsating 66-63 victory at the Bon Secours Wellness Arena in Greenville, South Carolina.
"I just thought it was two heavyweights going at it," LSU coach Kim Mulkey said. "That's what I told their coach (Lynn Roberts) after the game. I said somebody had to win and somebody had to lose. We just made a few more plays."
LSU (31-2) earned its ninth trip to the Elite 8 and first since 2008 and faces ninth-seeded Miami, a 70-65 winner over No. 5 Villanova, in Sunday's Greenville Regional 2 championship game at 6 p.m.
"Seniors," Mulkey said. "I complimented them in the locker room afterwards. Seniors, they don't want to take the jersey off for the last time. It's the worst feeling in the world and that includes those that get to play pro ball."
Graduate LaDazhia Williams scored a career-high 24 points, including 13 in the second half, and Reese added 17 points and 12 rebounds – her 31st double-double of the season. Morris overcame a difficult shooting night with 15 points, including her four clutch free throws, and seven assists to lift the Tigers which matched the second-most wins in school history.
LSU shot 41.3% (24 of 58) from the field and just 23% (3 of 13) from 3-point range. The Tigers, who were a plus-four in rebounds (35-31) finished with the game with Reese, Kateri Poole and Flau'jae Johnson on the bench after fouling out.

"I would say that's the best game I've had," said Williams, a Missouri transfer that made 11 of 14 shots and grabbed six rebounds. "Being a senior, I'm not ready to go home. We already know where we want to go. Angel getting into that early foul trouble, I just felt like I needed to step up as a senior and just be a leader on the court, and just do what I can for my team."
Utah (27-5), appearing in its first Sweet 16 since 2006, was led by the 20 points of sophomore guard Gianna Kneepkens, which included three 3-pointers. Junior guard Issy Palmer added 15 and Pac 12 Conference Player of the Year Alissa Pili had 14 points and five rebounds before fouling with 10 seconds left.
The Utes finished shooting 38.7% (19 of 49) but matched their average of eight 3-pointers.
"They made the last play," Roberts said. "We had a defensive stop, just didn't secure the board. Morris came up with it and got that foul and we were playing catchup from there. Congrats to them. They have a heck of a team. They play really, really hard."
A 3-pointer from Morris, her first of the game, completed a 10-0 run and provided LSU with a 60-52 lead with 3:41 remaining.
Kneepkens scored her team's next nine points and Palmer added two free throws during a 11-1 run by the Utes who took a 63-61 lead with 1:09 showing. Reese stopped a three-minute scoring drought with a free throw with 57.8 seconds left and was shooting for the lead when her missed shot with 13 seconds to go was tracked down by Morris, who fouled out Pili on the play.
Morris' free throws were her first points since the 4:34 mark of the third quarter when sophomore Jenna Johnson later went to the free throw line after an offensive rebound and foul against Reese which was her fifth. Johnson missed both free throws with 4.7 seconds remaining, and Sa'Myah Smith and Jasmine Carson combined on the rebound, leading to a timeout and advancement of the ball.
Morris was fouled before the clock started and her two free throws accounted for the final score. Utah called its last timeout, advanced to the ball beyond midcourt and Dasia Young's 3-point attempt with Smith defending was well off the mark.
"Everybody thought it was going to be this track meet," Mulkey said of two of the nation's top offensive teams averaging better than 83 points a game. "At the end the day, if you're a basketball junkie you had to enjoy some of that going on tonight."
The pendulum swings went on throughout the game that had 12 lead changes and was tied 11 times.
LSU led 13-6 in the first four minutes of play, but wound up in a 16-16 deadlock going to the second quarter when Utah, taking advantage of Reese being on the bench with two fouls, opened a 25-18 lead at the 5:49 mark behind Kneepkens' drive.
Williams played with two fouls the last five minutes of the quarter and helped LSU overcome a 33-29 halftime lead with her silky jump shots from atop the free throw line. She scored eight points in the quarter with Utah trying to deny Reese inside but Utah took a 47-46 lead into the fourth quarter.
"We were pushing, we were shoving," Mulkey said. "You're just battling. You're trying to win a ballgame."