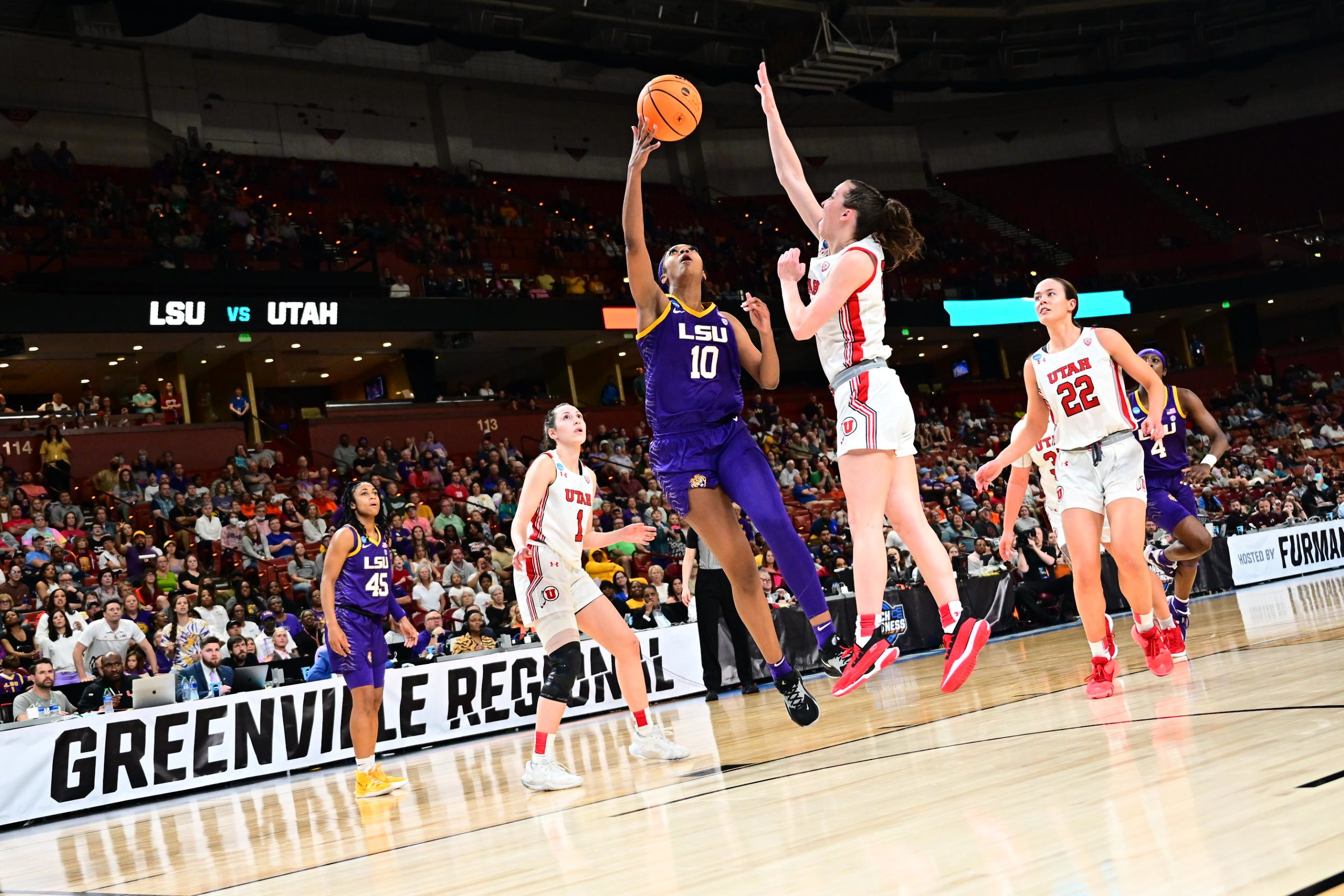 It's part of the reason Angel Reese left her home state in Maryland to transfer to LSU.
With the opportunity to play for head coach Kim Mulkey, Reese realized that not only would her game improve, but her chances of winning a national championship would increase as well.
Mulkey, who won a national championship as a player at Louisiana Tech, made 11 trips to the Final Four as both an assistant at La. Tech and head coach at Baylor, winning three national crowns with the Bears before departing for her native Louisiana to coach the Tigers.
Two years into Mulkey's tenure, and first with Reese, LSU finds itself one game away from reaching the Final Four. In order to advance to next week's signature event in Dallas, the third-seeded Tigers (31-2) are challenged with facing ninth-seeded Miami (22-12) in Sunday's Greenville Regional 2 championship game at 6 p.m.
The game, at Bon Secours Wellness Arena in Greenville, South Carolina, will be televised by ESPN and carried locally on 100.7-FM.
"You'd better listen, Kim Mulkey's not playing," Reese said during Saturday's news conference for the regional title game. "We listen to her, we respect coach. She knows better than anybody else. We're just all embracing it. She knows that this is an exciting moment for us, and she lets us be excited about it. But also, she knows what it takes to get to that Final Four and get to that national championship game."
LSU's taking part in its first Elite 8 game since 2008, the time the Tigers made the fifth of the school's five consecutive trips to the Final Four.
"So, it's going to be a fun game," LSU freshman Flau'jae Johnson said. "But I think that us playing a team that plays like us is just going to be like a little bit better for us. Because playing teams like Utah and stuff like that, I hate guarding that. So just being able to sit down and guard is going to be fun. It's going to be a fun game for sure."
LSU ended a 15-year brought in between trips to the Elite 8 with a gallant effort from graduate forward LaDazhia Williams.
With three players, including Reese, Johnson and fellow starting guard Kateri Poole, having fouled out, it was Williams who helped the Tigers through a difficult stretch of the game without the team's leading scorer and rebounder (Reese) on the floor because of foul trouble.
Williams scored a career-high 24 points on 11 of 14 shooting and had six rebounds, including 13 points in the second half. Reese made her presence felt by tying an SEC record with her 31st double-double of the season (17 points, 12 rebounds), while fifth-year guard Alexis Morris wound up with 15 points, her last four coming on pressure-packed free throws in the last 10 seconds to lift the Tigers past Utah, 66-63.
"I don't think that many people believed that we could even be past the Sweet 16 or even be in the Elite 8 right now," Reese said. "All year we believed in each other, and I think that's what's important. And the 12 (players) of us in that circle, as long as we got each other, I think we go as far as we can."

Despite being able to "only" play in 31 minutes against Utah and fouling out for the first time this season, Reese's double-double continued a torrid stretch for her during the NCAA Tournament. She's recorded 76 points, 51 rebounds, 12 blocked shots and seven steals – the first player, regardless of gender, with such a stat line in the past 20 years at any level according to Stats Perform.
Reese is one of LSU's three double-figure scorers at 23.5 points and 15.6 rebounds followed by Morris at 14.7 and Johnson, who was held scoreless against Utah, with 11.4. points.
The Tigers average 82.7 points and 46.5 rebounds and face a Miami team averaging 70.4 points and allowing 63.9 points. The Hurricanes average 38.3 rebounds and 5.4 3-pointers per game.
"I feel we have some familiarity, a little bit, with LSU, a little bit more than we would have with Utah, just some of the players and stuff," Miami coach Katie Meier, who in her 18th season at the school is leading the Hurricanes to their first Elite 8. "Excellent talent, incredible coaching, obviously, tons of passion, tons of grit. I feel sorry for the referees because they've got two coaches that are going to pour into it a little bit on the sideline. Yeah, if it's about toughness, you've got two great examples of it in LSU and Miami."
The Hurricanes, who were 11-7 in the Atlantic Coast Conference, are the lowest-seeded team remaining in the tournament where they've caught fire.
Miami's defeated three straight higher-seeded teams by a combined eight points, including a 70-68 second-round win at No. 1 Indiana. The Hurricanes earned a spot opposite the Tigers with a 70-65 victory over No. 5 Villanova behind a career-high 26 points from Jasmyne Roberts. It was her three-point play that served as the go-ahead points after Villanova had rallied from a 21-point deficit.
"We have a tough matchup coming up, but we're tough, too," Miami senior center Lolo Pendande said. "We've been in situations like this. We've played teams like this, and this is a team that is pretty similar to our game, too. It's not going to be an easy game. It's going to be a dogfight, and it's been a dogfight since we started. I'm pretty confident in our team. We're going to get out there, compete like we have been so far, and see what happens."
Miami features balanced scoring led by 5-6 senior guard Hailey Cavinder, a Fresno State transfer. She averages 12.5 points and 4.9 rebounds and has a team-high 86 assists and 65 3-point baskets. Six-foot graduate forward Destiney Harden, a West Virginia transfer, averages 12.2 points and 5.9 rebounds followed by Roberts (8.9 points, 4.9 rebounds) and Pendande (8.2 points, 4.4 rebounds).
"The sky's the limit," Reese said of LSU. "I think we just believe. We keep believing and keep believing. We've been through so much throughout the season, and just being able to be in this moment right now. I'm having so much excitement but knowing that there's more. There's more that can be done."