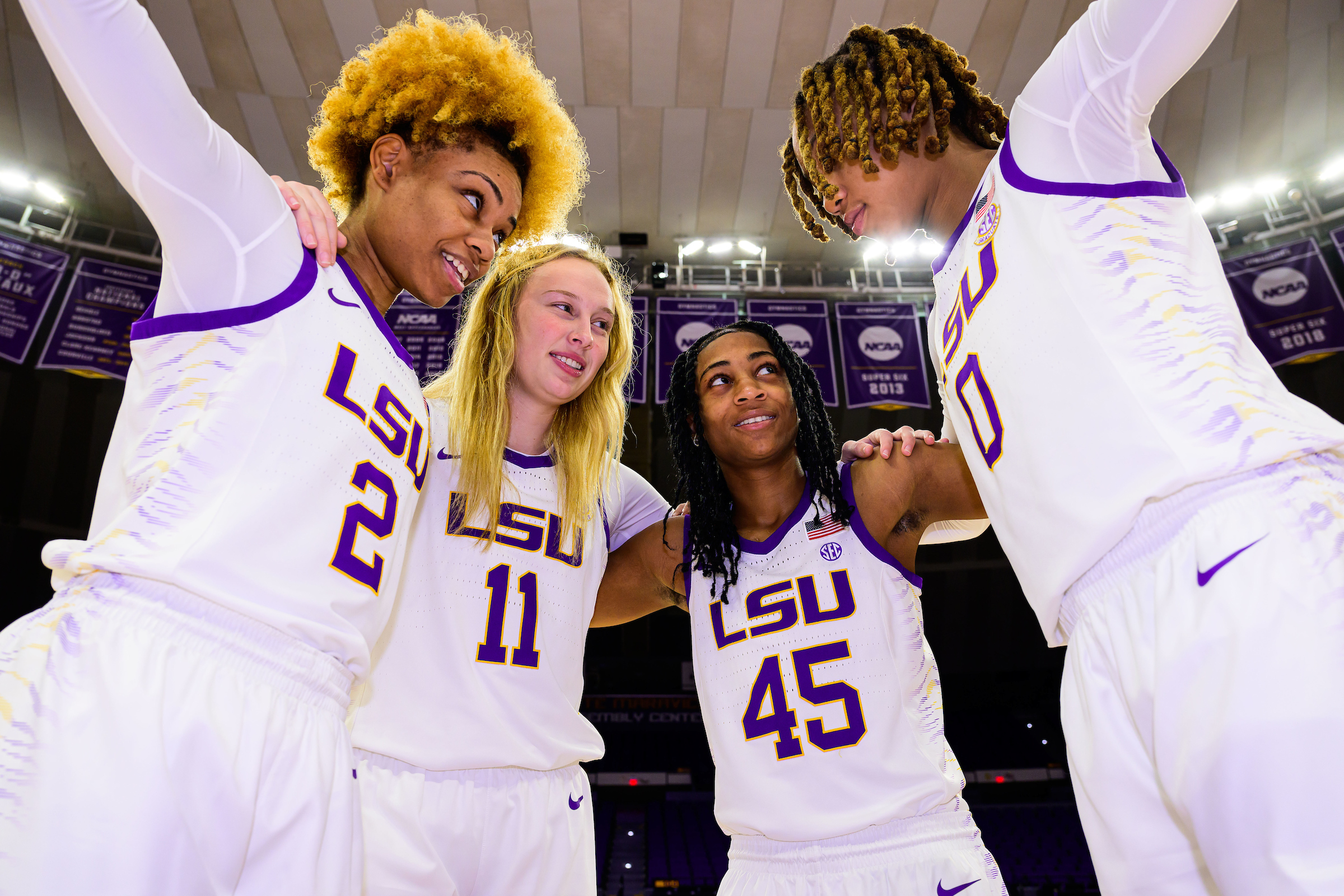 LSU women's basketball coach Kim Mulkey came to the reality several weeks ago.
No matter what her fifth-ranked and once-beaten team accomplishs on the court, the Tigers are going to have a hard time achieving a No. 1 seed in the NCAA Tournament.
That was once again the case during Thursday second and final regular-season reveal by the NCAA Women's Selection Committee where LSU remained a No. 2 seed and was the No. 5 overall seeded team bound for the Seattle Regional.
Defending national champion and unbeaten South Carolina (28-0) was the top overall seed followed Indiana (26-1), Stanford (27-3) and Utah (24-3). LSU (26-1) led the list of No. 2-seeded teams followed by Maryland (23-5), UConn (24-5) and Virginia Tech (23-4).
"I don't see any way the committee will move us to a one seed," Mulkey said after her team's 82-65 win Thursday at Vanderbilt which solidified her team as the No. 2 team in the SEC behind South Carolina. "I think they're so focused on non-conference strength of schedule they're ignoring the NET. Is that right to do? They can justify anything they want to do. I've watched it too many years."
LSU will try to match the school's best regular-season mark of 27-1, hosting fifth-place Mississippi State (20-8, 9-6) in Sunday's regular-season finale at 5 p.m. It will be Senior Day where the team will honor guards Alexis Morris, Jasmine Carson and Emily Ward and forward LaDazhia Williams, and fans asked to arrive at the Pete Maravich Assembly Center wearing gold attire.
The SEC Network will televise the game which will be carried locally over 107.3-FM.
LSU will learn its postseason fate March 12 when the NCAA unveils its field with the first-and-second rounds scheduled for campus sites starting March 17. The Tigers hosted such games last season, defeating Jackson State and losing to Ohio State.
"I just want to win the next ball game," Mulkey said. "It's Senior Day against maybe the hottest team right now in the SEC in Mississippi State. They're really playing good, trying to get off that bubble into the NCAA Tournament."
ESPN bracketologist Charlie Crème tweeted this week that based on results that included UConn losing to St. John's and Iowa falling at Maryland, LSU had "done enough" to rise to the No. 1 seed line.
The Tigers have a NET ranking (NCAA Evaluation Tool) of No. 5, an algorithm that's become the primary method the selection committee's used to evaluate teams.
The biggest knock against LSU? It's been a non-conference schedule that Mulkey said was put together before the arrival of four key signees from the NCAA transfer portal such as leading scorer and rebounder Angel Reese, guard Kateri Poole, Carson and Williams.
The Tigers' strength of schedule is rated No. 92 with a non-conference strength of schedule of No. 312 and they don't have any wins Top 25 wins this season.
With a No. 3 NET ranking, the SEC also isn't viewed through the same prism of strength as in years past. The Pac-12 Conference leads the way followed by the Atlantic Coast Conference.
Of the breakdown of LSU's wins, the Tigers are 5-1 in Quadrant 1 games, 8-0 against Quadrant 2, 6-0 against Quadrant 3 and 7-0 against Quadrant 4.
"I use the eyeball," Mulkey said. "If they think Utah's a one seed ahead of us, use your eyes and watch them play. Go for it. Two, one … it doesn't matter. I want to get the first-and-second round games in the PMAC and if we can win a couple of games in the SEC Tournament, maybe we can do that. Maybe the strength of schedule won't be held against us in the SEC Tournament. If we're the one seed, is the one seed any better than the first two seed?"
LSU will have a double bye in the five-day SEC Tournament which begins March 1 in Greenville, South Carolina at the Bon Secours Wellness Arena. The Tigers won't play until 6 p.m. CST on March 3 against the winner of the No. 7 and No. 10 game.
The championship game is scheduled for 3 p.m. Sunday on March 5 where the Tigers could face the Gamecocks again after suffering a 88-64 defeat on Feb. 12 – their lone blemish this season.
But not even a victory, if such a scenario presented itself, would be enough for LSU to climb onto the No. 1 seed line, Mulkey said.
"If we were to beat South Carolina, I've said it many times, we're not going to get a one seed," she said. "Strength of schedule's not going to change. The NET hasn't changed. There's nothing we can do that will change the committee's mind. I've said that for two or three weeks.
"The only thing that could change their mind is whoever represents the SEC on the committee needs to tell them, 'Hey do an eye test and give the (No. 1) seeds to the top four teams that you think should get it'," she added. "It may not be LSU. It may be Connecticut. It maybe somebody else. I don't really know. But at this point I can't focus on it. I don't know that I'll ever focus on it."