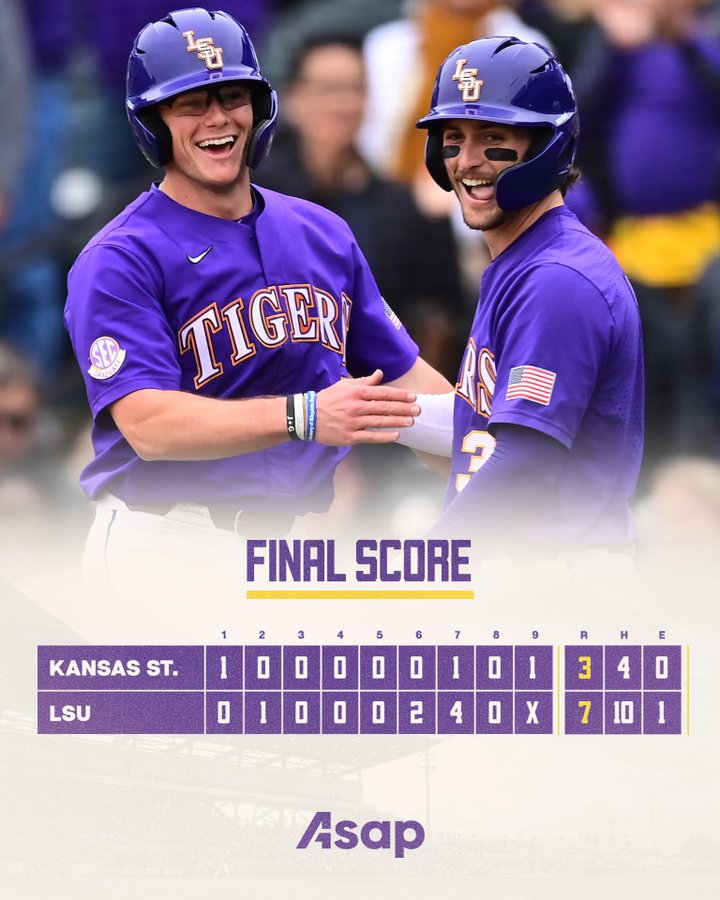 LSU pitchers Paul Skenes and Ty Floyd combined to toss a four-hitter and strikeout 16 and the Tigers broke open a close game with a four-run seventh inning in a 7-3 win over Kansas State Friday in the Karbach Round Rock Classic.
No. 1 ranked LSU (5-0) had six of its 10 hits in the sixth and seventh innings when the Tigers scored six runs off Kansas State reliever Ty Ruhl.
Skenes and Kansas State starting pitcher Owen Boerema were locked in a pitcher's duel for the first five innings.
Skenes struggled early, giving up two hits and a run in a 34-pitch first inning, but settled down and dominated Kansas State the rest of the way, pitching a total of six innings and striking out 11.
Skenes (2-0) threw 101 pitches, including 66 for strikes and he walked two.
"Paul is a great competitor, so he can work his way out of jams," said LSU coach Jay Johnson. "He also has tremendous stuff. You put those two things together and you can minimize big innings. That's what he did in the first inning, and he just got stronger as the game went along.
"I thought the pitching was the story of today, and I was really pleased with both Paul and (reliever) Ty Floyd. Ty came in and did a great job over the last three innings."
Floyd, who notched the first save of his career at LSU, relieved Skenes to start the seventh with LSU leading 3-1. He struck out five and allowed two hits, including a two-out solo homer in the top of the seventh to Roberto Pena to cut LSU's lead to 3-2.
But LSU scored four runs in the bottom of the seventh on four hits including RBI-singles by Gavin Dugas and Dylan Crews and a two-run double by freshman Jared Jones to take control, 7-2
Kansas State (4-2) led 1-0 in the top of the first inning when Skenes gave up a walk and two singles before managing back-to-back strike outs to end the inning.
LSU tied the game at 1-1 in the bottom of the second inning, when Tre Morgan, who started in left field instead of his usual first base, led off with a single and later scored when catcher Brady Neal drove him in with a single. Jordan Thompson singled between Morgan and Neal but was cut down at third base on a fielder's choice from Paxton Kling.
Boerema handcuffed LSU from that point until he left the game with one out in the fifth inning, still tied 1-1.
Boerema, who struck out seven before being pulled in the fifth when he hit LSU third baseman Ben Nippolt, gave up four hits and did not walk a batter.
LSU got to Ruhl in the sixth inning when Crews and designated hitter Tommy White, who saw his first action since injuring his shoulder in the first inning of the season-opener, had consecutive singles.
After Jones struck out, Crews and White advanced to third and second base on a Ruhl balk and then Crews scored on Ruhl's wild pitch to put LSU up, 2-1, and White moved to third.
Morgan's ground ball to first base then scored White from third, and LSU led, 3-1.
LSU's second game of the tournament pits the Tigers against the Iowa Hawkeyes. The contest is set for a noon CT start Saturday, and it can be streamed on D1Baseball.com via a pay-per-view subscription. The game can also be heard on the LSU Sports Radio Network affiliates.