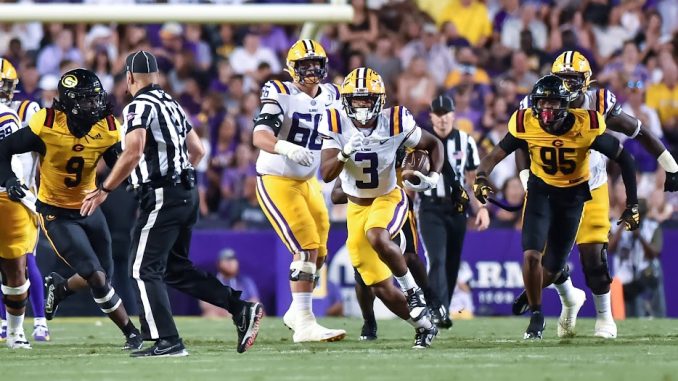 LSU football coach Brian Kelly likes to have options.
Take his running backs for example, a position that's increased in productivity from different players the No. 14 Tigers (1-1) can depend on going into Saturday's SEC opener at Mississippi State (2-0).
Kickoff is set for 11 a.m. The game will be televised by ESPN and broadcast locally by 98.1-FM.
"We're going to feature a guy that's feeling it and hot," Kelly said earlier this week. "We have enough depth where we can spell a guy. That's a good thing. Mississippi State ran five guys last week and they still have a featured back. I still think we're in position to find out who that featured player is, but I still think we can play multiple backs and still have the kind of continuity at the position that's necessary."
LSU's two top rushers in last week's 72-10 home win over Grambling State were a pair players making their season debuts in the backfield.
Notre Dame transfer Logan Diggs overcame a nagging hamstring injury that sidelined him in the team's opener against Florida State to rush for 115 yards and a touchdown. He became the school's first running back to gain 100-plus yards in his debut since 1997.
"It's bittersweet," Diggs said following the Grambling win. "It's been a really long journey, a really long summer for me battling injuries. But God was on my side tonight and it felt really good, especially being able to come back home and play in front of the home crowd. I'm glad to wear these colors and put on for my state."
Diggs was complimented by the first-time performance of true freshman Kaleb Jackson of Liberty Magnet in the backfield. He carried 11 times for 62 yards and produced touchdown runs of 5 and 3 yards, respectively, to help the Tigers extend their leads to 63-10 with 13:30 remaining to be played.
"I think with both backs it was a physicality. There were runs after contact," Kelly said of Diggs and Jackson. "There was that physical presence that we were looking for. No disrespect to our opponent but it was not an SEC opponent. We were able to control the line of scrimmage and do it with regularity. We were more diversified in our running game. The goal was to get off the ball which we did. We ran hard, we featured two backs that we hadn't seen. Now let's move forward with that."
Kelly felt for this year's offense to truly thrive, LSU needed to augment a rushing attack that was largely dependent on the feet of quarterback Jayden Daniels, who produced school-record totals in yards (885) and touchdowns (11) in 2002.
The Tigers returned all of their top running backs – Josh Williams, Noah Cain, Armoni Goodwin and John Emery Jr. – from a year ago. They also picked up Diggs in the transfer portal, re-signed former player Tre' Bradford and added two freshman in Trey Holly and Jackson.
Because of offseason surgery both Williams and Goodwin missed time during fall practice along with Diggs, leaving Bradford as the team's surprise starter in the team's opener against Florida State. He caught the game's first pass for 55 yards and scored a touchdown in four attempts.
Daniels, though, was the team's leading rusher in a 45-24 setback with 93 yards on 20 carries.
Diggs originally signed with Kelly out of Archbishop Rummel in New Orleans and developed into the Fighting Irish's leading rusher with 822 yards and four touchdowns last season.
With an opportunity to land Diggs again, Kelly was able to lure the 6-foot-1, 215-pound back to his native Louisiana and join a crowded backfield.
"We were looking for somebody who could change the dynamics of our running back room," Kelly said of signing Diggs at Notre Dame. "We liked the way he played the game. He was somebody who had an edge to him. He was a guy that was featured in the passing game. As a running back it was pretty evident that he had the skills necessary to play at the highest level and he was a really good student.
"Those things were pre-requisite in terms of the recruiting process," Kelly added. "There was a connection there relative to former players from that area that did well at Notre Dame. That was a good hook to start and then it was a matter of convincing him to leave Louisiana which was not easy at all. It was a combination of the ability to come in and play right away. We didn't have a lot of depth at the position and then the academics. He was looking for both and that was a motivating factor."
A week after not stepping onto the playing field against Florida State, Diggs started in LSU's home opener with Grambling.
His first carry in an LSU uniform went for 12 yards and a first down. On the team's fourth scoring drive, he ripped off consecutive first down runs of 18 and 11 yards and wound up seven carries on the nine-play series for 63 yards that he capped with a 3-yard TD with 7:22 showing in the second quarter.
Diggs' first touchdown in purple and gold extended LSU's lead to 28-10 with a promising first half that included 82 yards on nine carries. His four carries for 24 yards set up Garrett Nussmeier's 1-yard TD run that made it 49-10 and after two more carries for nine yards, his night was done in favor of Jackson who punched in two more of the team's five rushing touchdowns.
"At the end of the day, this is my home," Diggs said. "When I was a kid, I dreamed about playing at Louisiana State University. When I left Notre Dame, I knew I wanted to come to the SEC; and I knew the potential that this team had to compete for a national championship. This is a great team and I get to come home. It is a win-win for me."