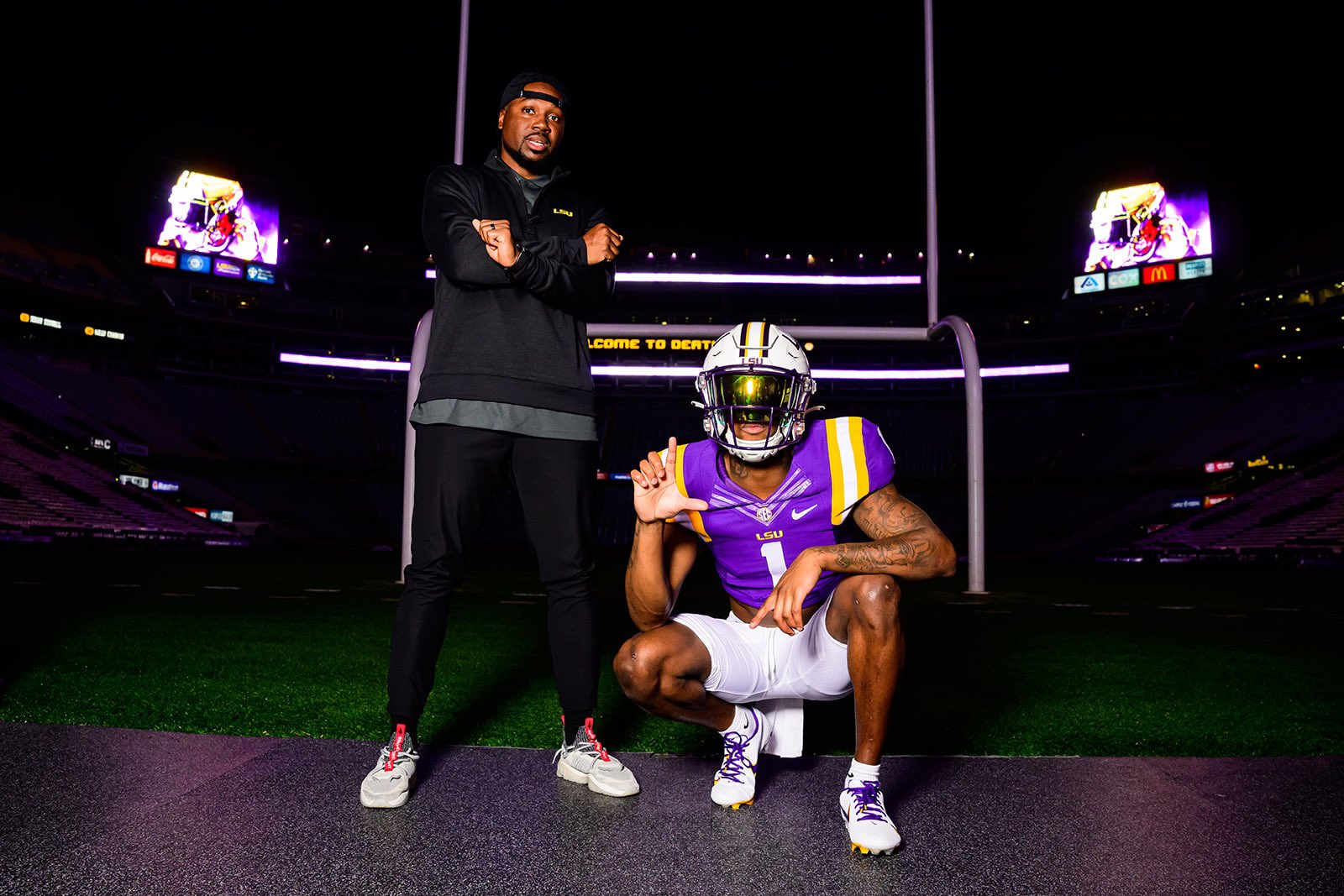 One of the players from the NCAA transfer portal expected to help with LSU's reconstruction of its cornerback position will miss the entire season.
Head football coach Brian Kelly said on Wednesday's SEC Coaches Teleconference that redshirt sophomore JK Johnson, who suffered a fractured leg injury early in fall camp, will miss the 2023 regular season and won't return until possibly the middle of December.
"It's a long-term injury," Kelly said. "The surgery was successful. But any chance of getting him back would be sometime in December, maybe later. So, I think that's what we're looking at right now."
Johnson, a native of St. Louis, Missouri, was a four-star standout under current LSU cornerbacks coach Robert Steeples at De Smet High School. He signed with Ohio State where he started in five of 15 games during his career, including a breakout year in 2022 with 20 tackles.
He was one of four cornerbacks Kelly signed from the NCAA transfer portal along with Zy Alexander of Southeastern Louisiana, Denver Harris of Texas A&M and Duce Chestnut of Syracuse.
Johnson was rated the No. 1 player on the St. Louis Post-Dispatch's Super 30 and had 42 tackles and seven interceptions during his senior season.
Here's what else Kelly had to say:
Opening statement:
"Going on the road against an SEC opponent is a very difficult place to play in Starkville. Our team understands the challenge in front of them. We're excited about the opportunity. (MSU coach) Zac Arnett has done a great job and is utilizing the talent on his football team in a manner that he sees fit. It's a transition from the 'Air Raid' offense that Coach (Mike) Leach had run so effectively. It's a much more traditional offense that features an outstanding running game and a veteran quarterback in Will Rogers. Defensively, it's a very difficult scheme to defend against. It's one that employs a lot of movement up front. It's a challenge that you get every time you play. Well-coached Mississippi State team. Our team played well last weekend, played for four quarters. Now we look to kind of build on that going on the road against an SEC opponent."
In your coaching career, have you coached with fans of home team ringing cowbells?
"It then becomes your job to make sure that they're not as active in the game by playing well. So certainly, early in the game, we expect that really enthusiastic crowd and it'll be up to our play to manage that. But again, I think you have to prepare for the eventualities of silent counts and things of that nature. It's the first time that I've gone into an environment with a cowbell."
When did you notice a shift in Malik Nabers' approach?
"I think going into the (Citrus) bowl game and in terms it becomes his (wide receivers) room. When Kayshon (Boutte) decided to go to the NFL and move on, that kind of leadership is passed on to the next guy. I think we began to see that begin with the way he took over the leadership reins in the wide receiver room as we prepared for the bowl game, and then clearly there was growth for him in the offseason. I think each week has been one where he's anxious to lead and he's learning how to lead. I would even go back to the last couple of weeks where he's been put into some leadership positions, and I think he's grown from the experiences."
What did you like about a recent encounter between Nabers and a teammate?
"It's channeling the emotions. He's an emotional young man. When you're put in a position of leadership emotions are not going to carry the day. Actually, communicating and showing somebody how to do things instead of yelling and screaming is really the way to teach and he took the time to show somebody how to do it the right way instead of getting emotional about it. And I think that's the first step towards really good leadership."
What's expectation for John Emery Jr. in his first game back?
"He's in a much better place than he was last year at this time physically, mentally. I wouldn't say that there's any comparison between the John Emery from last year and John Emery this year. He was on scout team for the last three weeks. He's physically fit, he's a plug and play guy. I think he's going to get as many carries as anybody would be in this situation where you have a talented room. I don't think he's going to be limited by conditioning or like we had with Maason (Smith). So, we feel like he's ready to play and should be able to impact the game."
How much has Kaleb Jackson learned with all the nuances of the position?
"I think he's made really good progress. We played him quite a bit as a true freshman last week and he will play this week as well in Week 3 on the road against an SEC opponent. I think it's steady progress for a true freshman in a very crowded and talented room. So, I think that speaks volumes of what he's been able to do. He's also serving as well as a kickoff return player. So, I think he's made a very large impact immediately on this program."
Is there an expectation of trying to repeat as SEC West champions?
"Yeah, that's the plan each and every year is to compete for championships. We're growing as a team. We didn't play very well in the second half against Florida State. I thought we came out with a really good mindset in Week 2 in terms of the way we played with a sense of urgency for four quarters. We executed extremely well on offense. We have some things that we have to continue to work on defensively, but keep in mind with 14 transfers, and we're playing freshmen on defense, so there's some young players that need to continue to grow. There's some transfers that need to continue to grow into our defensive structure. But this is a team that certainly can compete for the SEC West again. We've got to go on the road, and we've got to prove that. This is the challenge. The next five weeks, we're going to be challenged and it's not just going to be about ability, it's going to be what's the identity of his team. You're going to have to fight out some of these wins like that team did last year. And so, the identity of this football team has yet to have been cast. We'll define that out here over the next month."