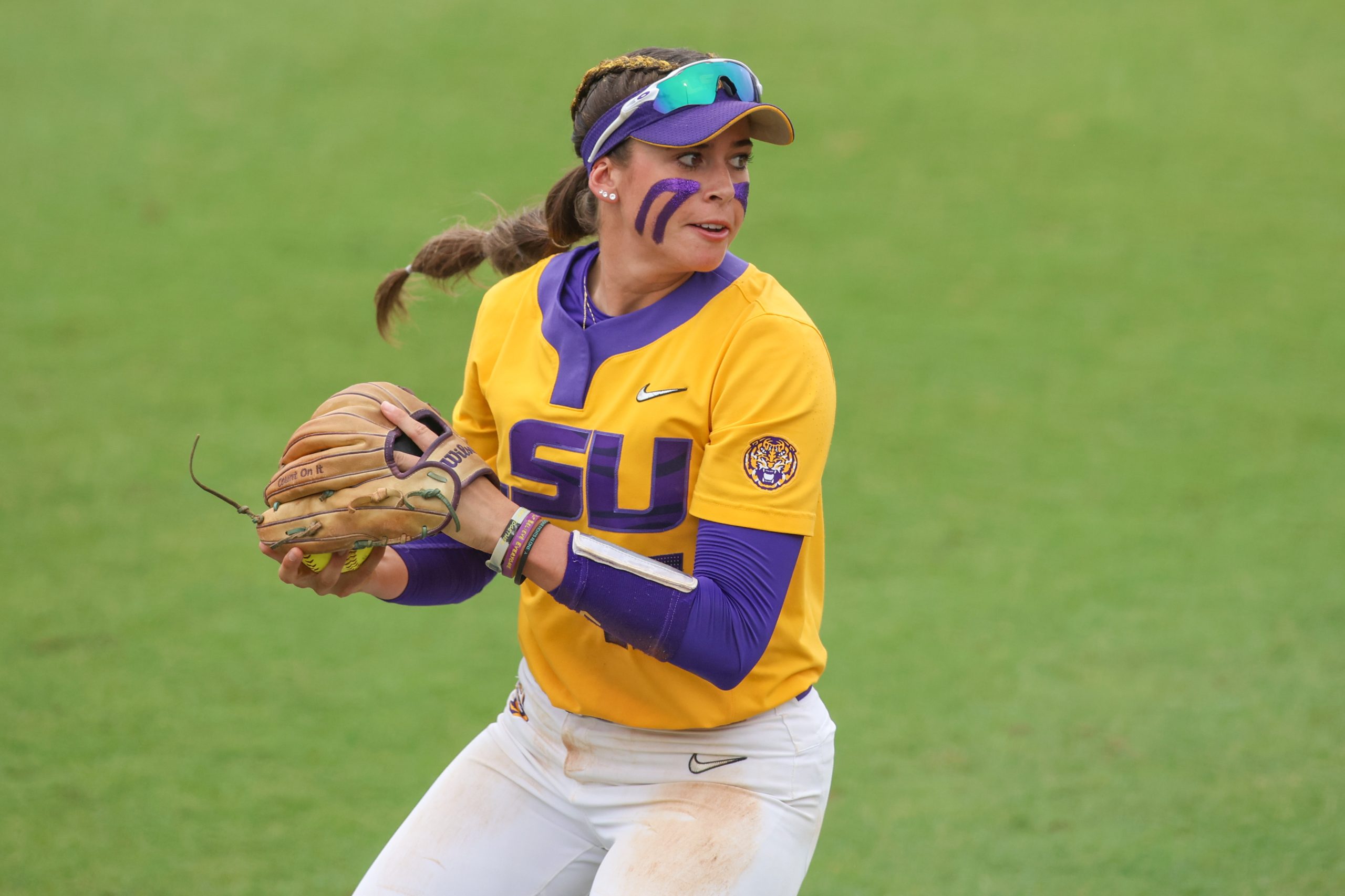 There wasn't much solace LSU softball Beth Torina could take from Sunday's NCAA Regional downfall.
Instead of being able to celebrate the program's ninth trip to a Super Regional, the Tigers were instead left to lament the end of the 2023 season following two straight losses to UL-Lafayette in the regional championship.
"It's hard because this team did so many things right," said Torina, whose 12th season ended with consecutive 7-4, 9-8 losses to the Ragin' Cajuns. "They were so talented. They were the team if the strength coach asked them to run eight shuttles, they'd run nine. They're the team that did every single thing right. Just feels devasting for them."
There were gigantic shifts of momentum in both games which totaled 5 hours, 30 minutes and played in front of rabid fan bases totaling 4,283 at Tiger Park.
They were treated to top-seeded LSU, which needed a win to secure regional and advance to the Super Regional, jump out to a 4-0 lead in Gm. 1 only to surrender seven straight runs.
The second-seeded Cajuns jumped all over Gm. 2 starter Sydney Berzon for six first-inning runs – capped by a grand slam homer – before the Tigers reeled off eight unanswered runs to grab an 8-6 lead going into the top of the fifth inning.
But it wasn't enough.
"As soon as the inning was over, we all looked at Sydney and said we have your back," LSU catcher Ali Newland said. "Nobody thought we weren't going to score any runs. Nobody thought the game was over. We talked about that all year. Continuing to trust in who we were, and the next person would have your back and step up."
LSU (42-17) found itself with a two-run lead for Berzon and six outs standing between them and a Super Regional date at Washington.
The Cajuns got a run back in the sixth on a solo homer and trailed by a run entering the seventh but opened the inning with consecutive singles against Berzon. After both runners moved up on a sacrifice bunt, Torina said a failed attempt to intentionally walk No. 7 batter Jourdyn Campbell, who had homered twice and drove in seven runs on the day, resulted in a passed ball that allowed the tying run to cross the plate.
Instead of putting Campbell on base, Berzon continued to pitch to her and allowed a run-scoring single to right field on a 2-2 count.
"I considered going to her," Torina said of graduate student Ali Kilponen, who had already warmed up in the bullpen. "Another decision I'll continue thinking about for the next six months. Maybe the next six years, maybe the next 16 years."
Torina believed Berzon, who battled control issues in the first inning with three walks, had settled down and would finish the game despite a pitch count that reached 120.
"I looked at the scoreboard and there were six runs and only two hits," Torina said of Berzon. "I thought she was our best option. I thought she was our best matchup. I was confident she could find the (strike) zone. The problem with the first inning was not being able to find the strike zone and then once she did that, I thought she was fine. Probably ran out of gas, some at the end. She's had a hip issue for a while, and I'm ran out of gas a little at the end. I still felt like it was her game."
LSU's offense, which was held scoreless in its last five innings in the opening loss, hadn't scored a run in Sunday's finale since the fourth inning on Taylor Pleasants' RBI single. They squandered a scoring opportunity in the fifth when McKenzie Redoutey tripled and Karli Petty bunted her way on, and the Cajuns' relief pitching went on to retire eight of the next nine batters until Raeleen Gutierrez dropped a single into center.
No. 9 batter Savannah Stewart got a favorable count at 3-1 but fouled out to left field to end the game.
"We just kept trying to chip away at it," Newland said. "They're a great team. To keep chipping away at their pitchers and trust that we're good hitters, too."
Berzon helped LSU cruise into Sunday's championship round on the strength of her five-hit shutout on Saturday.
The Tigers turned a 1-0 deficit into a 4-1 lead on Petty's fourth homer of the season – a two-run shot – and added two more runs on an error groundout.
LSU's three-run lead wasn't enough for Kilponen to hold, failing to get out of the second inning when UL-Lafayette reeled off a stretch of six unanswered runs over the second, third and fourth innings to force a second and deciding game.

The Tigers' offense was stifled between the third through seventh innings, going hitless during that span until Pleasants' two-out double which was followed by a groundout from Georgia Clark.
"Nobody knows what we have unless you were within the walls of Tiger Park every day," Newland said. "We're going to come back in August, we're going to go to work and we're going to figure it out. There's nothing I thought this team was missing.
"It's an incredible softball team, the best one I've been a part of here," Newland added. "A team that loves each other more. It was truly a blessing to play with my best friends this year. We have to go to work in August and figure out a way how to get back here."