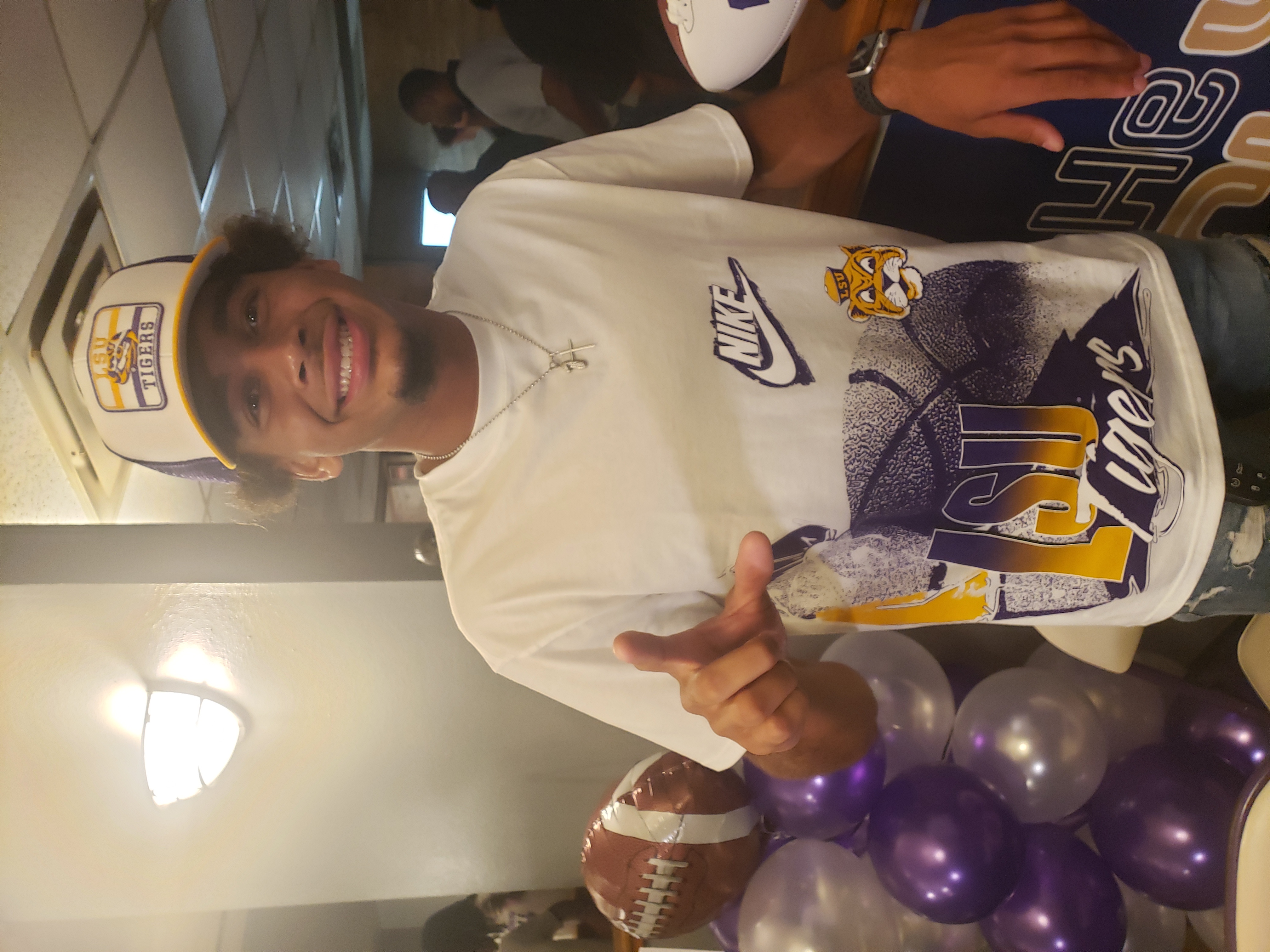 LSU just needed to look across town to find its shiny, new five-star wide receiver prospect a quarterback to throw to him.
Four days after landing a pledge from Catholic-Baton Rouge wide receiver Shelton Sampson Jr., the Tigers found a comparable guy to get him the football when four-star quarterback Rickie Collins of Baton Rouge-Woodlawn committed Wednesday night during a ceremony at a local restaurant.
"I'm from Baton Rouge," Collins said. "I've grown up 15 minutes down the road from the stadium I'm going to play in. That's a blessing. I'm going to take great pride in that."
The 6-foot-2, 190-pound Collins became the 19th member in LSU's Class of 2023 and first quarterback after two of the state's top signal callers, Newman's Arch Manning (Texas) and Zachary's Eli Holstein (Alabama), opted for out-of-state destinations.
The Tigers also moved up to sixth nationally in the team rankings per 247Sports.
The Collins-to-Sampson connection took shape Aug. 1 when Collins, the nation's No. 2 dual-threat quarterback according to Rivals.com, ended a nine-month commitment to Purdue, the day after an unofficial visit to LSU, where offensive coordinator Mike Denbrock and quarterbacks coach Joe Sloan have been persistent in their recruitment.
"We have a real great relationship," Collins said of Sloan, who recruited him when Sloan was the head coach at Louisiana Tech. "He recruited me at La. Tech and it's been an ongoing relationship from there and it never really stopped. I'm really thankful for Coach Sloan believing in me."
Collins also took an official visit to Florida State on June 10, the week after a subsequent official visit to Purdue. He said Penn State made a late run after his decommitment to Purdue.
"LSU always stood out to me because it's the home state school," Collins said. "I'm just a Tiger now."
The unofficial visit to LSU, the third in two months, just before the NCAA's dead period was impactful.
"It was very much needed," Collins said. "Just being around the whole staff, the players and just being in that atmosphere. I was fortunate to be recruited by both staffs, so I saw the coaching staff change and I like the direction Coach Kelly's bringing the program and I wanted to be a part of that."
Collins said LSU's coaching staff compared him to a mix between Atlanta Falcons rookie quarterback Desmond Ridder, formerly of Cincinnati, and current LSU quarterback Jayden Daniels, who is battling for the team's starting berth this season.
Denbrock was the offensive coordinator at Cincinnati, where he developed Ridder into the American Conference Offensive Player of the Year in 2021.
"Those are two great quarterbacks," Collins said. "Desmond's now in the NFL and Jayden's going to have a great season that everyone's expecting. He did great things at Arizona State, so to be compared to those guys is a blessing. I think I can do all the things that they do, but I think I can bring a little something more."
Sampson, the nation's fourth-ranked wide out by 247Sports, committed to the Tigers on Saturday and Collins followed suit, choosing to the same path forged by his high school coach Marcus Randall, who played quarterback at LSU from 2002-04 and is best known as the author of the Blue Grass Miracle – a 74-yard game-winning TD to beat Kentucky, 33-30.
"It's awesome," Randall said. "I never put any pressure on him to go to LSU. I wanted him to go through his own process, even if he would have stuck with Purdue or gone somewhere else. Brian Kelly and Joe Sloan came in and did a great job of recruiting him, although they got on him late. They made him feel welcomed, made him feel at home."
Collins, a three-year starter, is ranked as the No. 103 overall prospect by Rivals.com, followed by On3 (No. 173) and 247 (No. 177). He's also ranked as the state's eighth-best prospect by Rivals.com and finished third at the prestigious Elite 11 national quarterback competition this summer.
He was a three-sport athlete at Woodlawn, also starting in both basketball and baseball, until focusing on football in 2021 and becoming the District 5-5A MVP on offense last season. He completed 65% (119 of 182) of his passes for 1,930 yards and 16 touchdowns, helping the Panthers to the second round of the state playoffs. He also passed for just under 2,000 yards as a sophomore.
"Putting on for the hometown is a real blessing," Collins said. "What kid doesn't want to be able to do those things. You grow up watching LSU football. You see Tyrann Mathieu making pick (interception) returns and punt returns. You see Leonard Fournette breaking records. Just to see those moments and it makes you want to be a Tiger."