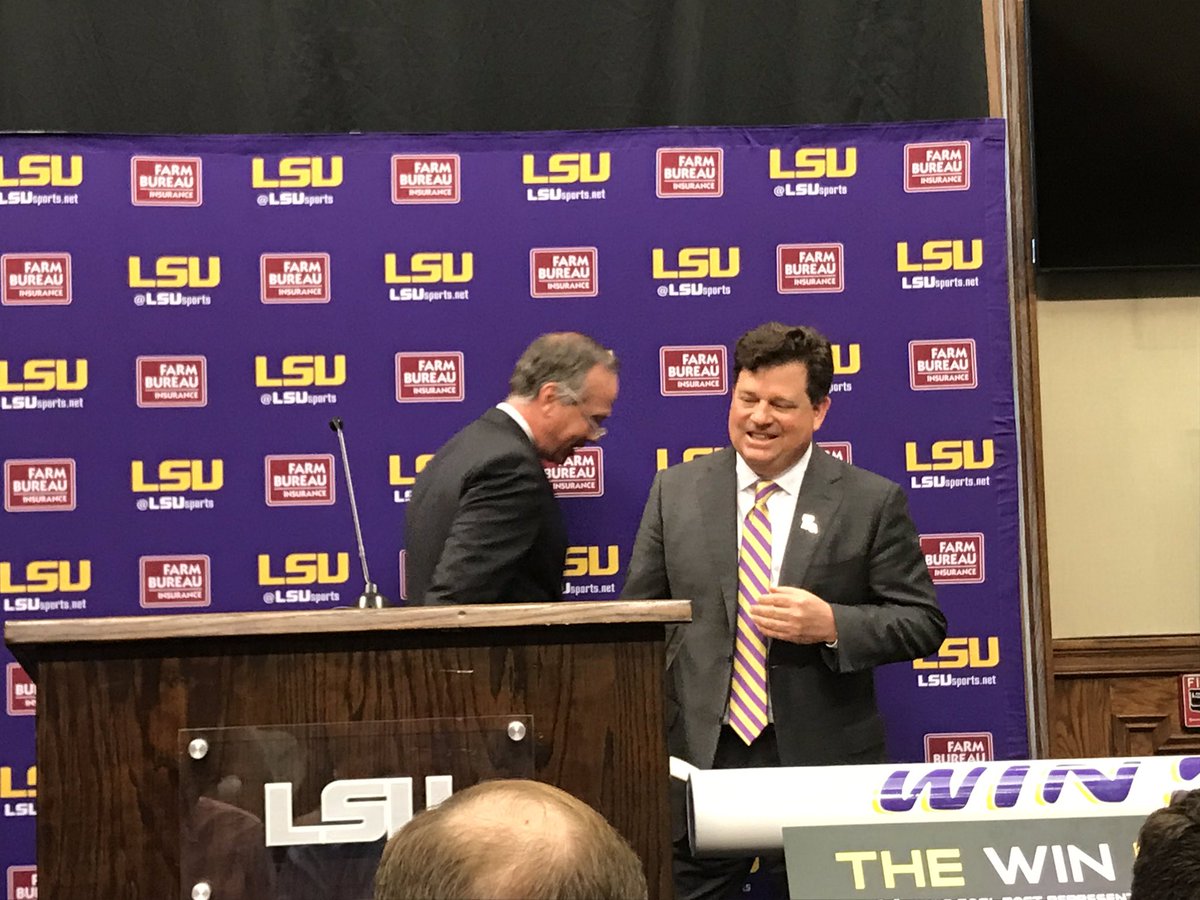 Before LSU head football coach Ed Orgeron took the podium at Southeastern Conference Media Days, the program's newly-minted athletics director Scott Woodward made an a radio appearance on local radio program Talk Louisiana on Monday Morning.
During the interview with substitute show host Jim Nickel, Woodward discussed what he hopes to accomplish in his first academic year with the program, the implementation of alcohol sales in Tiger Stadium and even teased an upcoming staff addition.
Woodward confirmed that LSU's athletics facilities sustained little to no damage as a result of Tropical Storm Barry, and that the program, as well as the city, "dodged a proverbial bullet" over the weekend.
Among the most highly anticipated questions Woodward answered during the interview pertained to the sale of alcohol in Tiger Stadium during the upcoming football season.
The Southeastern Conference recently lifted restrictions on the general sale of alcohol in its member program's facilities, opening the door for the sale of beer and wine at athletic events in the future.
While a formal announcement is forthcoming on July 25, Woodward assured listeners that beer and wine will be sold to the general public during the 2019 season.
"It's probably the worst-kept secret in town that we will be serving beer and wine in the general stands of Tiger Stadium," Woodward said. "Then we're going to determine what to do with our upcoming sporting events going forward."
Woodward emphasized the importance of working with state and local law enforcement in coordinating a plan that efficiently and effectively prohibits the illegal sale of alcohol on campus.
When asked what he would like to accomplish over the course of his first year with the program, Woodward played a little coy, though he did say he continues to work on his core staff.
In fact, he said an announcement would arrive later on Monday afternoon about the addition of a new staff member.
"I'm making some internal additions to staff, and we'll have an announcement coming out today," Woodward said. "We're just working on the assemblage of my senior staff and how we're going to do things here."
Woodward added that he has no plans of tempering expectations of LSU fans during his time at the program's highest office.
If anything, he plans on doing the opposite.
"You won't see me managing expectations nor our coaches," he told Nickel. "We have extremely high expectations. As high as if not more so than our fans. We expect to do well. We expect to be good in everything we do."
Photo Credit: James Moran