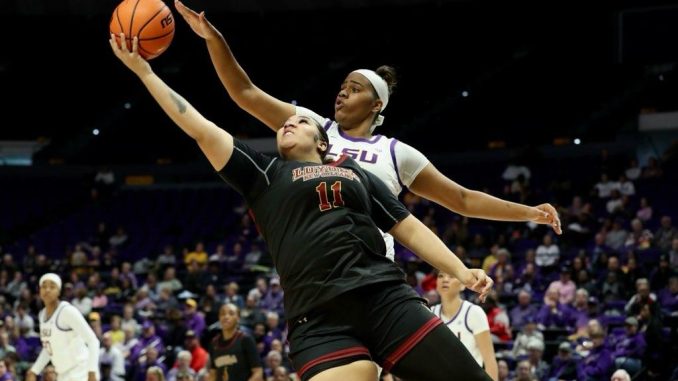 LSU's starting group, with two returning starters from last year's national championship team, set the bar exceptionally high with an explosive 42-point opening quarter.
Preseason first team All-Southeastern Conference selection Flau'jae Johnson ignited such a surge with 13 of her 15 points, and freshman Mikaylah Williams led all scorers with 20, to power top-ranked LSU to a 121-36 exhibition victory Wednesday against overmatched NAIA member Loyola-New Orleans before a crowd of 1,605 at the Pete Maravich Assembly Center.
No. 1 LSU tips off its season Monday against No. 20 Colorado in the Naismith Basketball Hall of Fame Series at T-Mobile Arena in Las Vegas, Nevada at 6:30 p.m. The game will be televised by TNT and carried locally by 107.3-FM.
"We came out the gates smoking hot," LSU coach Kim Mulkey said. "I thought our perimeter people were hitting shots they weren't hitting the other nights and a lot of that is contributed to conditioning."
LSU, which didn't trail for a second game, had a total of seven players in double figures and one – Aneesah Morrow – had a double-double with 11 points and 12 rebounds.
Guard Hailey Van Lith had 13 points and five assists, while fellow starter Angel Reese, a first team All-American, scored 10 to go with nine rebounds. Reserves Aalyah Del Rosario added 16 points and nine rebounds, while Last-Tear Poa contributed 12.
LSU's entire 13-player roster got into the scoring column once walk-on guard Izzy Besselman fed junior forward Amani Bartlett for an inside basket with 56 seconds to go. The Tigers also gave an impressive long-range shooting display, making 50% of their shots (9 of 18) from behind the arc with Williams making four and Johnson adding two.
"I think it was my teammates looking for me and making good passes and me just executing," said Williams, who made 8 of 10 shots and played 18 minutes.
Six straight points from Poa sent LSU over the 100-point mark with 5:39 remaining and Kateri Poole's three free throws with 2:56 to go provided the Tigers with a 111-31 margin.
Propelled by the shooting of Johson and Williams, LSU shot 64% (16 of 25) in the opening quarter and made 5 of 7 from 3-point range. Johnson, who was 6 of 6, and Williams combined for all five of their team's trifectas.
"Flau'jae shot the ball confidently. She's a competitor," Mulkey said of Johnson. "I don't think you've seen the best from Flau'jae yet. She got so many minutes last year because we didn't have depth, we didn't have experience and now I look at her and think, 'she's just a sophomore'. She has national championship experience, but she's just a sophomore and I have to remind myself of that sometimes. I think she did fine. I don't think she missed a shot."
LSU scored the game's first 15 points and never looked back. Johnson scored five points and Morrow's putback made it 15-0 less than three minutes into game.
Loyola, which also lost an exhibition 72-38 at Tulane, didn't score until the 7:30 mark of the first quarter when Morgan Hervey's straight-away 3-pointer at the 7:30 mark of the first quarter. The Wolfpack didn't have a player in double figures.
Back-to-back 3-pointers from Williams and Morrow triggered an 11-0 run that increased LSU's lead to 31-5 on Williams' fade-away after securing an offensive rebound.
"Mikaylah's been there since the summer and it's just been work," Poole said. "She even outworks me in practice the majority of the time. She can learn a lot from me, but I'm also learning a lot from her."
Johnson closed the last minute of the quarter with five points, including a 3-pointer and drive following a steal, and a 15-footer from Williams capped the quarter.
Del Rosario was the star of LSU's second quarter that resulted in a 63-16 halftime cushion. She showed her raw power inside by muscling in a couple of baskets and her nimbleness, collecting an assist from Poole while cutting to the goal for a layup and 49-14 lead, forcing a Loyola timeout with 7:30 left in the second quarter.
Sa'Myah Smith's wing jumper from 10 feet pushed LSU's lead to 57-16 with just under three minutes left and it was her 10-foot jumper on a curl inside the free throw line that finished the quarter with a commanding 47-point advantage.
With two of her four 3-pointers in the quarter Williams asserted herself with 10 points on 4 of 4 shooting and was 8 of 10 for the game. Her final 3-pointer with 1:40 showing made it 90-25 when layups from Del Rosario and Poa added to the Tigers' 94-29 lead to end the third quarter.
"Every time we can get on the floor, we're going to get a little bit better," Mulkey said. "We're talented. We have a lot of talent but we're going to get a little bit better as a team. The more we can play together I just think we're going to get better."