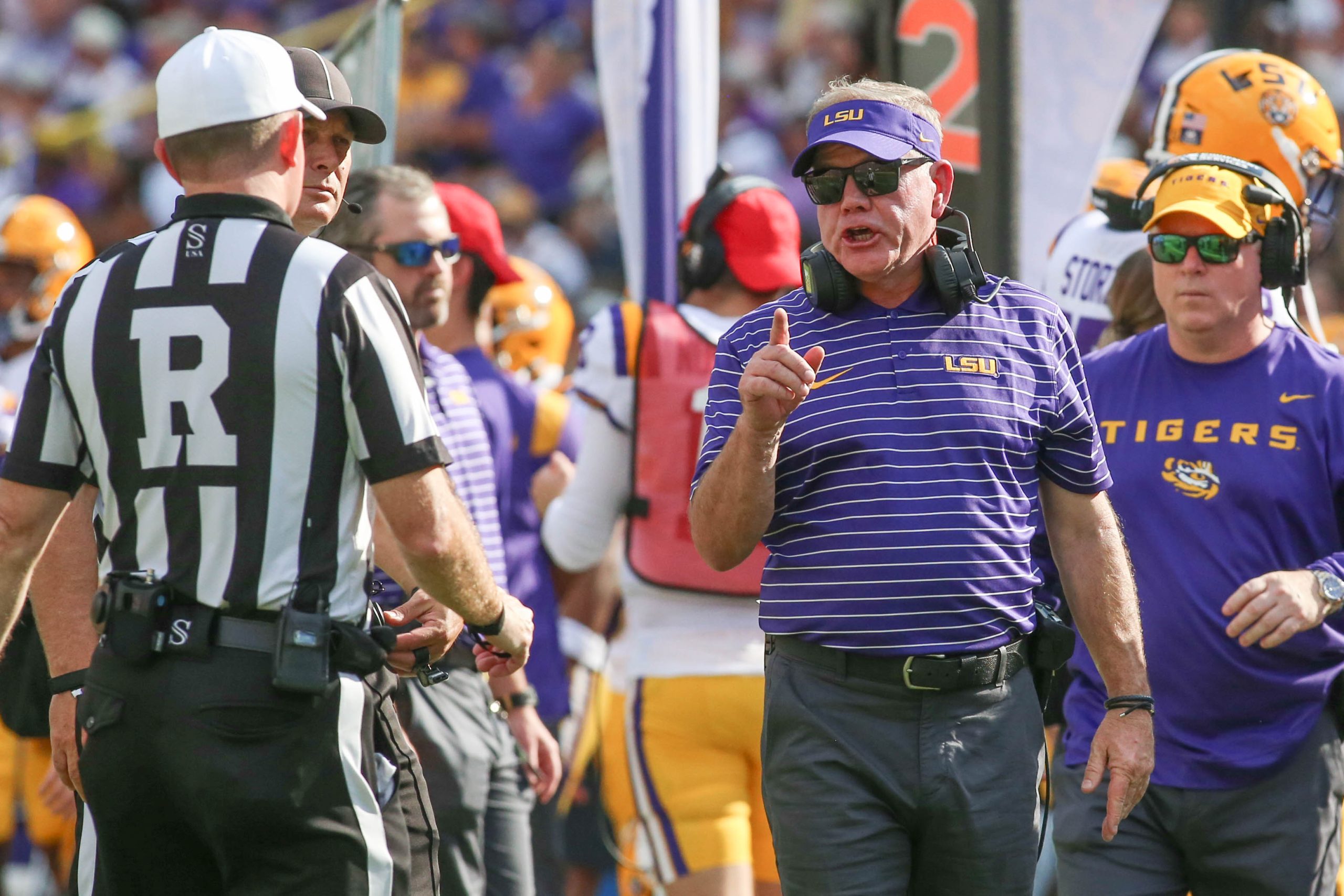 As Brian Kelly strives to finish his sophomore season as LSU coach with a flourish, he knows from last year that beating Alabama is a panacea for any naysayers doubting his coaching acumen. For LSU, the Alabama game is akin to Army-Navy. Unless the Tigers win a national championship, beating Alabama is worth five victories for an LSU football coach and losing to the Crimson Tide ruins any campaign, even if the Tigers go 11-1 in the regular season.
The Nick Saban hate-fest at LSU started the day he was hired at Tuscaloosa. Never mind that he was coach of the Miami Dolphins and tried unsuccessfully to get his old job back before defecting to the Red Elephants. When mighty Nick returned to Death Valley as Bama boss in 2008, he required 13 State Police gunners from two states to protect him from potential harm. His likeness was burned in effigy at an off-campus apartment complex as LSU fans anticipated ass-whipping revenge on their diminutive target, who rebuilt the LSU program into a national contender after inheriting a disaster of eight losing seasons in the previous eleven.
Saban returned to Baton Rouge in 2008 and the Crimson Tide nipped LSU 27-21 in overtime after losing 41-34 to the Tigers in Tuscaloosa in Nick's rookie year at Alabama. In year three at Tuscaloosa, his team won the first of his six national championships under the diabolical genius. The Tide topped LSU that season 24-15 before losing two straight to Les Miles and entering the Jan. 9, 2012 BCS Championship Game at the Superdome as non-SEC champs. Alabama slammed LSU 21-0 and never looked back.
After starting 2-3 vs. Miles and the Bengals, Saban has won ten of the last 12 matchups, the exceptions being the 46-41 shootout in 2019 at Bryant-Denny Stadium and the 32-31 overtime defeat at Tiger Stadium last year. For LSU, the Alabama game is everything. For Alabama, the LSU game is another important clash for ultimate glory.
Saban is 12-5 vs. LSU as coach at Alabama, and he was 4-1 vs. Alabama when he was directing LSU. In the current century, Alabama leads the series 13-11 while Saban is 16-6 in the series. Sometimes the coach makes a huge difference in a rivalry.
The coach with the second highest number of wins in the LSU-Alabama 21st Century battles is Leslie Edwin Miles, who was 5-7 overall (3-7 vs. Saban and 2-0 against non-Saban teams at Bama).
Alabama is the premier program in the college ranks since Saban's arrival in 2007, but LSU can make the case it is second best, but it is a distant No. 2.
Here are the numbers for LSU and Alabama 2007-23.
Overall Record: LSU 159-57 (73.6 pct.) Alabama 201-28 (87.8 pct.)
SEC Record: LSU 90-45 (66.7 pct.) Alabama 122-18 (87.1 pct.)
National Championships: LSU 2…Alabama 6.
SEC Championships: LSU 3…Alabama 8.
Games In Baton Rouge: Alabama leads 6-2.
Games in Tuscaloosa: Alabama leads 5-3.
Games in New Orleans: Alabama leads 1-0.
Average Score: Alabama 26.7 LSU 17.6.
Kelly can be confident his team has a realistic shot of winning against this Alabama team. The Crimson Tide is not invincible and LSU usually plays well at Bryant-Denny. This is a moment for Jayden Daniels to advance his Heisman Trophy stock as Joe Burrow did on the same field four years ago.
It will not be a huge surprise if LSU wins. It will be a stunner if the Tigers dominate. The five LSU wins against Saban at Alabama are by a total of 19 points. The last time LSU pounded the Tide into submission in Alabama was in 2003 when the Tigers prevailed 27-3 in a national championship run under Saban. A close encounter is in order with the outcome either cementing Brian Kelly's stature as an elite coach or not.
Where Have You Gone, Les Miles?
Les Miles turns 70 on Nov. 10, the same day former LSU coach Gerry DiNardo celebrates his 71st birthday. LSU has four head football coaches born in the decade of the 1950s. So far, there are no Louisiana governors or U.S. presidents born in the same decade which produced nothing but Baby Boomers.
Here are the dates of birth for 13 LSU football coaches born in the 20th Century (not including interim leaders Hal Hunter and Brad Davis).
Gaynell Tinsley: Feb. 1, 1915 Died July 24, 2002 Age 87
Charles McClendon: Oct. 17, 1923 Died Dec. 6, 2001 Age 78
Paul Dietzel: Sept. 5, 1924 Died Sept. 24, 2013 Age 89
Bill Arnsparger: Dec. 16, 1926 Died Jul 17, 2015 Age 88
Jerry Stovall: April 30, 1941
Bo Rein: July 20, 1945 Died Jan 10, 1980 Age 34
Curley Hallman: Sept. 3, 1946
Nick Saban: Oct. 31, 1951
Gerry DiNardo: Nov. 10, 1952
Mike Archer: July 26, 1953
Les Miles: Nov. 10, 1953
Ed Orgeron: July 27, 1961
Brian Kelly: Oct. 25, 1961
Before the NCAA stripped him of 47 wins due to cheating, Miles held the distinction of having the most victories above .500 for LSU football coaches. He was 114-34 on the field from 2005-16 and had eleven straight seasons of at least eight victories to go with a national championship and a trio of conference crowns. Miles despite a dearth of innovative strategy was a good coach.
Miles is arguably the most enigmatic member of the football coaching fraternity at LSU. Reared in an integrated city of Elyria, Ohio, Miles was comfortable with Black athletes and played with several minority teammates on a high school championship team in 1970. He recruited minority prospects superbly, but he is alleged to have threatened to beat up a Black female subordinate at LSU, Associate Athletic Director Sharon Lewis.
Lewis also accuses Miles of sexually harassing women and of demanding an office stocked with big-breasted blonde lasses. Rather than address explosive charges detailed in Lewis' lawsuit in federal court, Miles is sidestepping a subpoena to appear in a deposition.
Miles is residing in his own witness protection program because his own attorney claims he does not know the whereabouts of the elusive Elyrian. This is a call to all Tiger fans with information about the location of Les to come forward and reveal his hiding place.
Snitching on Miles will be a favor for the great man. It will allow Coach Miles to return to the state of his athletic glory and clear his name. Surely, a fine family man such as Les Miles would never desire to have his surroundings adorned with nubile young prey who would find his charms irresistible.
Miles was once so powerful on campus that he reportedly ordered red roses to be removed from the lawn at the Manship School of Mass Communication because "That color is banded on this campus." His contract was so sweet that it included an off-campus apartment for entertainment. Let's hope we get the theater of "The Hat" under oath responding to sordid allegations inconsistent with the depiction carefully crafted by the LSU public relations machine of a coach who was a devoted husband and father.