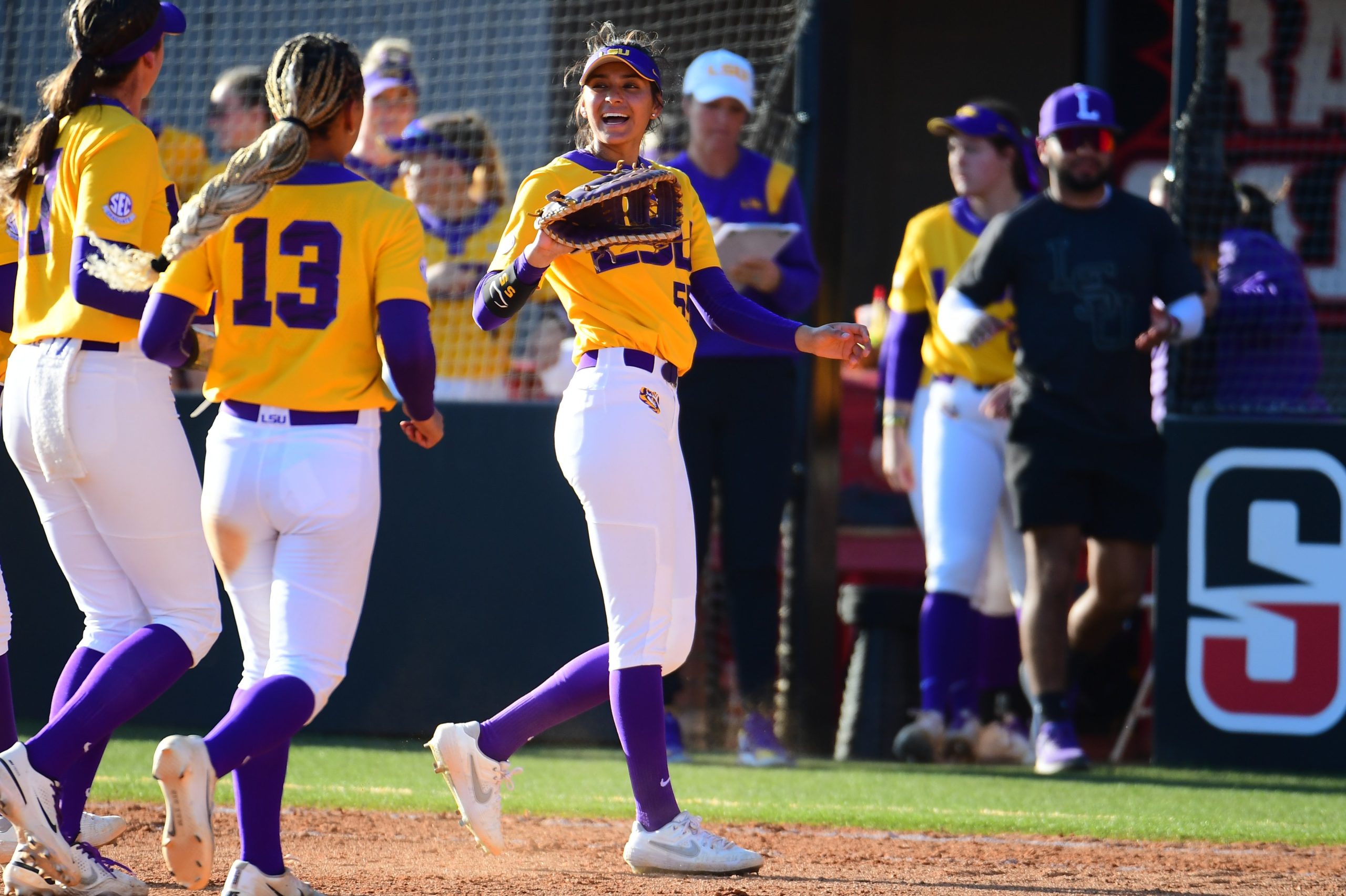 No. 15 LSU softball needed a dominating performance in the circle to close out Sunday's outing in the LSU/UL-Lafayette Crossover.
The Tigers, who suffered their first loss of the season to the Ragin' Cajuns on Saturday, responded a day later on the road with a 4-1 victory at Yvette Girouard Field at Lamson Park.
Graduate pitcher Ali Kilponen (4-0) threw a four-hit, complete-game effort that included two walks and four strikeouts. It was her fourth complete game of the season.
LSU (14-1) rallied from a 1-0 deficit with two runs off the bat of Taylor Pleasants in the fourth inning and freshman catcher Maci Bergeron, a native of nearby Rayne, delivered the biggest hit of her young career a – two-run single to left in the top of the sixth inning.
The Tigers outhit the Cajuns 7-4 with third baseman Danieca Coffey leading the way with a 2-for-4 performance. Pleasants hit her team-leading seventh homer of the season and Bergeron, who entered the game hitting .200 with two RBIs, doubled that output with her base hit in the sixth.
The Cajuns (8-6) scored their lone run against Kilponen in the bottom of the third on Mihkyia Davis' sacrifice fly to foul territory in left.
Coffey led off the fourth with a single and was out at second on Ciara Briggs' fielder's choice. Pleasants cranked a 1-2 offering from losing pitcher Sam Landry to deep center that carried out of the reach of a drifting Davis and over the wall in left-center for a 2-1 lead.
LSU got two runners on in the sixth when McKenzie Redoutey was hit by a pitch and Karli Petty singled when the Cajuns went to reliever Chloe Riassetto, who earned the save over the Tigers in Saturday's win.
Bergeron then delivered a 2-2 pitch with two outs to left field and some added insurance for Kilponen to work with.