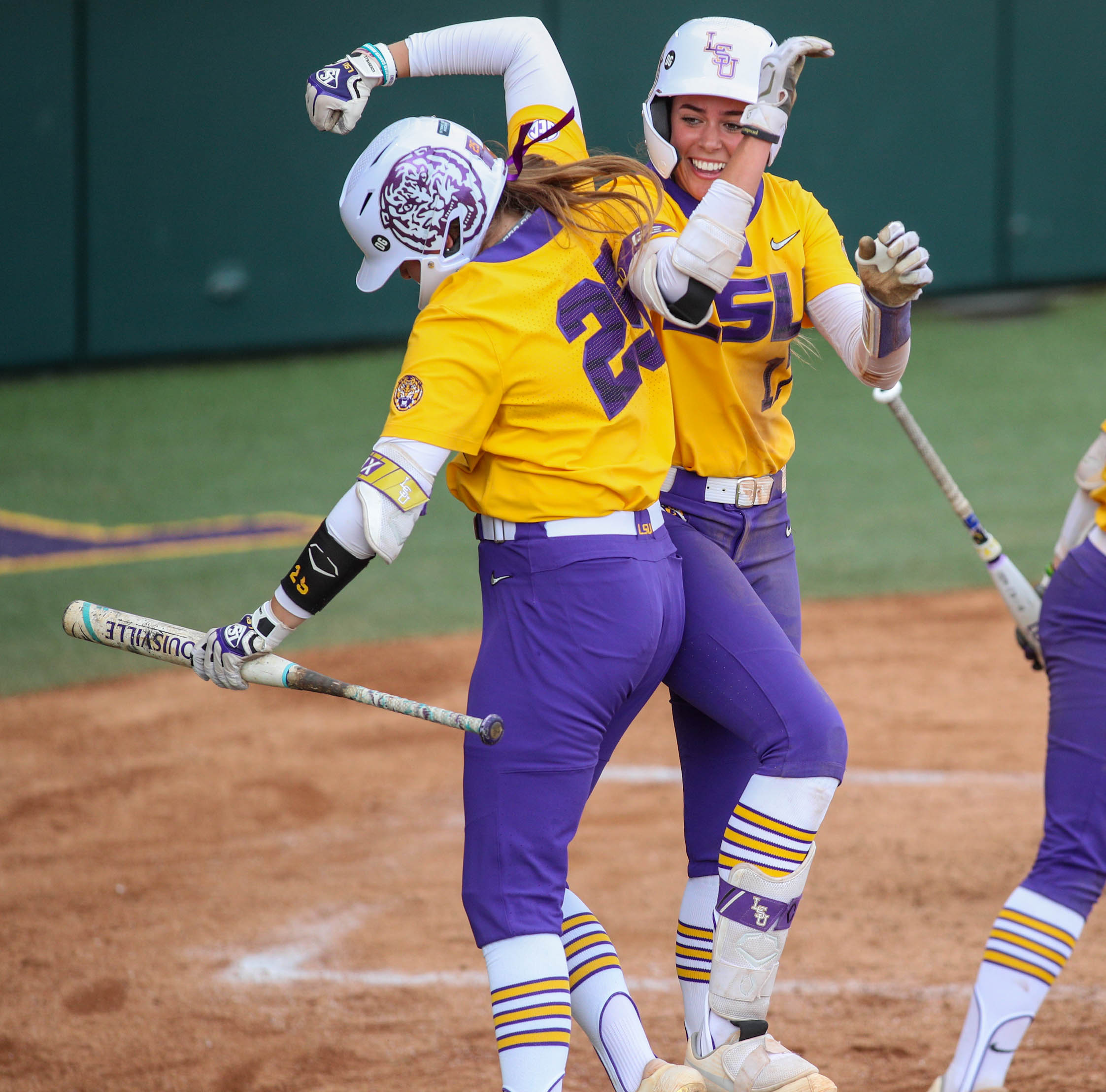 LSU's softball team doesn't have to look very far to find indelible images from the conclusion to the 2021 season.
A quick tour of the Tigers' home facility has pictures placed almost everywhere of Florida State's celebration of its 2-0 sweep last May of the NCAA Super Regional at Tiger Park.
"It's a constant reminder of how close we were to being in that spot," LSU head softball coach Beth Torina said. "We lost those games by inches, little, tiny fractions of seconds to making sure we're doing every single thing in our power to earn all of those things in the fall."
While Florida State wound up as the national runners-up to Oklahoma, LSU's coaching staff doesn't want the team's final failure as the focal point of the fall season which begins Wednesday.
Instead, the Tigers, which featured which featured freshman starters as one of the Southeastern Conference's youngest teams, finished with a 35-22 record against the nation's toughest schedule that resulted in a No. 7 national seed and hosting both the NCAA Regional and Super Regional.
LSU lost its first game to Florida State 1-0 and responded by leading the second game 2-0 through the fourth inning. The game was tied at 2-all and 3-all through eight innings when the Seminoles scratched out the game-winning run in the bottom of the ninth inning.
"It's important that not only do we realize how close we were, we have to make the most of that every day that we defend our park and that's important to us," Torina said. "It's our home park and we want to make sure we show up here every time we for our fans and defend what we feel is ours. Making sure we're earning that every day in the fall. You've got to move on and have a short memory, I'm of that mindset. We're just looking for a little extra motivation this fall."
Torina likened the end of last season to that of the 2014 campaign when LSU was knocked out of NCAA Regional play at Arizona and came back to make three consecutive trips to the College World Series.
"Those guys decided they weren't going to do that again," she said. "Unfortunately, sometimes your best lessons come in loss. Hopefully we're using that as motivation."
Upon the return for the fall semester LSU's team worked in small groups, lifting weights and conditioning four hours a week with an additional four hours a week permitted for softball.
The biggest difference this fall will be LSU's ability to play outside competition after COVID-19 restrictions last year didn't allow for such games.
LSU will play two games in Houston (Oct. 16 vs. the University of Houston and Oklahoma State) and six games at Tiger Park (Oct. 29-Nov. 12) against Pensacola Junior College and Copiah-Lincoln Junior College, Northwest Florida State, Belhaven, Chipola Junior College and Nicholls State.
LSU concludes the fall season Nov. 15-23 with its Purple & Gold World Series.
"Hopefully by having some outside competition there's a better balance of still being in a competitive environment but mixing up the competition by giving them a little bit of room to breathe and be themselves," Torina said. "They'll be excited to do that. A lot of these kids haven't played in a fall game. I don't think any of us put a ton of weight on the fall games. They're really focused on building skills."
On its 27-player roster, LSU returns 21 players with seven of those being position players that started along with a pitching staff that returns three of four starters.
Sophomore shortstop Taylor Pleasants was named Newcomer of the Year in the SEC, first team in the SEC, All-South Region team and All-Louisiana. Junior pitcher Ali Kilponen was also selected to the All-South Region team along with Shelbi Sunseri at designated player.
Outfielder Ciara Briggs was also chosen to the All-SEC's Newcomer team.
While Sunseri will be this year's team lone senior, LSU will also feature seven redshirt juniors in Kilponen, Georgia Clark, Taylor Tidwell, Savannah Stewart, Shelby Wickersham, Jordyn Perkins and Karrington Houshmandzadeh.
The Tigers also welcome six signees led by pitcher Raelin Chaffin of Bossier City, utility players Baylea Brandon of Leander, Texas and Kaylen Madrey of Newnan, Ga., middle infielder Sydney Peterson of Stockton, Calif., outfielder Madilyn Giglio of Metairie and outfielder McKenzie Redoutey of Franklin, N.C., who because of an injury, won't be 100% until the spring.
"I like this group a lot," said Torina, the 2021 All-Louisiana Coach of the Year. "I like our young leadership. Some of them have been here for a long time and in some cases still have three years left to play. I feel really confident about the direction these guys are taking us. They understand the culture and the program's standards better as well as any group we've ever had. They'll do everything to uphold it."
LSU fall softball schedule
Oct. 16
at Collins Park Field, Houston
4 p.m. vs. Houston
6:30 p.m. vs. Oklahoma State
LSU Tiger Park
Oct. 29
4 p.m. vs. Pensacola State
6:30 p.m. vs. Copiah-Lincoln
Nov. 5
5 vs. Northwest Florida State
Nov. 6
5:30 p.m. vs. Belhaven
Nov. 12
3 p.m. – vs. Chipola Junior College
7 p.m. vs. Nicholls State