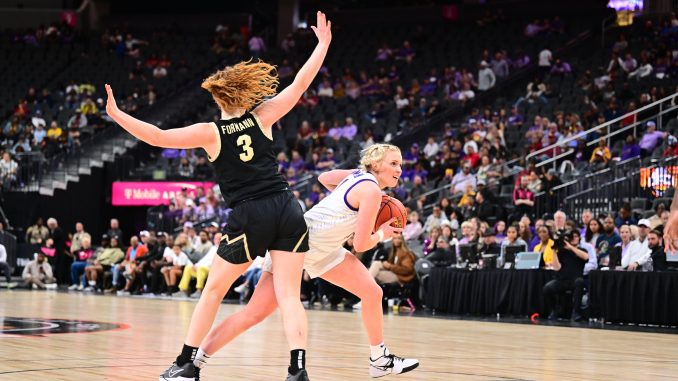 As much of the focus that was supposed to be on Thursday's joyous home opener and No. 1 LSU commemorating last season's national championship season, third-year coach Kim Mulkey couldn't quite let go of Monday's season-opening setback.
It wasn't so much that LSU lost to No. 20 Colorado, 92-78, at the Naismith Hall of Fame Series in Las Vegas, but it was the manner in which the Tigers looked in defeat.
"You play in this game; you coach in this game. You're going to lose games," Mulkey said during her press conference Wednesday. "Losing hurts, but what hurts me more is what I witnessed on that floor: (lack of) effort, energy, fight, heart. Who are ya'll? I'm not talking about the transfers and the freshmen. I'm talking about those that have been in this program underneath me. And that's going to be mainly what I address, and the film will show it.
"The film will not be about missed shots," Mulkey continued. "The film will be about defense. What are you doing? What are you doing? The film will be about just (lack of) grit and guts and that on that floor the other day. They need to tell me why."
LSU (0-1) will attempt to turn the page to happier times in Thursday's home opener against Queens University (0-1) at 7 p.m. at the Pete Maravich Assembly Center. The game will be streamed by the SEC Network+ and carried locally by 107.3-FM.
Fans are urged to get to the arena by 6:20 p.m. to watch the 2022-23 national championship banner be unveiled and the team receive their title rings.
"I was looking forward to it," Mulkey said. "I'm just excited about it. And I'm probably more excited about those that are getting one for the first time. It's just fun for me to see the emotions involved when they look at that ring and have great memories."
LSU's 102-85 victory over Iowa on April 2 was the fourth national championship Mulkey's won as a head coach and the first for the Tigers in either women's or men's basketball.
The red-hot shooting from LSU's Jasmine Carson helped result in a record 59-point first half for a 59-42 halftime lead. The Tigers briefly lost the handle on their double-digit lead (65-57) midway through the third quarter when the Tigers rebuilt a 75-64 advantage going into the fourth quarter. Point guard Alexis Morris helped cement the victory with 15 of her 21 points in the fourth quarter.
"I think back to the last 1:32 on the clock and realized we're winning a national championship," Mulkey said. "There's no way I can screw this up. I remember Flau'jae (Johnson) running to grab me with 50-something seconds and hoped she doesn't knock me down. I remember my grandchildren, my daughter, my son-in-law. I remember looking across the floor and all the LSU people.
"Just the moment that you realized it was really happening," Mulkey added. "I remember that vividly. And then things that happened through those six games that helped you get there. I had to make a decision to change the lineup (adding guard Kateri Poole), which is you're either going to be successful with that decision or you're not. And I felt like we always say, you got to have a little luck along the way. The young lady (Jenna Johnson) for Utah missing the free throws (66-63 Sweet 16 win). I think about that."

Since her team stumbled out of the gate Monday, Mulkey's been consumed with own team's misgivings against a talented and experienced Colorado team which had two players with 20-plus points and another with 19.
LSU trailed 38-32 at halftime and never got any closer than six points (49-43) with just under five minutes to go in the third quarter. The Buffaloes shot 53.2% (33 of 62) from the field, made 43.5% (10 of 23) of their 3-pointers, were only outrebounded by 39-37 and forced 19 turnovers.
Freshman guard Mikaylah Williams topped LSU in her college debut with 17 points and sophomore forward Sa'Myah Smith added 16. First team junior All-America forward Angel Reese had 15 points and 12 rebounds and graduate point guard Hailey Van Lith added 14 points and had a team-best seven assists.
"I told them what we were facing with Colorado," said Mulkey, who noted the Buffaloes returned seven of their top eight players from last year's Sweet 16 team. "You don't have that many players that are returning seniors, graduates that haven't played many minutes together. They finished in the Sweet 16 and lost to Iowa by 10. I knew what we were facing this early in the season. So, I'll take responsibility for even scheduling it. But we're OK. The sun will come out, the sky is not falling. It's one day. Let's go back to work. But we got we got a lot to fix."
Mulkey joked the paint on the walls of the team's newly refurbished locker room would be tested with Wednesday's critically acclaimed film session.
"You can say it to them. You can talk about a target on your back," Mulkey said. "It's not like it hasn't been said, but sometimes you just have to have it happen to you to maybe make you listen to your coach. It's kind of like raising a child. Don't touch that stove, it's going to burn you. I said don't touch that stove, it's going to burn you and they touch it anyway. And then they have a little scar from the burn. Sometimes you just have to go through it."