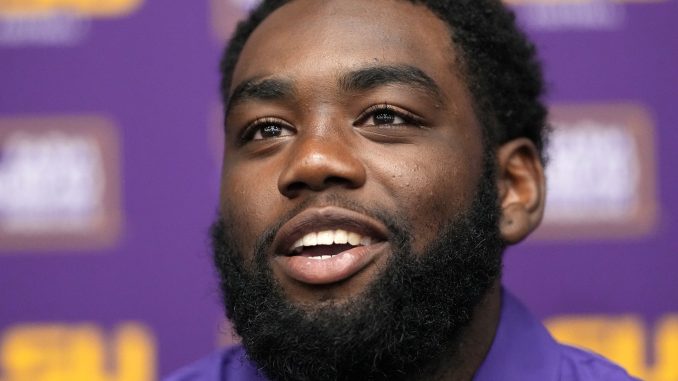 Cornerback Duce Chestnut "is not with our team right now," LSU coach Brian Kelly said in his final press conference before the No. 23 Tigers travel to take on unbeaten and No. 21 Missouri on Saturday in a key SEC game.
Kickoff is scheduled for 11 AM Central.
"We will make a decision on Duce in the next few weeks," Kelly said.
LSU travels to face Missouri in Rare SEC Matchup LSU (3-2, 2-1 SEC) plays its second straight road game on Saturday when the Tigers travel to Columbia, Mo., to face Missouri (5-0-, 1-0 SEC). Kickoff is set for 11 a.m. and will be televised on ESPN with Bob Wischusen (pxp), Robert Griffin III (analyst) and Kris Budden (sideline).
LSU is coming off a 55-49 loss to Ole Miss on Saturday, while Missouri remained undefeated with a 38-21 win over Vanderbilt.
Both teams enter the game ranked in the Top 25 with LSU at No. 23 in both polls and Missouri ranked No. 21 in the AP poll and No.22 in the Coaches poll.
With only 3 previous meetings between LSU and Missouri, this series ties for the fewest games played in any other matchup in the SEC (others: Texas A&M-Vanderbilt and Texas A&M[1]Kentucky). LSU is 1-2 vs. Missouri with its win coming in Tiger Stadium in 2016 by a 42-7 count.
Missouri knocked off LSU, 45-41, in 2020 in the only meeting between the teams in Columbia. The teams first met in the 1978 Liberty Bowl with Mizzou taking a 20-15 victory. LSU enters the contest with the top offense in the SEC and No. 4 nationally as the Tigers are averaging 551.4 yards per game (198.0 rushing, 353.4 passing).
LSU also leads the SEC in pass offense, first downs (28.8/game) and 3rd-down conversions (34-of-59, 57.6 pct.). The Tigers are second in the league in scoring (44.0) and third in rush offense. QB Jayden Daniels leads the SEC and ranks No. 2 in the nation in total offense with 400.4 yards per game (342.0 passing, 58.4 rushing).
Daniels has accounted for 4 or more TDs in 4 consecutive games, the longest in-season streak in school history. WR Brian Thomas leads the nation in TD receptions with 8. He's caught 33 passes for 537 yards, while teammate Malik Nabers is No. 2 in the league in receptions (40) and yards (625). RB Logan Diggs had his second 100-yard game as a Tiger last week and is averaging 88.5 yards per game (354 yards and 3 TDs in 4 games).
Defensively, the Tigers are 31.0 points and 429.4 total yards a game (169.2 rushing, 260.2 passing). S Major Burns leads LSU in tackles with 38, followed by S Andre Sam (35) and LB Greg Penn (34). LB Harold Perkins has 25 tackles and leads the Tigers in both tackles for loss (4.5) and sacks (2). LSU Coach Brian Kelly:
Winningest Active Coach In College Football
Brian Kelly is in his second with the Tigers and has guided LSU to a 13-6 overall mark through 19 games. After inheriting a roster with only 39 scholarship players, Kelly quickly turned LSU into a 10-win team in his first season in 2022 as the Tigers went 10-4 overall, beat Top 10 teams in Ole Miss and Alabama and won the SEC Western Division. Kelly became the most accomplished hire in LSU football history when he was named to the position in December of 2021. He joined the Tigers after 12 years and 113 wins at Notre Dame. He's 297-103-2 overall (32 years) and is the winningest active coach (all divisions) in college football. His coaching resume includes 11 10-win seasons at the FBS level (7 at Notre Dame, 3 at Cincinnati, 1 at LSU), along with 14 bowl/CFP playoff appearances and 3 National Coach of the Year honors (2009 at Cincinnati, 2012 and 2018 at Notre Dame). Kelly's record includes a 113-40 mark at Notre Dame, where he's the winningest coach in school history; 34-6 at Cincinnati (4 years), 19-16 at Central Michigan (3 years) and 118-35-2 at Grand Valley State (13 years). He won two Division II National Championships at Grand Valley State.