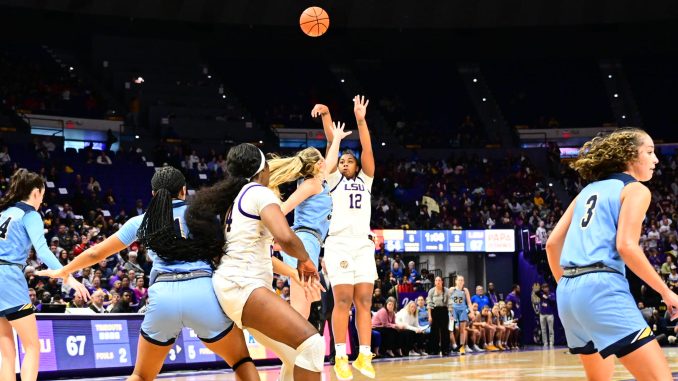 The last time an LSU women's basketball player scored more than 40 points current freshman Mikaylah Williams wasn't born yet.
Former All-American Cornelia Gayden recorded the last 40-point performance in an LSU uniform with 43 against TCU on Jan. 2, 1996. According to ESPN, it was the most points scored by an LSU freshman since the 1976-77 season.
Williams, the nation's No. 1 prospect out of Parkway High in Bossier City, came of age in just her fourth collegiate game with a career-high 42 points, the most ever by an LSU freshman in the NCAA era (since 1981-82, with 32 of those coming in the second half to help No. 7 LSU pull away from Kent State in a 109-79 victory Tuesday at the Pete Maravich Assembly Center.
"It's just in me," said Williams, who said her previous high was 34 in high school. "I work hard for putting out what I put out. I work hard and I applaud my teammates for finding the hot hand and helping me get the success."
LSU played before a crowd of 9,117 – a great majority of which were elementary students from the Baton Rouge area – for the annual 'Field Trip' game.
"It was fun," Williams said of the frenzied environment. "I just wanted to show the kids that it's possible. A little kid from Louisiana being on this big stage is possible to do this and be big."
LSU previously had a player reach 40 points or more 10 times by three different players until Williams joined the exclusive club. She was 15 of 20 from the field, including 5 of 8 from 3-point range, was as perfect 7 of 7 from the free throw line, grabbed seven rebounds, had three assists and three steals in 36 minutes.
"You saw today what she's capable of doing," LSU coach Kim Mulkey said. "She's a special talent. It's those moments where you feel the rim's as big as the ocean."
With LSU (3-1) clinging to a precarious 39-37 halftime lead Williams and Aneesah Morrow propelled a second-half explosion that resulted in the Tigers outscoring the Golden Flashes, 70-42 – a school record for points scored in a half.
Williams made 11 of 14 shots, including 5 of 7 from behind the arc, and Morrow had 12 of her 17 points in the second half to go along with her team-high nine steals. The Tigers had a total of four players in double figures with Hailey Van Lith adding 15, Angel Reese 11 and Flau'jae Johnson 10.
Reese scored all of her points and grabbed five rebounds in 13 minutes of the first half. She did not play in the second half and junior guard Kateri Poole didn't play at all because of a coach's decision, Mulkey said.
LSU, which shot 72.2% (26 of 36) in the second half, made 56.8% (42 of 74) of its shots overall. The Tigers also had 20 steals, scored 32 fastbreak points and held a 40-30 rebound edge.
Williams and Morrow combined for 22 of LSU's 32 points in the third quarter and it was Williams' 3-pointer – the team's first in seven attempts – that provided LSU the lead (44-42) for good at the 8:05 mark of the third quarter. A 3-pointer from Williams on a feed from Sa'Myah Smith started an 11-0 run that Morrow finished with an inside basket with 5:31 left in the quarter.
"We faced Ta'Niya Latson of Florida State who was the national Freshman of the Year last year," Kent State coach Todd Starkey. "If Mikaylah Williams keeps playing like that, we would have played the last two national Freshmen of the Year in back-to-back years. I thought the shots she took we're tough shots and she still made them.
"You have to pick your poison and we tried to make them take tough shots from the perimeter," Starkey said, "and fight like crazy on the glass."
LSU made 7 of its first 10 shots of the quarter and Kent State (1-1) tapered off and made only 3 of its first 12.
"I just enjoyed the third and fourth quarters," Mulkey said on her radio show. "I enjoyed watching those kids. Their effort, their energy, their enthusiasm, they're pulling for each other. I'm just proud of them. I had to make some tough decisions on who to play, who not to play. But I can tell you the bunch that played together brought it."
Williams remained hot over the last 1 ½ minute of the quarter with all six of her team's points for a 71-56 lead going into the final quarter.
Williams had 11 points, including a pair of 3-pointers over the first four minutes of the final quarter to expand LSU's lead to 89-59 with 6:11 remaining and the Tigers outscored the Golden Flashes, 50-22, since halftime.
"I get to see the work that she puts in every day, like it's a non-stop thing," Morrow said of Williams. "She's very consistent, she works hard every day and to see that paying off is amazing."
Johnson scored seven of her 10 points in the quarter and LSU hit the 100-point mark for the third straight game on three free throws from Williams with 1:57 to go. She added her fifth 3-pointer with 1:31 left and her steal and drive with 1:11 left pushed the score to 107-76.
The Tigers' biggest lead was 109-76 with 28.5 seconds showing on Van Lith's two free throws.
Kent State (1-1) proved to be formidable during the first half behind Katie Shumate's 17 points and the Golden Flashes made seven 3-pointers to trail 39-37 at halftime. She finished with 22 but was limited to five points on 2 of 3 shooting and without a 3-pointer in the second half with Morrow taking over her team's defensive assignment.
Shumate, who had 1,371 career points coming into the game, was 5 of 11 from the field with four 3-pointers and Kent State was 7 of 16 (43.8%) as a team from behind the arc.
LSU trailed 13-8 with four minutes left in the first quarter when Morrow triggered a 5-0 run with Reese adding three straight points to make it 13-13.
Morrow's inside basket on a lob from Last-Tear Poa tied it again at 18-all in the first minute of the second quarter when Reese gave her team a 24-18 lead on consecutive putbacks. Her spin move through the lane provided another six-point lead (31-25), but 3-pointers from Shumate and Bridget Dunn allowed the Golden Flashes to get within a basket at halftime following Corynne Hauser's two free throws.
Then it was time to sit back and watch the coming-out party for Williams, a two-time Louisiana Gatorade Player of the Year and McDonald's All-American.
"At the beginning of the game we were still in a game," Williams said. "I stayed locked in ready to play defense, ready to execute assignments. Towards the end of the game, it started feeling good. My teammates started pumping me up. I was excited."