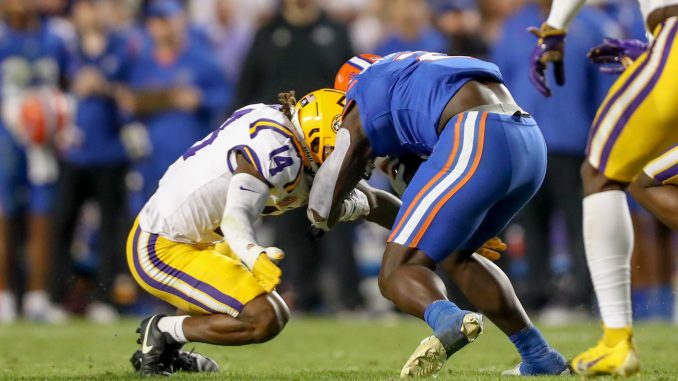 LSU football coach Brian Kelly said he was simply looking for an explanation.
A week after witnessing his quarterback Jayden Daniels get hit under his chin and driven forcibly to the ground by Alabama's Dallas Turner which resulted only in a roughing-the-passing penalty, Kelly was taken aback midway through the second quarter of his team's home game last Saturday with Florida.
Sixth-year safety Andre Sam was prepared to take on Florida running back Montrell Johnson who took a pass from quarterback Graham Mertz and was headed toward midfield.
The more Johnson moved up field, the more careful he became and began to recoil his body, leaving Sam with a diminishing target to take down for what was an 18-yard gain.
Instead of getting ready to play first down at Florida's 45-yard line, the game was halted when the Southeastern Conference contacted officials at the game about the prospect of targeting by Sam on the play.
There was no flag on the play.
"That means there was no call on the field," Kelly said during his weekly press conference on Tuesday. "They were buzzed that there may be a targeting on the field and that's what stopped play."
After a lengthy review, replay officials located in the conference's office in Birmingham, Alabama determined that Sam was guilty of targeting against Johnson and was ejected for the remainder of the game.
Since the transgression took place in the first half of the game Sam is eligible to return and start in Saturday's nonconference game against Georgia State at 7 p.m. in Tiger Stadium.
"Where my confusion was the week before (against Alabama) was that never an official under the hood on the sideline," Kelly said. "I was confused. Why wasn't it reviewed. They've subsequently said it was reviewed. My question is, 'Why is it reviewed one way and not the other'? So, you don't need the referee to review.
"I was confused as to the process of reviewing," Kelly said. "In one instance there was a review without the referee involved and another review with the referee involved. I was asking for clarification as to what the process is."
Florida maintained its drive at LSU's 40 following the 15-yard targeting penalty and scored on Trevor Etienne's 7-yard run at the 4:30 mark, reducing the Tigers' lead to 17-14.
Daniels turned in the kind of historical performance – a FBS record 606 total yards and five touchdowns in a 52-35 victory – that made the call on Sam inconsequential, but Kelly didn't see it that way.
It was obviously still an open wound that hadn't healed for Kelly who saw his Daniels suffered a concussion at the hands of Turner who walked away with a 15-yard penalty for the personal foul but remain in the game because of the video review of the play didn't rise to the level of targeting, Kelly said he was informed.
Daniels, whose team was trailing 35-28 at the time (Alabama went on to win 42-28), went into the team's medical tent for evaluation early in the fourth quarter and didn't return because of concussion protocol. He remained out of practice for two days last week for the concussion and was cleared on Thursday to play against Florida.
"When you have a situation like we did, where Jayden Daniels gets hit underneath the chin, driven to the ground and it doesn't get reviewed," Kelly said after the Florida game. "And then we have a replay like tonight which was a normal football play where a running back is lowering his shoulder, and we are trying to make a tackle. We're not targeting. We're not trying to lead with the helmet. We're just trying to make a tackle and we throw a kid out of the game. That is tragic.
"We're in a bad place right now," Kelly continued. "And we need to stop and figure this out. Because there's a lot of words I could use. But it's tragic that we throw a kid out of the game because he was trying to play football. And whatever semantics, there's going to be a great explanation about this. Oh, he used the crown of his helmet, or he did this. That guy (Turner) that hit Jayden Daniels was trying to knock him out. You can say whatever you want. But that's what he was trying to do. Our guy was trying to make a tackle. So, everybody's smart enough to figure that out. But we have two different outcomes. We got to figure it out."