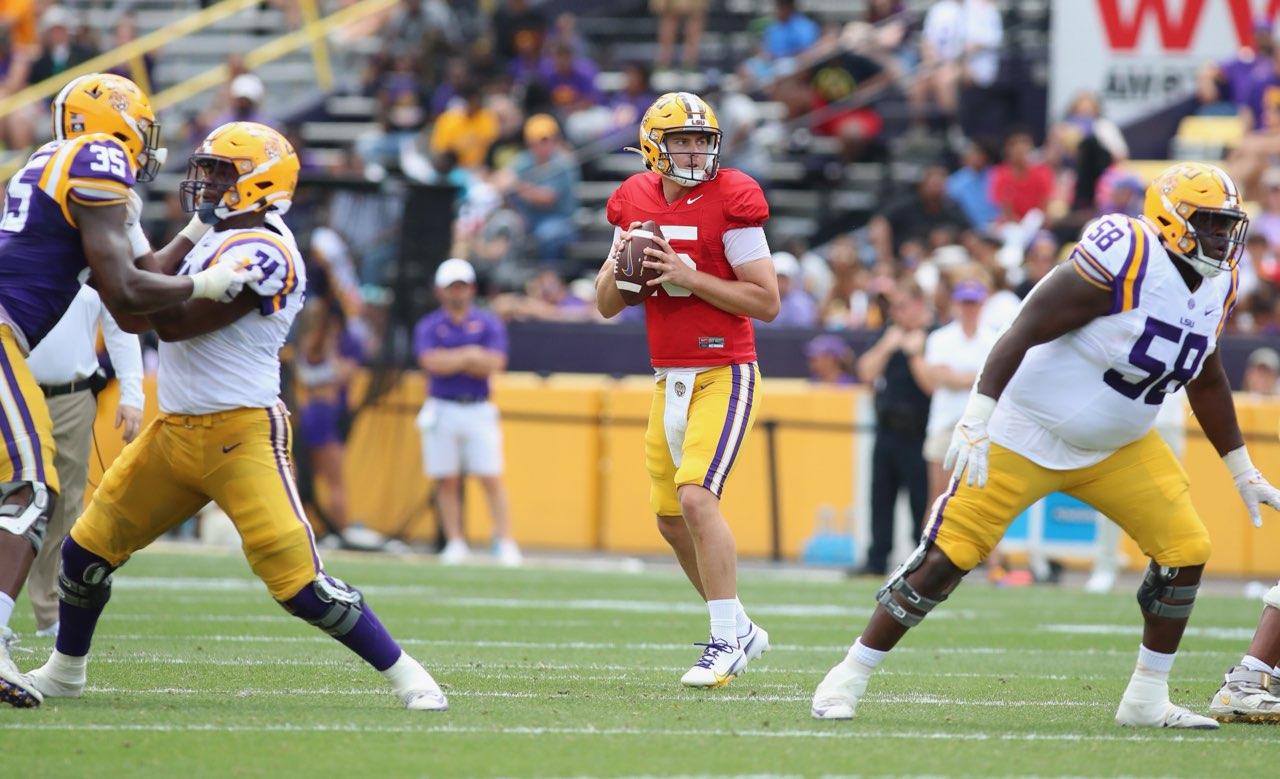 LSU quarterback Myles Brennan has decided to end his college football career, he has announced, according to a new release issued early Monday afternoon by LSU officials.
"We are grateful to Myles for everything he has done for LSU football.," LSU coach Brian Kelly said in a release from the program. "Myles is a great leader who has made a tremendous impact on this program, and he has earned the respect of everyone here through his commitment and love for LSU.
"Myles has always embodied the traits required to fulfill our mission to graduate champions, and we have full confidence those traits will help him succeed at every step in his journey as he moves forward."
Brennan later released a heartfelt letter on his Twitter page, thanking everyone from the coaches and teammates he played with to the fans.
"What a journey it has been. I have given my all to this university and football team. I love every one of you. I will be a Tiger for life. 15 is officially signing out," Brennan wrote in his introduction.
Brennan, who graduated from LSU in May 2021 with a degree in sports administration, was mysteriously absent from LSU's preseason camp practice Monday. Official word that he was stepping away from the program, and confirmation that he did not plan to enter the NCAA transfer portal, came a few hours later.
Brennan, who missed all last season due to injury, had been battling for the Tigers' starting job along with redshirt freshman returnee Garrett Nussmeier, Arizona State transfer Jayden Daniels and true freshman Walker Howard.
Brennan went into camp as a contender for LSU's No. 1 job according to Kelly, but Nussmeier and Daniels quickly emerged as the top two working with the Tigers' starters and Brennan mostly had been taking reps with backups.
Nussmeier was limited in last Thursday's practice due to what Kelly said was a minor "Grade 1" ankle injury, but Kelly suggested was expected to return for 7-on-7 drills either Friday or Saturday.
Thursday marked LSU's last day prior to Monday in which any portion of the practice was open to the media.
Nussmeier, who was limited to four games while taking a redshirt last season, took part in all position group drills during the first 30 minutes of LSU's practice that was open to media members Monday morning.
The rest of the practice was closed to prying eyes.
Nussmeier, the son of Dallas Cowboys quarterback coach and former New Orleans Saints backup quarterback Doug Nussmeier, appeared to be moving well Monday.
Brennan, who was out in 2021 due to what he's described as an offseason fishing-trip accident in which he broke a bone in his non-throwing arm, had been heading into what would have been his sixth season at LSU.
He entered the NCAA transfer portal late last year, after Kelly was hired to replace Ed Orgeron, but Kelly convinced him to withdraw from the portal and remain at LSU for spring drills and the start of preseason camp earlier this month.
Brennan finishes his Tigers career having played 20 games with three starts. He opened the first three games of the 2020 season before an injury against Missouri sidelined him for the rest of the season.
Brennan's season-ending arm injury happened just days before LSU opened camp last year. He completes his career having thrown for 1,712 yards and 13 touchdowns.
That seemingly leaves the No. 1 job as a fight between Nussmeier and Daniels, who was a three-year starter at Arizona State before transferring to LSU shortly before the start of spring practice earlier this month.
Howard, who had been working as LSU's No. 4 QB early in camp, is an early enrollee freshman from St. Thomas More High in Lafayette.
Kelly did not speak to the media after practice Monday.
No LSU coach is scheduled meet with the media until Kelly does so after Wednesday's fully open-to-the press scrimmage.