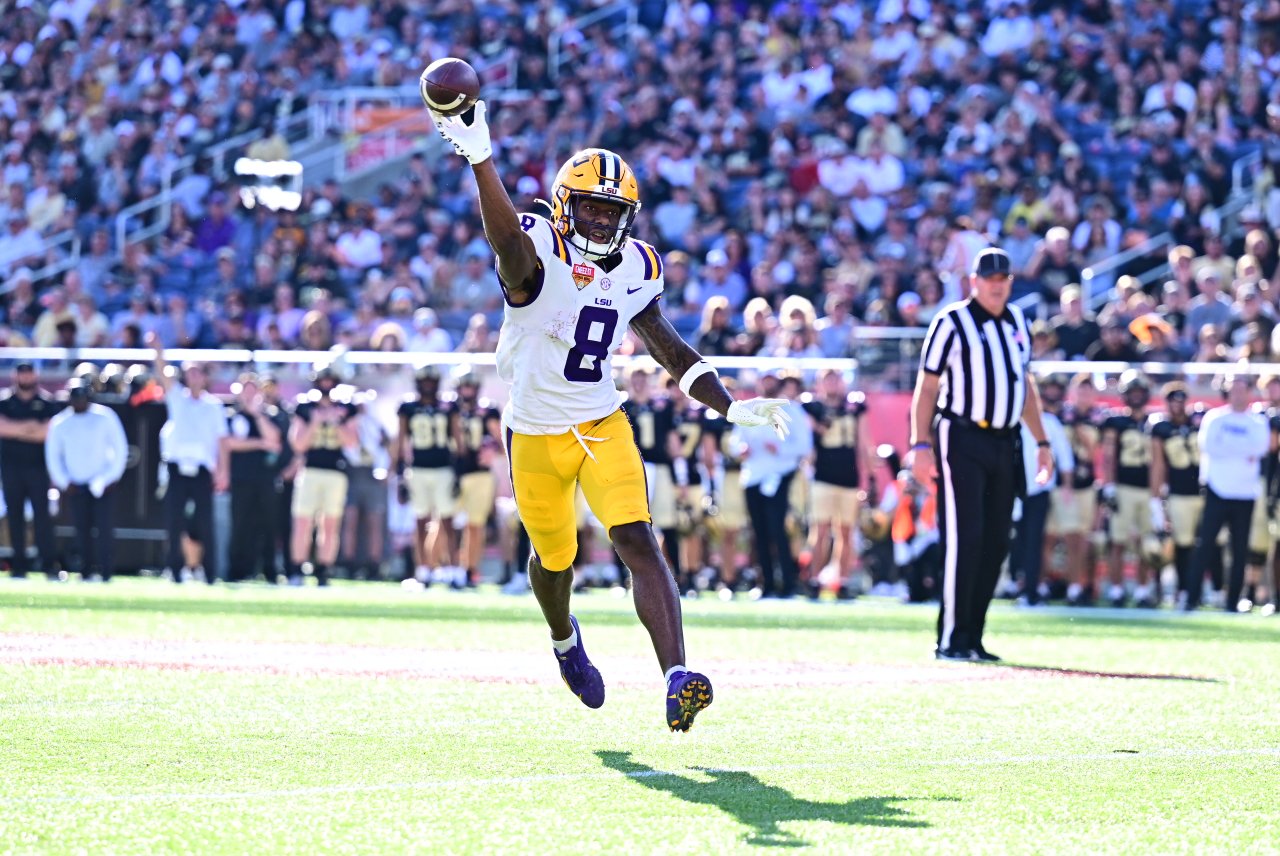 It was the fitting end to the 2022 season LSU football coach Brian Kelly was looking for.
The No. 16 Tigers ended with a 10-win season in Kelly's first year and did so in record-setting fashion with a 63-7 victory over Purdue in Monday's Cheez-It Citrus Bowl at Camping World Stadium in Orlando.
LSU (10-4) checked off several boxes in its first year under Kelly, becoming the 17th team to win 10 games in a season. It was also the program's 29th all-time bowl win and first since winning the national championship in 2019.
"We played really well our guys executed at a high level," Kelly said. "They competed at a high level. We were not at full strength. But that didn't stop our guys from putting in the time and the effort."
The Tigers also won the SEC's Western Division a year after finishing last in that half of the league, earning a berth in the SEC Championship Game against top-ranked Georgia.
LSU, which led 35-0 at halftime, scored its largest number of points in a bowl game, matching the 63 set against Oklahoma in the 2019 Peach Bowl which served as a CFP semifinal that season. The Tigers surpassed that game's 35-point differential with a school-record 56-point victory.
The Tigers, which accumulated 594 total yards, had three different players throw touchdowns with wide receiver Malik Nabers accounting for 213 yards and two touchdowns. The sophomore led the Tigers with nine receptions for 163 yards and a TD and also threw a 5-yard TD to quarterback Jayden Daniels that extended the team's lead to 42-0 at the 9:21 mark of the third quarter – a stretch of six consecutive scoring drives.
Kelly also became the third LSU coach in his first season to win double-digit games, joining Mike Archer (10 in 1987) and Les Miles (11 in 2005).
After an ankle injury derailed Daniels in a Week 12 setback at Texas A&M the junior, who announced he was returning for the 2023 season, accounted for 206 yards and three touchdowns. Reserve quarterback Garrett Nussmeier completed 11 of 15 passes for 173 yards with a pair of touchdowns and an interception.
Daniels completed 12 of 17 passes for 139 yards and added 67 yards on six attempts. He finished second on the school's single-season total yardage list with 3,798 yards.
"We made it clear he was going to go in on the third series and I didn't know what was going to happen after that," Kelly said of Nussmeier. "We just made it clear to him to go in, do your job. You got a job to do, get it done. And then we'll roll after that and see how it goes. And obviously he played a lot more way the way the game was kind of trending. He got even more playing time, but there's no quarterback controversy. You know, Jayden is the No. 1 quarterback. Garrett will get an opportunity to compete though."
Nabers capped his MVP effort in the game, taking a speed sweep pass from Nussmeier, and turning it into 75-yard scoring play and 49-0 lead with 3:15 left in the third quarter before Purdue (8-6) stopped LSU's onslaught with a touchdown with 12:27 left.
"It's a team effort," Nabers said. "You know, we came out a week early. We could have had any (number of) reasons to not come out here and play fast. We had some time off, had some fun, but were locked in to understand what our main goal was to come here and win and get out to win. We had fun, but when it was practice time, we practiced execution and when it was game time we came out andt executed at a high level."
The Tigers defense allowed 256 yards and produced three interceptions with junior safety Major Burns leading the way with six tackles.
"It was fun to watch them play today because they played with great effort, great desire," Kelly said. "The will to win these games is obviously you know, important. You got to have that, but they executed a defense that we had only put in for about 2 1/2 weeks and we're really proud of their execution and the way they played today."
Reserve running back Derrick Davis Jr., who had entered the NCAA transfer portal, added a 12-yard scoring run and walk-on defensive back Quad Wilson IV, the son of LSU running backs coach Frank Wilson, returned an interception for a school-record 99-yard touchdown with 40 seconds to go, breaking Greg Jackson's 36-year-old school record of 91 yards.
"Yeah, obviously not the performance we were looking for," Purdue interim coach Brian Brohm said. "Very disappointed in the result. You know, a lot of people might have thought this was going to happen, and we were trying our hardest to make sure that it didn't."
LSU scored on five consecutive series after a three-and-out to start, expanding its lead to 35-0 at halftime on Nussmeier's 10-yard TD pass to Brian Thomas Jr. on a crossing route with 1:07 left.
The Tigers were flawless in the opening half behind Daniels and Nussmeier, outgaining the Boilermakers 364-85, getting two 9-yard rushing touchdowns from Noah Cain (8 carries, 58 yards) and another from John Emery (7-52).
Emery's second-effort score from a yard away made it 7-0 and capped LSU's 10-play, 63-yard series. Nussmeier engineered his first series with aplomb, connecting on a pair of third-down conversions to Nabers for 13 yards and Mason Taylor (5-88) for 17 yards and Cain's 9-yard score made it 14-0 with 1:06 left in the opening quarter.
Marlon Martinez replaced Charles Turner at center and LSU's offensive continued to pile up yards and points. Daniels' 17-yard completion to Nabers resulted in a first down and two plays later Daniels, with plenty of time, found Taylor along the sideline. The freshman broke out of one tackle, weaved his way through Purdue's defense en route to a 32-yard scoring play and 21-0 lead.
Daniels' longest gain – a 37-yard keeper – set up Cain's second 9-yard score at the 8:23 mark and LSU's defense factored into the team's final score of the half.
After Purdue, which relied on a fake punt, crossed midfield for the first time, senior cornerback Jarrick Bernard-Converse intercepted Austin Burton at LSU's 2 with 3:11 remaining. The Tigers needed five plays to cover 87 yards to make it 35-0 at halftime with Thomas scoring from 10 yards out on Nussmeier's pass.