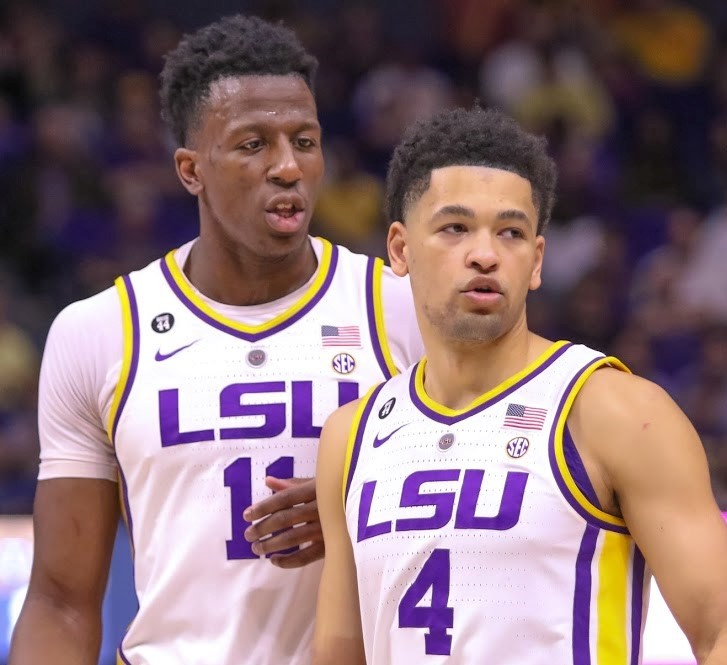 LSU's basketball team has made the NCAA Tournament for the first time since 2015, which has given the Tigers some cause for reflection.
During media interviews on Monday evening, two of LSU's most senior players had a chance to do just that as junior guard Skylar Mays and senior forward Kavell Bigby-Williams discussed their favorite NCAA Tournament memories.
For Mays, it was watching a fourth-seeded LSU team take down the tournament's overall No. 1 Duke Blue Devils in a 2006 Sweet 16 game en route to a Final Four appearance.
The game is memorable for LSU basketball fans of all ages. A pesky LSU squad went in as heavy underdogs against the national favorite to win the national title led by senior sharpshooter J.J. Redick and a post bolstered by senior forward Shelden Williams and freshman forward Josh McRoberts.
Led by a phenomenal defensive performance by Garrett Temple who limited Redick to 3-for-18 shooting from the field and 14 points apiece from Glen Davis and Darrel Mitchell, the Tigers pulled off a 62-54 upset and ended Redick's career without the title he returned to play for.
There's a catch, though.
"I was a big Duke fan at the time," Mays said somewhat sheepishly. "… I just loved Redick."
But in 2019, Mays is all-in on the Tigers, who funnily enough end up in the same region as the tournament's overall No. 1 seeded Duke Blue Devils, though this time if they play it will be in the Elite Eight in the East Regional finals.
Mays and the No. 3 Tigers will now look to make memories of their own in one of college sports' most celebrated traditions, and that path will start against 14th-seeded Yale, a program who took down Baylor from that same seed just three years ago.
It's exciting," Mays said. "I'm a first-timer. It took me three tries, but I'm here. … We're confident. We're not coming in with much momentum, but we know we're able to win games. We're going to go out there, play loose and try to win the thing."
The only player on LSU's roster whose favorite memories didn't come as a spectator is Bigby-Williams, who played off the bench in Oregon's 2017 Final Four run.
Bigby-Williams said even though he didn't get much playing time and the Ducks lost to eventual champion North Carolina 77-76, the experience even tops his buzzer-beating game-winner against Kentucky in Rupp Arena last month.
The moment is just that special.
"I didn't play a lot in the Final Four, but it was such a great experience," Bigby-Williams said. "To be in that environment, I got to see some stuff, and that's the biggest stage in college basketball. That was definitely the biggest moment (of my career)."
As the only player on the team with experience playing in the NCAA Tournament, LSU interim head coach Tony Benford said Bigby-Williams has served as valuable tool when it comes to preparation for The Big Dance.
He has stressed the importance of the Tigers playing every game as if its their last, because it very well could be if their opponent plays harder.
"You can't take anything for granted," Bigby-Williams said. "Seeding doesn't matter in the NCAA Tournament. Yale's capable of upsetting teams. Just a couple years ago they upset Baylor. We have to stay focused and go out there like it's our last game."