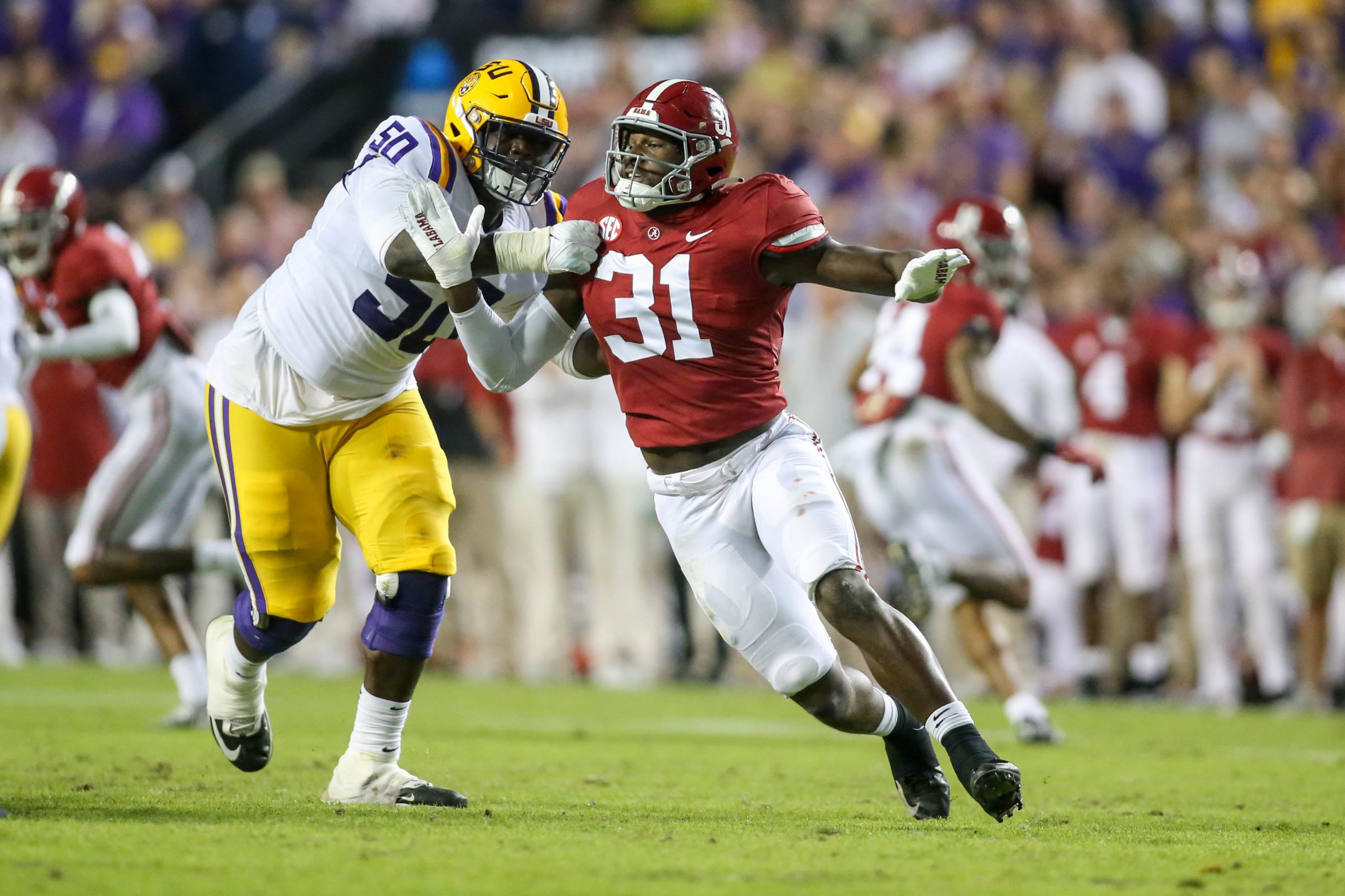 If anything, LSU offensive tackle Emery Jones Jr. proved at least one thing to himself in 2022.
"That I can block anybody," Jones said after a recent spring practice. "If I have the right technique, if I'm in the right spot, I can block anybody in the league."
The 6-foot-6, 325-pound Jones unveiled a promising future where, in his true freshman season, the former Catholic High standout started 11 games on the right side of LSU's offensive line and opposite fellow true freshman Will Campbell.
While it's certainly not a template most college football teams use in the construction of an offensive line, having a pair of true freshman bookend tackles helped solidify the Tigers' unit and provided stability for an offensive unit led by quarterback Jayden Daniels.
"We were both going through the same things at all times," Jones said of he and Campbell. "If I lost to somebody, he probably lost to somebody. We just helped each other with tips, telling each other things like that to get better and win reps and all year I felt like we did that. It helped us both."
LSU (10-4) won the SEC's Western Division and played in the SEC Championship Game against Georgia. The Tigers concluded their season with a 63-7 victory over Purdue in the Citrus Bowl.
The Tigers ranked fourth in the SEC in both scoring (34.5) and total offense (453.1) and were ranked 23rd and 28th nationally, respectively. They were also sixth in the league in rushing yards (183.9) per game and established a school record with 39 rushing touchdowns.
Jones was one of four freshman from LSU to earn All-America honors from College Football News. He was selected to the third team and Campbell was one of two first-team selections along with linebacker Harold Perkins Jr.
"Not at all," Jones said of dwelling on last year's success. "We really don't have time to do that. Next year we're trying to win a national championship and the year after that we're trying win another one. Really don't have time to sit down and think all of that happened. All of that's in the past. We're looking forward and trying to win a national championship.
"Just going on to the next year," Jones added. "Not worried about those guys and competition from last year. (We) Have to worry about these new guys because there's always somebody coming from the bottom. I feel like we've got to worry about the new guys we're going against. Florida State has a good end in Jared Verse. We're watching film of him already trying to see the things that he does, the tweaks that will give us an edge on him."
LSU's second-year coach Brian Kelly understands why Jones has been so successful and realizes the origin began before Jones ever stepped foot on a college campus.
"He makes good choices, good decisions," Kelly said. "He is never late to anything. He is reliable. This is a guy that we can count on. He is so reliable and that goes to his background, his family, and his high school. He is exceptional."
LSU appeared that it may return its entire starting offensive line for the 2023 season before right guard Anthony Bradford declared for the NFL Draft.
With the return of Campbell and Jones, the Tigers are also returning starters Charles Turner at center and Miles Frazier at left guard and Garrett Dellinger who started at both center and guard last season.
Because of an injury Turner is out this spring, opening the door for Marlon Martinez to gain additional experience with the first-team unit, while reserves Bo Bordelon, Kimo Makane'ole and Tyree Adams can follow the lead of players such as Jones to try and work their way up the depth chart.
"I see myself getting better every day," Jones said. "I see myself getting to the point where I want to be, obviously at the next level. I see myself making adjustments, moving better, moving my body better. I just feel I'm getting better as a football player.
"I feel like one of the older guys, one of the leaders in the (offensive line) room," Jones added. "One thing coach has been telling me and Will is to lead the room. Lead the guys. They'll go as far as you want them to go. We've been trying to lead the whole room. I definitely feel like an older guy now."