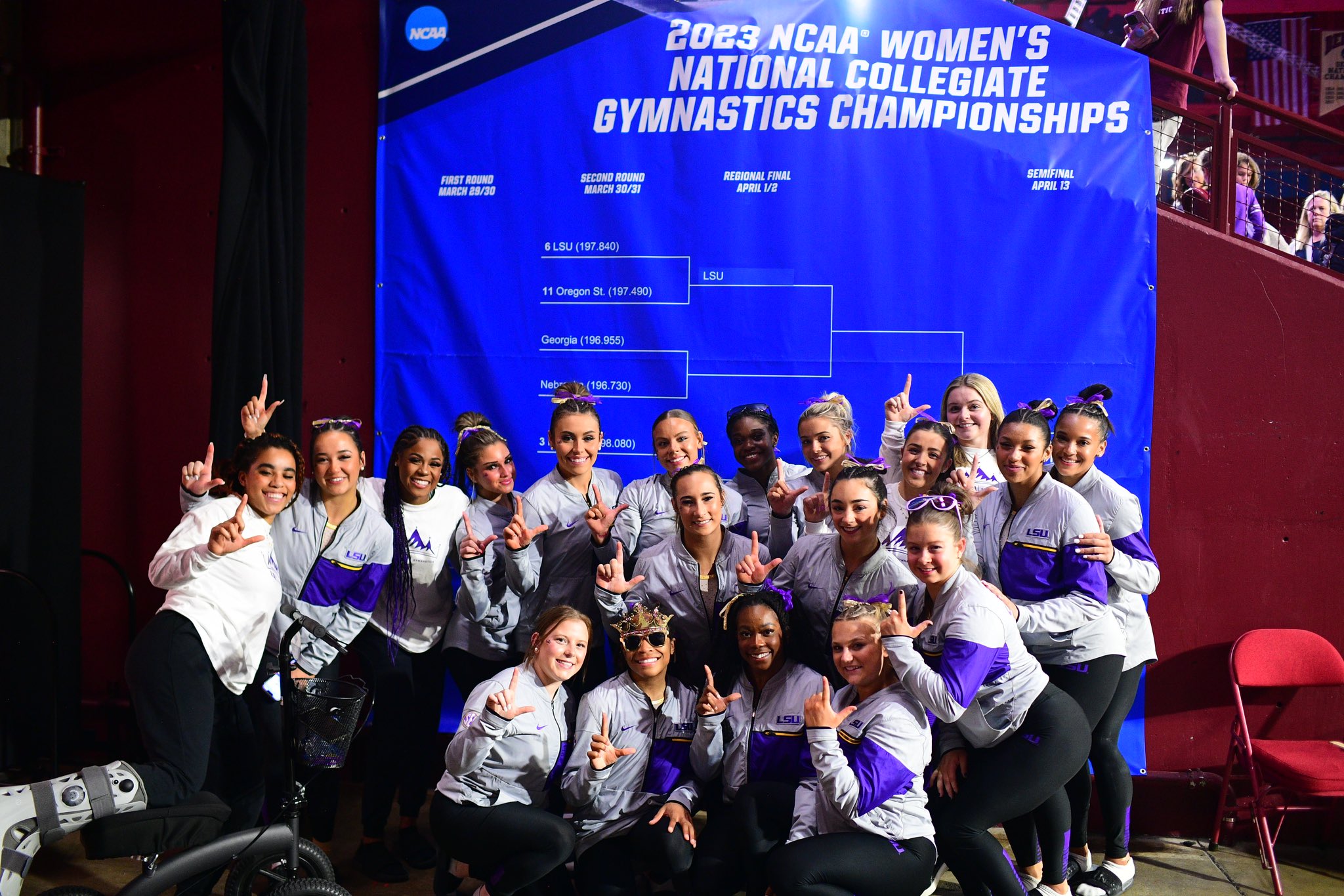 DENVER, Colo. – The second-seeded LSU gymnastics team advanced to the Denver Regional Championship on Sunday at Magness Arena in Denver.
Competition is scheduled to begin at 6 p.m.
"We did just enough. It wasn't pretty in all places, but we did enough, and that's what matters," LSU gymnastics coach Jay Clark said. "That's always the priority of this whole weekend. Whether you win, whether you're second or whether you tie as long as you move on. This team has been through so much adversity, and they've been galvanized by it and come together as a group. So many kids stepped in, stood up and did the job. They've been fighters all year long and I'm proud of that." 
LSU finished tied at the top with No. 11 Oregon State with its final score on the day and defeated Georgia and Nebraska to advance to the round of 16.  The Tigers finished the meet with a final score of 197.375 to advance.
LSU will be in the regional championship will with No. 11 Oregon State, and the top two finishers in the second session of the second round, which includes No. 3 Michigan, No. 14 Denver, Minnesota and Arizona.
LSU's Haleigh Bryant tied for third highest score on beam at a regional with a 9.950 routine to increase the program's sixth-highest score in the event to 49.325. Bryant closed the second rotation on floor with a team-high 9.950 for the second-highest score at 49.525.
LSU had a score of 49.250 on vault led by 9.850s from Aleah Finnegan, Elena Arenas and Alyona Shchennikova. The Tigers wrapped up on bars with a score of 49.275, anchored by Bryant's 9.925 and Alexis Jeffrey at 9.900.