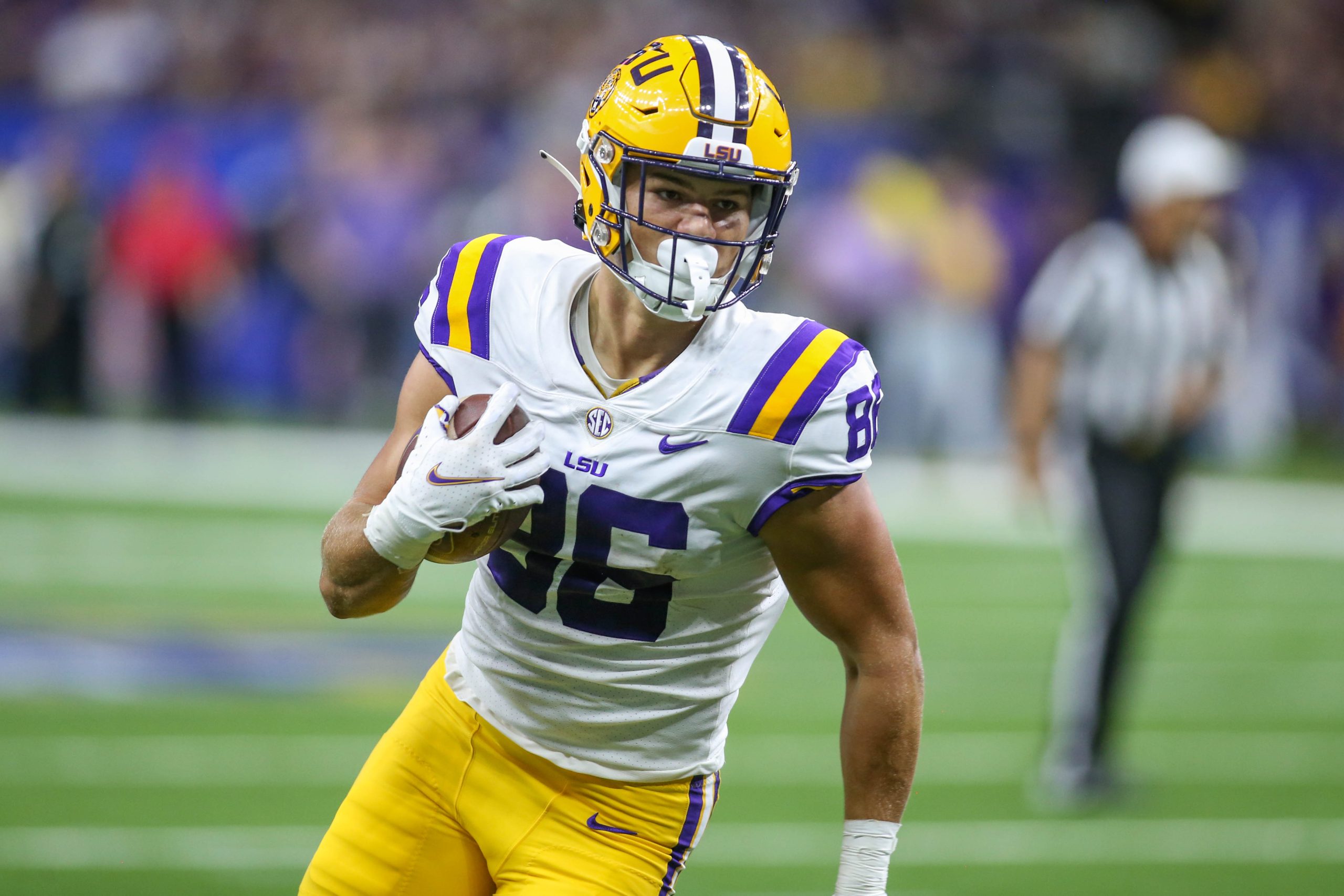 When observers questioned LSU's tight end depth going into this season, first-year coach Brian Kelly realized he had an emerging 'X' factor.
Throughout preseason practice Kelly extoled the virtues of true freshman Mason Taylor, a four-star signee out of St. Thomas Aquinas in Plantation, Florida. He was already known as the son of NFL Hall of Famer defensive end Jason Taylor, and nephew of former NFL linebacker Zach Thomas, until Kelly put Mason Taylor's ability into its proper context midway through preseason camp.
"Probably one of the biggest, pleasant surprises has been Mason Taylor," Kelly said after an Aug. 11 practice. "He's ready to help us win this year and play for us. He's been outstanding. I feel so much better about that position because of his presence and the way he's shown himself."
Mason Taylor needed one game to prove his coach prophetic.
The 6-foot-5, 245-pounder tied for team-high honors with five catches for 42 yards in the season opener with Florida State, highlighted by a key 17-yard reception from quarterback Jayden Daniels to the 2-yard line. That set up the Tigers final TD on a 2-yard pass from Daniels to Jaray Jenkins that accounted for the final score in a 24-23 setback.
"He's been outstanding," Kelly said. "I've been blessed. I've had some great tight ends. I've got seven of them right now who are active in the NFL. Mason Taylor is as good as any freshman tight end that I've had. I'd like to say that we out recruited everybody in the country on him. We liked him. But he's been better than anything we could've hoped for. He's going to come in and play a lot of football for us."
Mason Taylor committed to previous LSU coach Ed Orgeron and his staff last July 29 and held firm through the coaching change that brought Kelly from Notre Dame.
Taylor, who took an unofficial visit to Alabama on Nov. 6, took his official visit to LSU on Dec. 10 and signed with the Tigers during the NCAA's early signing period a week later.
He was rated a three-star prospect, the nation's No. 24 tight end and 67th best prospect in Florida by 247Sports. Rivals.com made Taylor a four-star tight end that opened his senior year with 12 catches for 162 yards and wound up with 35 receptions for 403 yards (11.3 yards per catch) and two touchdowns.
"I'm getting pretty comfortable," Taylor said Tuesday. "When I first got here, it's a lot. The playbook, knowing the defensive fronts, the defenses in the SEC.  I think I'm doing a good job of adjusting to it, but there's still so much I've got to learn. As we go on these next couple of weeks, I'm learning something new every single day. It's been good."
Kelly and his staff, who were busy in the NCAA transfer portal trying to replenish holes in its roster, made Taylor their only contribution toward trying to solve what he believed to be a dilemma at tight end. The Tigers returned two scholarship players in juniors Kole Taylor and Jack Mashburn but came up empty in the transfer portal.
They were also able to get graduate student Nick Storz to return to school after retiring from football because of an injury.
When gauging the progress of his team throughout August, Kelly often gave a nod to Taylor as a player to watch out for and had improved the depth and outlook of the team's tight end position.
Taylor caught his first career pass for a yard in the first quarter against Florida State. He added another grab of eight yards on the team's first touchdown drive that ended with eight seconds to go in the third quarter.
Daniels showed extreme confidence in Taylor during the team's final two scoring drives, the second of which ended with no time on the clock. Taylor had a four-yard catch on first down that led to Daniels' 22-yard TD pass to Jenkins and he followed that with his longest catch and run of 17 yards to the Seminoles' 2.
Daniels threw to Jenkins in the back of the end zone for a touchdown on the next play, but FSU blocked the extra point to win, 24-23.
In last week's home opener, played in front of an announced crowd of 102,321, Taylor had one catch for three yards in his team's 65-17 blowout of Southern University.
"I honestly thought it would be worse than it was," Taylor said of playing in front of a sold-out crowd. "You'd think with 100,000 fans it would be pretty hectic, but once you get the first play in, you're kind of in that zone.
"You kind of block out all of the noise," Taylor said. "Once the drive's over and you score, you look around and it kind of hits you a little bit. Just being on the field and playing, it's not as bad as you think it is."