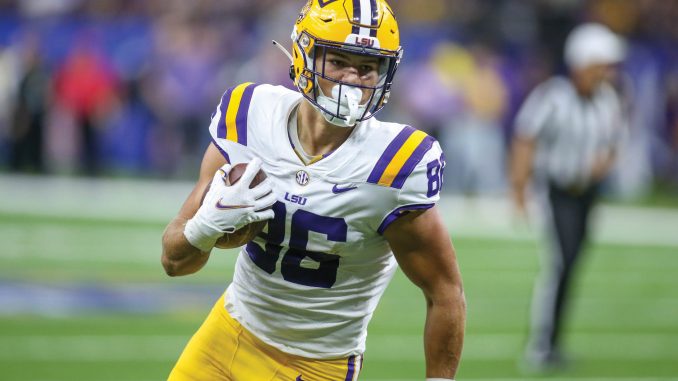 The images still resonated after LSU's 32-31 overtime victory over arch-nemesis Alabama last November. A filled-to-the-brim Tiger Stadium spilled out onto the playing field to celebrate the team's first signature victory in coach Brian Kelly's first season.
Quarterback Jayden Daniels covered 25 yards on his team's first play in overtime, leaving Kelly with a decision. Either kick the extra point and force a second overtime, or push your chips into the middle of the table and go for the win with a two-point play.
With Daniels' poise under pressure, LSU seemingly had the key element in place for a two-point conversion and following a timeout, that was exactly what the Tigers set forth to do.
However, the accompanying piece to a game-winning scenario may have been somewhat unconventional.
Freshman tight end Mason Taylor, who earlier caught a 7-yard TD pass for a 24-21 lead in the fourth quarter, motioned over to the right side of LSU's formation. Once Daniels received the ball and rolled to his right, it was obvious what was about to take place.
LSU was going to Taylor, the son of NFL Hall of Famer Jason Taylor, for the biggest victory on the team's schedule to that point. Daniels found Taylor inside of the right pylon and his momentum carried him through the end zone, setting off a huge celebration on the team's sideline with thousands more piling onto the field from the stadium.
Even after being a steady hand throughout the season, Taylor had made his mark as one of the team's most dependable weapons.
"Probably one of the biggest, pleasant surprises has been Mason Taylor," Kelly said last season. "He's ready to help us win this year and play for us. He's been outstanding. I feel so much better about that position because of his presence and the way he's shown himself."
Taylor caught at least one pass in each of his 14 games, becoming the first freshman in school history with 38 receptions for 414 yards and three touchdowns. The number of catches was the second-best single season for a Tiger tight end with the yardage ranking third.
Taylor, who was third on the team in catches, was voted to the SEC's All-Freshman team by the coaches and The Associated Press. He was voted to the SEC's preseason second team offense by the league's media in July and was recently added to the John Mackey watch list.
"You kind of block out all of the noise," Taylor said last season. "Once the drive's over and you score, you look around and it kind of hits you a little bit. Just being on the field and playing, it's not as bad as you think it is."
He began his career with four catches for 34 yards against Florida State and enjoyed a career-best six receptions for 63 yards in the SEC Championship Game against Georgia. He followed that by catching five passes for 88 yards and a touchdown in a 63-7 blowout of Purdue in the Citrus Bowl.
"I'm getting pretty comfortable," Taylor said. "When I first got here, it's a lot. The playbook, knowing the defensive fronts, the defenses in the SEC. I think I'm doing a good job of adjusting to it, but there's still so much I've got to learn. As we go on these next couple of weeks, I'm learning something new every single day. It's been good."
With Taylor clearly serving as the headliner of the position, Kelly and his coaching staff went out of their way to bolster the group.
A big portion of LSU's fifth-ranked signing class centered around the addition of three signees that made the tight end position deeper and more well-rounded.
LSU attracted three of the nation's top tight ends in St. Louis' Mac Markway, rated No. 3 by ESPN, Miamisburg, Ohio Jackson McGohan, the No. 25 prospect by 247Sports, and Ft. Worth, Texas' Ka'Morreun Pimpton, the No. 6 tight end according to On3.
They also added blocking tight end Connor Gilbreath (6-6, 268) of Butte (Calif.) College after the summer.
Despite missing his entire season year while recovering from an injury Markway, who was coached one year by current LSU assistant Robert Steeples at De Smet High School, is regarded as a prospect built to help LSU in both the passing and running game, the latter because of his blocking abilities.
Markway was a mid-term graduate and early enrollee but was slowed during spring practice and didn't play in the spring game because of an injury.
Pimpton has a terrific catch radius according to Kelly and had 85 catches for 1,326 yards and 21 touchdowns during his career at North Crowley High. He led his team with 49 receptions for 951 yards and 16 TDs during the 2022 season.
McGohan earned first team Great Western Ohio Conference and All-Southwest Ohio honors for Miamsburg High. The nation's No. 26 tight end per On3 made 52 receptions for 941 yards and 11 TDs in his final season.