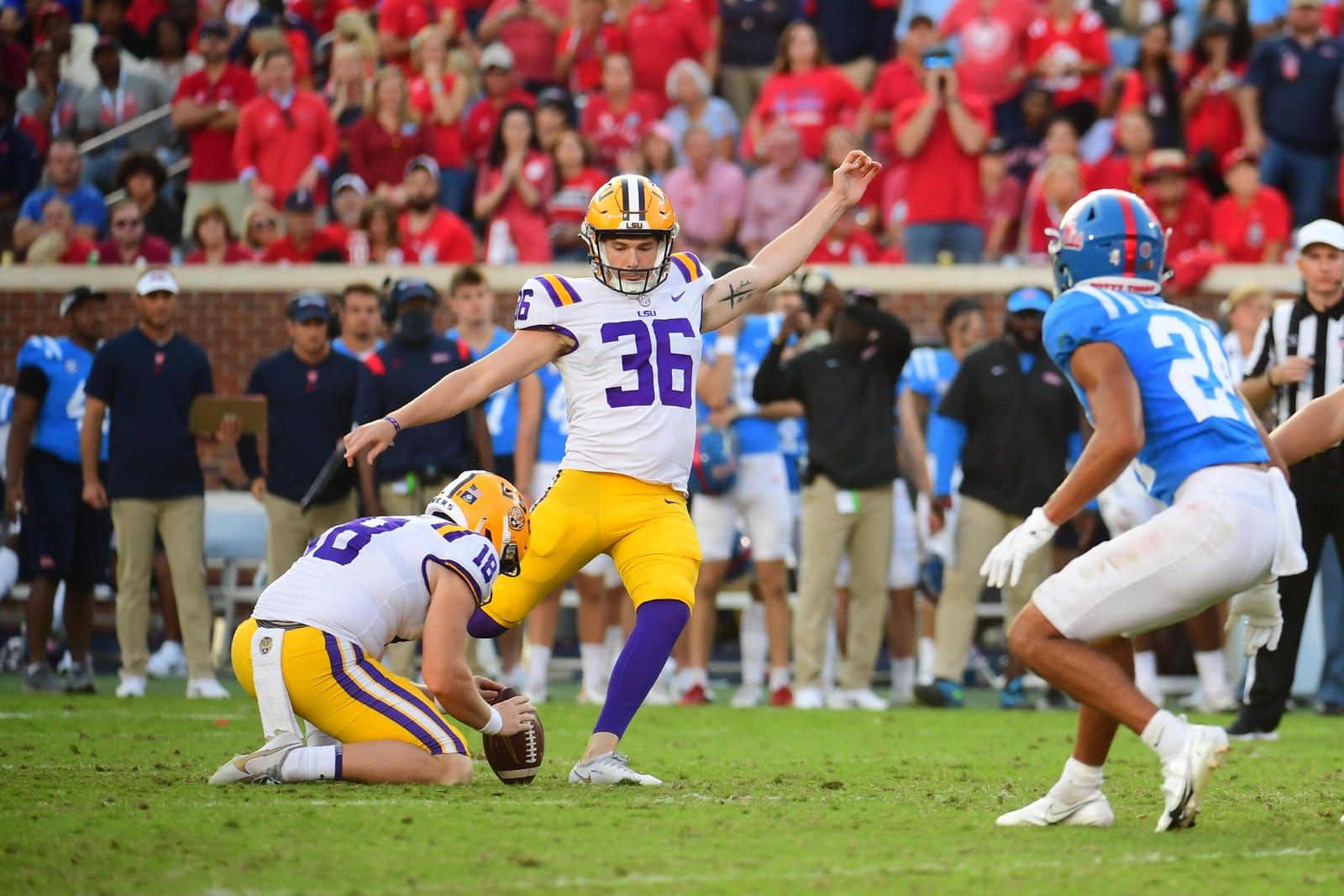 LSU senior center Liam Shanahan said the offense appreciated the confidence their head coach Ed Orgeron showed in them by trying to score on a fourth-and-goal play from the Ole Miss 3.
The Tigers were already off to a rousing start with a 7-0 lead, having scored on their first possession of the game on a 9-play, 90-yard drive that running back Ty Davis-Price finished with a 1-yard run.
The Tigers put together an even better series, holding the ball for 14 plays and more than six minutes, but the eventual success of the drive hinged on being able to negotiate the final three yards which would have resulted in a 14-0 lead near the near of the first quarter.
Instead, of rewarding the faith of their head coach, LSU's offense instead burned Orgeron when sophomore quarterback Max Johnson was intercepted at the 1-yard line, a momentum-changing sequence that went a long way in opening the door for No. 12 Ole Miss to come to life in a 31-17 victory Saturday over LSU at Vaught-Hemingway Stadium.
"When I saw we were going for it I was fired up," Shanahan said. "Coming into this game we knew we were going to have to score points and be aggressive. It feels good to have the confidence of Coach O in our offense. It just sucks to let it down and after that we felt it stalled out."
LSU called timeout before the play where Johnson rolled to his left and was looking for Trey Palmer. However, Tysheem Johnson got inside position on a ball thrown to Trey Palmer and made an interception – the first of three turnovers forced by Ole Miss' defense.
It was the first time this season the Tigers had failed to score in the red zone in 19 opportunities.
"In the first quarter we were taking our time, we just wanted to keep the ball away from them and I thought we did a good job of that, but we couldn't capitalize when we needed to," Orgeron said. "We knew we had to score points to beat this team. Anytime we had the opportunity to score the most points, we did. That's why we went for it on fourth down, that's why we went for the field goal (Cade York's missed 55-yarder) and we didn't make it."
Ole Miss used the sudden change of possession to launch an offensive surge of 31 unanswered points that stretched into the third quarter, establishing a commanding 31-7 advantage LSU (4-4, 2-3) never recovered from.
The Rebels scored on four consecutive possessions with a field goal and three straight touchdowns, including one to close out the first half, and after a possession that failed to produce any points in the third quarter, running back Jerrion Ealy dashed 36 yards on third-and-12 with 2:27 left in the third quarter to cap the 31-point surge.
"How we started the game was how our game plan was. Just try and control the tempo a bit," Shanahan said. "Get the ground game going and we started strong with that. Obviously, we weren't able to execute much after that. They started bringing a little more pressure, stuff that we anticipated them doing. We just didn't execute when we had to and kind of stalled after those first couple of drives."
LSU's offense, which picked up 144 yards in the first quarter, only generated 66 yards and one first down between the second and third quarters before the Tigers gained 116 in the final quarter behind reserve quarterback Garrett Nussmeier to finish with 326 total yards.
The running game began with such promise with Davis-Price gaining 47 yards on 11 carries, but later fizzled and only wound up with 77 yards on 35 carries (2.2 yards per carry) a week after a season-high 321 yards and three touchdowns on 45 attempts against Florida.
Davis-Price didn't have a carry longer than eight yards in the game.
It didn't seem to add up against and Ole Miss defense that ranked near the bottom in the SEC in total defense (438 yards) and scoring defense (30 points) both ranking 12th and a rushing defense (198 yards) that was 13th.
All three phases also ranked 106th, 101st and 109th nationally, respectively.
Ole Miss accomplished a season milestone in rushing yards allowed against LSU and only Tulane's 305 total yards was worse than LSU's production. The Tigers' problems came against a three-man rush, permitting four sacks, both of which led to fumbles lost by Johnson and four quarterback hurries.
Johnson completed 13 of 21 passes for 140 yards with one interception and no touchdowns with three receivers – Jaray Jenkins (52 yards), Jack Bech (41) and Malik Nabers (30) – all catching four passes.
LSU played with a patchwork offensive line with Anthony Bradford starting in place of Cam Wire (who didn't play) at left tackle. Garrett Dellinger replaced Marlon Martinez during the game at right guard and later took over for Bradford at left tackle.
"We didn't protect," Orgeron said. "I didn't think we won the line of scrimmage. We ran for 77 (yards), they ran for 266. I think that's the story of the game."
During Ole Miss' stretch of 31 straight points LSU's offense punted twice and turned the ball over on Johnson's fumbles.
York, whose 55-yard miss was his first of the season, stopped Ole Miss' stretch of 31 straight points with a 47-yard field goal with 7:28 remaining. Nussmeier, who was 7 of 12 for 103 yards in relief of Johnson, added a late touchdown on a 9-yard TD pass to Nabers with just under four minutes to go.
"They started to blitz a little bit more," Shanahan said. "It was all looks that we had seen. We didn't execute. It seemed like reoccurring theme from earlier in the year. We're right there, just couldn't make the plays."