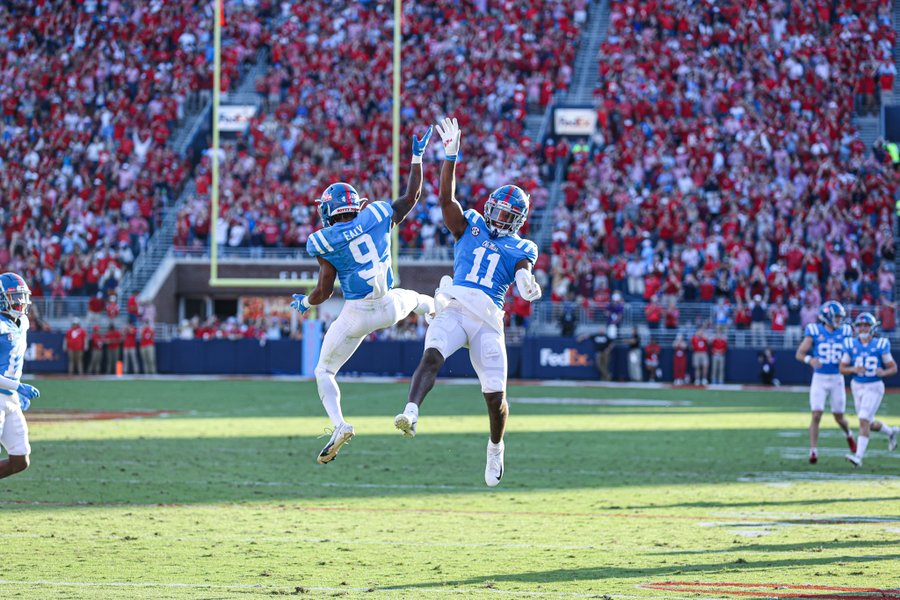 OXFORD, Miss. – If you thought LSU's football team would play more relaxed/inspired/motivated now that the future of its head coach Ed Orgeron had been decided, think again.
After a 90-yard LSU TD drive on its opening possession, No. 12 Ole Miss scored 31 straight points and coasted in with a 31-17 victory here Saturday that had the feel of most of the Tigers' losses in a 4-4 season.
A burst of optimism followed by being completely and thoroughly dominated to the point before LSU did its best to make it respectable with meaningless points late in the game.
A failed fourth-and-goal LSU gamble from the Ole Miss 3 with 51 seconds left in the first quarter that would have given the Tigers a 14-0 lead provided the proverbial cold bucket of water that awakened the slumbering Rebels (6-1, 3-1 SEC West).
They scored on their next five of six possessions with the 185 yards passing of Matt Corral balancing nicely with 204 yards rushing led by Snoop Conner's 117 yards and Jerrion Ealy's 97 yards.
Ole Miss outgained LSU 470-326 in total offense. But the Tigers' running game, which was unstoppable in last Saturday's 49-42 win over Florida, disappeared again with 76 yards on 35 carries.
They say no two games are alike, but by halftime the Rebels and Tigers had a similar feel to LSU's 24-19 loss to Auburn in Tiger Stadium on Oct. 2.
Except this time, LSU was dealing with an opposing offense that showed little mercy once it got rolling.
LSU opened the Auburn game with an 8-play, 91-yard TD drive by an offense that looked absolutely in sync. But LSU could only manage four field goals the rest of the way and Auburn caught LSU in the end.
Saturday, LSU opened with a 9-play 90-yard TD drive that featured five runs and four passes. It looked like a continuation of the Tigers' effective offense it displayed in the Florida win.
LSU took its second possession to Ole Miss where it faced a 4th-and-goal from the Rebels' 3. Orgeron apparently decided field goals wouldn't make a difference in a boatrace with the nation's fifth best scoring offense.
The Tigers' fourth-down gamble never had a chance. LSU quarterback Max Johnson rolled left looking for a receiver, there were too many Ole Miss defenders in the area and he forced a pass intended for Trey Palmer that was intercepted by Ole Miss' Tysheem Robinson at the LSU 1.
Even with the pick, the Tigers had Ole Miss backed up.
That is, until Rebels' running back Snoop Conner entered the game and ran like unleashed a can of whup-ass. His runs of 13, 9 and 23 yards closed the first quarter.
And though Ole Miss got just a 43-yard Caden Costa field goal out of the possession and still trailed, the fuse had been lit for the Rebels.