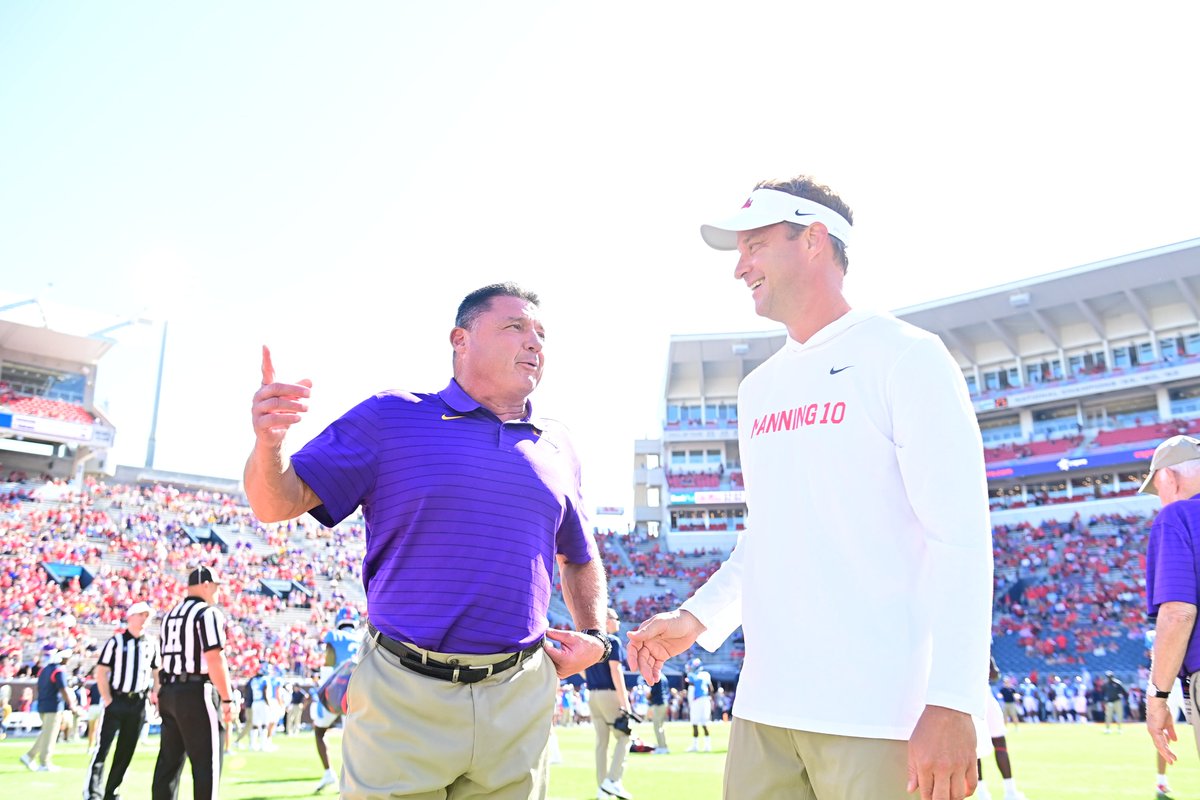 OXFORD, Miss. – The national reaction to last Sunday's announcement that LSU is handing head football Ed Orgeron $16.9 million to hit the bricks has been amusing.
How can LSU athletic director Scott Woodward fire someone who won a national championship just two years ago?
Shouldn't Orgeron be given a mulligan because of last year's COVID-19 season?
Is this just another example of the misguided priorities of a victory-hungry, win or else SEC football program?
Hopefully, anyone doubting Woodward's decision to jettison a coach who put his career on cruise control the minute he won a national title and hit the lottery with a new six-year, $42 million contract, watched Saturday what has become the repeated sub-standard of LSU performance.
LSU's 31-17 loss to No. 12 Ole Miss wasn't unlike most others in a wretched 4-4 season.
Orgeron says during the week his team is having "great practices" and the players seem to have "a great frame of mind."
Then, the Tigers get their first taste of failure on a Saturday, they forget everything learned and few in-game adjustments are made to eliminate their failures.
The only consistent thing about LSU is its mistakes. Orgeron can probably repeat them in his sleep.
"We just didn't make the plays we were supposed to," Orgeron said in his first failure of his five-game farewell tour. "We didn't protect (Tigers QB Max Johnson) and protection wasn't good enough for us to get the ball downfield. We couldn't run the ball like we wanted., We jumped out of gaps with (defensive) run discipline."
Yada, yada, yada.
Orgeron is saying nothing new here, which is why he's getting fired. He has no concrete answers, Nothing gets fixed or doesn't stay fixed for long.
When was the last time you watched the Ole Miss offensive line up and physically dominate LSU with 266 rushing yards on 50 carries?
And it took the Rebels' defense just two series to figure out LSU's offense.
The Tigers' first series couldn't have gone any better, a methodical, well-balanced 90-yard TD drive that ate 4:33 of game clock.
"How we started the game is what our game plan was, to control tempo and get the ground game going," said LSU center Liam Shanahan, a Harvard graduate who is trotted out as the team's offensive spokesman after every loss to explain what goes wrong. "Then, they started blitzing more. It was all the looks we had seen (on film) and we anticipated them doing it. We just didn't execute."
Just like they previously didn't in losses to UCLA, Auburn and Kentucky.
This season is essentially over, so there will be more weekly intrigue following possible LSU head coaching candidates as their seasons progress.
The pressure is on Woodward to make a "splash" hire the size of Shamu doing a belly flop. After he pried away Naismith Basketball Hall of Famer Kim Mulkey away from Baylor to become LSU's women's head coach last spring, Woodward is now viewed as the A.D. who can bag the biggest of big-name coaches.
The way Woodward views the hiring process, every coach has his or her price. He doesn't think any coach is too impossible to hire, which is why he'll first go after coaches with national championship pedigrees who have built and maintained programs that have won and consistently challenged for national titles.
And yes, that should include Nick Saban.
As improbable as it seems, Woodward knows it wouldn't hurt to call Jimmy Sexton, Saban's agent, and ask if there is an obscenely high annual salary number that would interest Saban enough to consider it.
Does this sound far-fetched? On the surface, it's an absolutely off-the-wall scenario.
But as he proved in hiring Mulkey, Woodward is crazy.
Crazy like a fox.