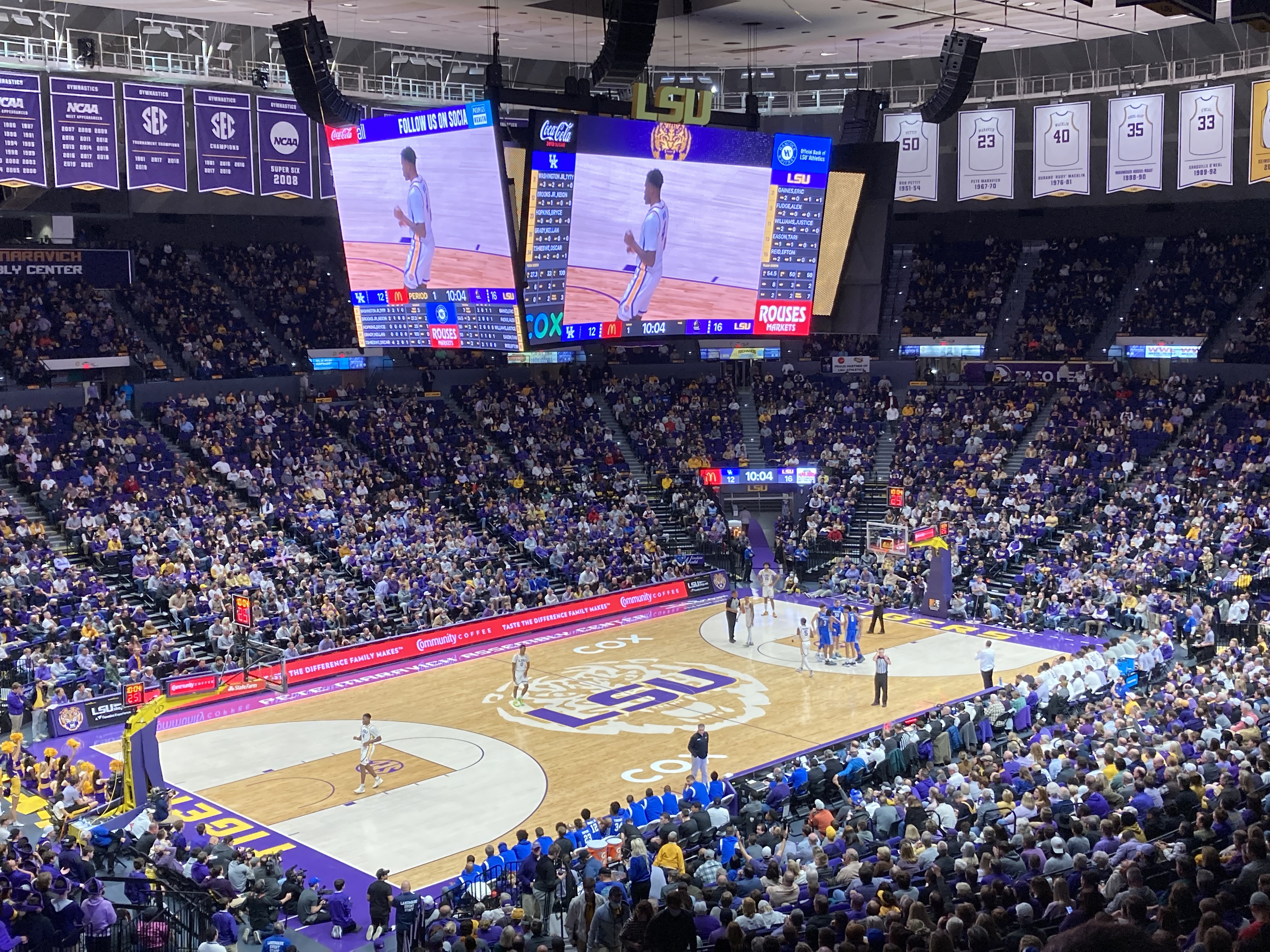 It was in 2017 that LSU athletic officials spoke openly about renovation plans for the Pete Maravich Assembly, the Tigers' aging basketball arena.
They laid out a five-year timetable.
Time's about up, and little has changed beyond the makeup of LSU's athletic administration and basketball coaching staffs.
Athletic director Joe Alleva, men's basketball coach Will Wade and women's basketball coach Nikki Fargas all are out; Scott Woodward, Matt McMahon and Kim Mulkey are in.
But the PMAC still is old, and the renovation still hasn't gotten off the ground.
A facility refresh, however, still is in the plans – if not a total reconstruction project.
"I would expect that it's not going to be much longer," Cody Worsham, LSU's Chief Brand Officer in charge of athletic department brand building, storytelling, messaging, and strategic communications, said earlier this summer.
"I think there's a sense of urgency to get it done, from everyone at LSU. But, at the same time, not rushing, not just rushing into it headlong and (instead) considering all of our options," Worsham added. "So, deliberate but with a sense of urgency, I think, is where we're at right now."
BLOSSMAN, ARMENTOR, TEMPLE PREFER RENO WORK
Worsham did not respond to multiple requests for additional comment, and an update, made this month. But when he asked in June if it's still possible a new PMAC could be constructed, as opposed to renovation, Worsham said, "No decisions have been made on that front."
Building a new arena from the ground up, however, does not seem like a sensible idea to at least a few members of the LSU Board of Supervisors.
Renovation is.
"I think you just need to work on the PMAC as we have it," Jay Blossman, a Mandeville-based attorney, told Tiger Rag this summer. "A new building would be very costly.
"Look, there's a lot of historic places all over the country that teams play college basketball in – and they wouldn't think about changing. And I think we have something special with the PMAC. And I think we'll do some things to it, and people will be very proud of it.
"Put a couple Final Four banners hanging in the rafters," added Blossman, who sits on the board's athletics committee, "and all of that will be good."
Winning cures everything.
But it's easier said than done.
Blossman, though, is not alone in favoring renovation over new construction.
"I don't think we need a new PMAC," Supervisor Glenn Armentor, a Lafayette-based attorney who also is a member of the athletics committee, said in mid-June. "I think there's nothing wrong with it.
"You can do a facelift, and that's all you need. Plus, it's in the right location. You've got to tear it down and build something else somewhere else? Less convenient."
Collis Temple is chairman of the Board of Supervisors' athletics committee.
He's also a Baton Rouge real estate developer, builder and entrepreneur – and he knows a little something about construction costs.
"I think that if it is possible to upgrade the PMAC, it ought to be given full consideration," he said told Tiger Rag in late June.
"I think that what you do is you weigh the cost factors, and you weigh the quality of the construction that would be take place … going forward."
A STORIED HISTORY
Getting even a renovation project started, however, is no simple task.
The 13,215-seat PMAC, called the Student Assembly Center at the time, opened late in 1971 and hosted its first LSU basketball game – an 80-73 loss to Vanderbilt – on Jan. 3, 1972.
The Tigers were out of the Cow Palace, their prior home for about four decades, and in greener pastures.
Now 50 years and aging less than gracefully, however, the PMAC hasn't undergone major renovation since a three-year project "to spruce up the building" was completed, according to LSU lore, in time for the start of 2005-06 season.
That work was interrupted by Hurricane Katrina, which hit Louisiana – and particularly the New Orleans area – hard, turning the PMAC into a massive FEMA-run triage center in August 2005.
Over the years, the PMAC has played host to two men's NCAA Regionals (1976, when undefeated Indiana beat Alabama and Marquette en route to a national championship, and 1986, when LSU beat Purdue and then-Memphis State as part of its unlikely to run to the Final Four as a No. 11 seed), four NIT games and multiple women's NCAA Tournament games.
It also been host to countless concerts featuring acts from The Rolling Stones, The Who, U2, The Jackson 5, Van Halen, Styx, The Doobie Brothers and Pink Floyd to Peter Frampton, Alice Cooper, Barry Manilow, Billy Joel, Garth Brooks, Willie Nelson John Denver, Jimmy Buffett, Sting, Sonny and Cher, Joan Baez, Joni Mitchell and even Elvis.
But five days after the PMAC's 50th birthday passed, then-LSU men's basketball coach Wade – since fired amid allegations of NCAA rules violations – complained about the shape the building was in.
Starting Tigers points guard Xavier Pinson injured a knee during an SEC game that night, and a question about it afterward set Wade off.
"I mean, we don't even have frickin' hot water in here, alright?" Wade said after a 79-67 win over then-No. 18 Tennessee.
"So we're used to doing well in difficult circumstances. The dang water heater is broken over here. We don't have hot water. The roof leaks. We have to move practice because the damn roof leaks, and put the trash cans down and have to go to the second side of the floor when it rained the other day."
Wade's criticism duly noted, there's little doubt major work is needed not only for repairs but also to modernize it and make it more revenue-generating friendly.
How to pay for it, however, is another matter.
"At a time now with construction being extraordinarily high – and probably will continue to go – can we retrofit that facility? I think that's what needs to be looked at," said Temple, an LSU basketball player from 1971-74.
"If we can come up with a strategy that will make it amenable, productive, to the use, I think it needs to sit where it sits, and it needs to be great construction."
NOT THE FIRST TIME
That's not the first time, however, such a need has been expressed at LSU.
In May 2017, according to a nola.com/The (Baton Rouge) Advocate report at the time, "Architects have already been at work on possible plans for the arena," with two areas of emphasis including entrance into the building "and premium seating, which is nonexistent at the PMAC."
LSU wants to complete a renovation of the Pete Maravich Assembly Center within the next five years," athletic director Joe Alleva said, nola.com/The (New Orleans) Times-Picayune reported then.
Former LSU deputy athletic director Eddie Nunez toured multiple renovated and new SEC and ACC arenas around that time.
He walked away particularly impressed by one, the O'Connell Center at Florida, that was renovated at a cost of $64.5 million in 2016.
"They did a great job of taking an old facility and making it come to life," Nunez told nola.com in 2017.
"They really did. They did a great job opening it up and making it easier for the fans to get around and still kept the environment for what it was – special for their venue.
"And then you added the premium seats, the premium areas none of them had. So they really kind of captured all those pieces. That's what we want to try and do."
But the project never did begin before Nunez, who was the LSU's athletic department's liaison with LSU Sports Properties and the Tiger Athletic Foundation (TAF), left to become New Mexico's athletic director in August 2017.
Or before Alleva was replaced by Woodward in 2019, despite the longtime LSU AD's grand plans.
Or before Wade was let go in 2022.
"The building is old," Alleva, who was in his ninth year on the job at the time, said in 2017, according to nola.com.
"It needs to be renovated. There's no lobby. There's no ticket office space. There's no access for people to get up and down. Plus, our fans would love a club section. If we could put in a club section that would enhance the whole experience of the building."
More recently, Woodward was heard singing a similar tune.
"(The PMAC) does need some TLC, as does Tiger Stadium and a few of our other facilities," Woodward said in February, according to The Advocate.
"We need to be prudent and smart in addressing these problems. A lot of it is going to be based on what we can do financially and how we do it. We're still early in the process."
COACHES IN PLACE, OPTIONS UNDER REVIEW
The architectural design firm Populous, previously known as HOK Sport Venue Event, an internationally renowned stadium and arena design company, "analyzed all of the sports buildings" at LSU, according to Supervisor Blossman.
LSU athletics surveyed groups of season ticket holders for their opinions on facility likes and dislikes back in the spring, according to Worsham.
Women's basketball coach Mulkey, who replaced Fargas prior to the start of last season, and new men's coach McMahon, who left Murray State to replace Wade, have been consulted for input on their needs, as have new LSU volleyball coach Tonya Johnson and third-year gymnastics coach Jay Clark, whose teams also utilize the arena.
"We kind of have four coaches that are 'in their spots' and pretty solidified right now," Worsham said.
"We'll take their feedback and take that into consideration, because whatever we do with that facility, it's going to affect all of them."
TAF, the non-profit corporation that fundraises in support of LSU athletics, will have input too.
Worsham said there's no set timetable for work to begin on new-look PMAC, whatever form is takes.
Nothing appears imminent, but nothing in the range of multiple more years before work of some story begins – at least it seems from afar – is likely either.
"We're more in the going-through-proposals stage of the plan, right?" Worsham, a former Tiger Rag editor, said in late June. "So we've got some options to look at.
"Before it was just like, 'What do we do?' Then it was you go to these companies; they provide the feedback. And then now we're taking the feedback into consideration and considering our options and 'How much will we have to raise to do this, how much will we have to raise to do that?"