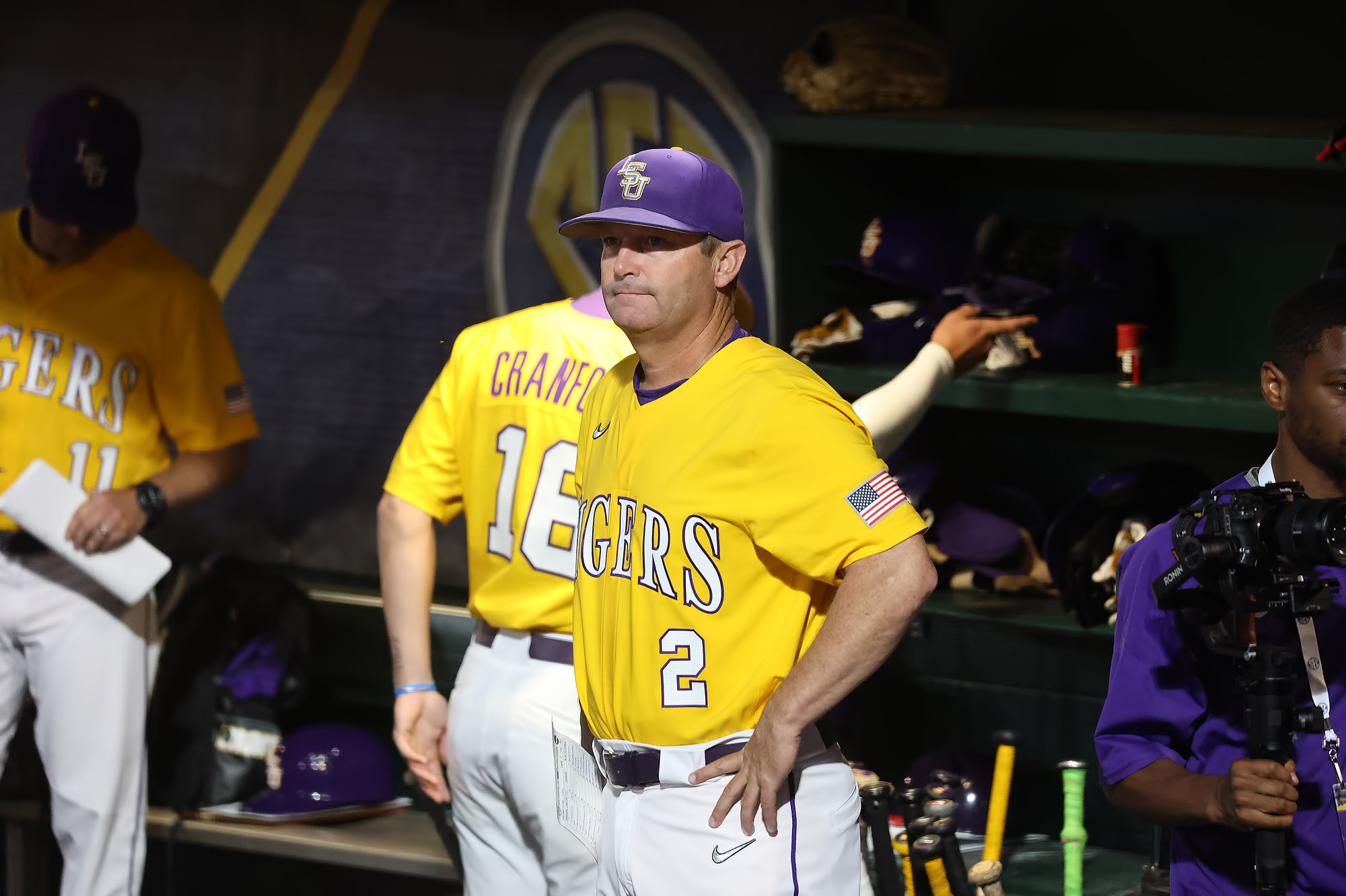 The first day of classes at LSU meant second-year baseball coach Jay Johnson had plenty to talk about.
Johnson, who guided LSU to a 40-22 record and the championship game in the NCAA Regional played at Hattiesburg, Mississippi, introduced his two new assistant coaches and a 45-man roster vying for 35 spots for the 2023 season.
"We were able to upgrade and address areas we needed to improve and (we) feel great about that part of it," Johnson said during a news conference Monday that featured new assistants Wes Johnson and Josh Jordan. "We like the talent across the board."
LSU features three of the nation's top players who played this summer on the U.S. national collegiate team that finished third in the Honkbalweek Haarlem Tournament in The Netherlands.
The SEC's Co-Player of the Year, centerfielder Dylan Crews, headlines that group of juniors, which also includes first baseman Tre' Morgan and pitcher/designated hitter Paul Skenes, one of the team's five signees from the NCAA transfer portal.
"It's a great honor to be selected and be one of 25 guys," Johnson said of the U.S. team.
Skenes recipient of the nation's John Olerud Two-Way Player of the Year, is expected to fill one of the team's top-of-the-rotation roles and could also played DH.
"He has an opportunity to be one of the best pitchers in the country, a potential high draft choice," Johnson said. "We do not plan on his catching at this point in time."
Johnson said the team will be involved in skill instruction and weight training until Oct. 6. The Tigers will hold fall practice Oct. 7-Nov. 20, a stretch that includes fall games Nov. 6 at home with McNeese and a Nov. 13 trip to Lafayette to face the Louisiana Ragin' Cajuns.
LSU concludes fall practice with its Purple and Gold World Series Nov. 18-20.
"We have some time to develop the team and how we build," Johnson said.
LSU returns four of its top five hitters led by Crews (.349, 22 HRs, 72 RBIs), Morgan (.324, 5 HRs, 54 RBIs), senior utility player Gavin Dugas (.306, 5 HRs, 25 RBIs) and sophomore right fielder Josh Pearson (.299, 8 HRs, 35 RBIs).
Junior shortstop Jordan Thompson (.286, 6 HRs, 36 RBIs) also is back to potentially serve as the anchor of the infield.
Thompson is a returning players Johnson mentioned who gained valuable experience in the Cape Cod League this summer. Sophomore right-handed pitcher Grant Taylor (4-1, 1.71 ERA, 5.81 ERA) is another and show improvement from last season, as should junior right-hander Ty Floyd (5-4, 3.77 ERA) and junior left-hander Riley Cooper (4-3, 1 SV, 4.21 ERA).
Johnson said sophomore left-hander Javen Coleman (1-0, 4.50 ERA in 3 innings) continues to recover from Tommy John surgery and will mark his one-year anniversary from the reconstructive procedure next March.
The catcher position is well stocked with the return of junior Alex Milazzo, who had a knee procedure that limited him to 12 games last season. The Tigers also return junior Hayden Travinski (.242, 6 HRs, 13 RBIs) to pair with freshman signees Brady Neal of IMG Academy, Jared Jones of Marietta, Georgia, and Ethan Frey of Rosepine this fall.
"I'm very excited about the blend of new players with the returners," Johnson said. "We added some really talented players at key positions. They will be important names in our program for the next several years which we're excited about."
LSU's roster has 21 newcomers, five of whom came from the transfer portal with an eye toward reshaping the team's starting pitching.
The 6-foot-6 Skenes, a right-handed junior, twice earned All-America honors while at Air Force. He is joined by sophomore right-handed Thatcher Hurd of UCLA and junior right-hander Christian Little of Vanderbilt.
"The upgrade is in pitching talent, the ability to strike people out," Johnson said. "The ability to dominate with strikes. We feel great with the ones we added. They all have potential to be major league pitchers someday. Think they'll compliment the returners we have.
"When you look at what pitcher was out there that could be a massive contributor for the next two years, he (Hurd) was the guy that jumped right to the top of the page. We made a huge priority to get him."
Johnson also added power-hitting third baseman Tommy White from North Carolina State, a sophomore, to give LSU additional teeth in its batting order after hitting an Atlantic Coast Conference's record 27 homers for a freshman. Junior infielder Ben Nippolt of Virginia Commonwealth also signed with the Tigers.
The Tigers were able to get 16 members of their prized recruiting class ranked No. 1 by Perfect Game to campus, topped by Louisiana's top prospect, Gavin Guidry of Barbe High, outfielder Paxton Kling of Roaring Springs, Pennsylvania, 6-8 right-hander pitcher Chase Shores of Midland, Texas, and left-handed pitcher Griffin Herring of Southlake, Texas, along with Neal and Jones.
"I think where we hit the jackpot was all three of our guys could have been drafted and signed and all of them ended up here which is great for us," Johnson said of freshman catchers Neal, Jones and Frey.