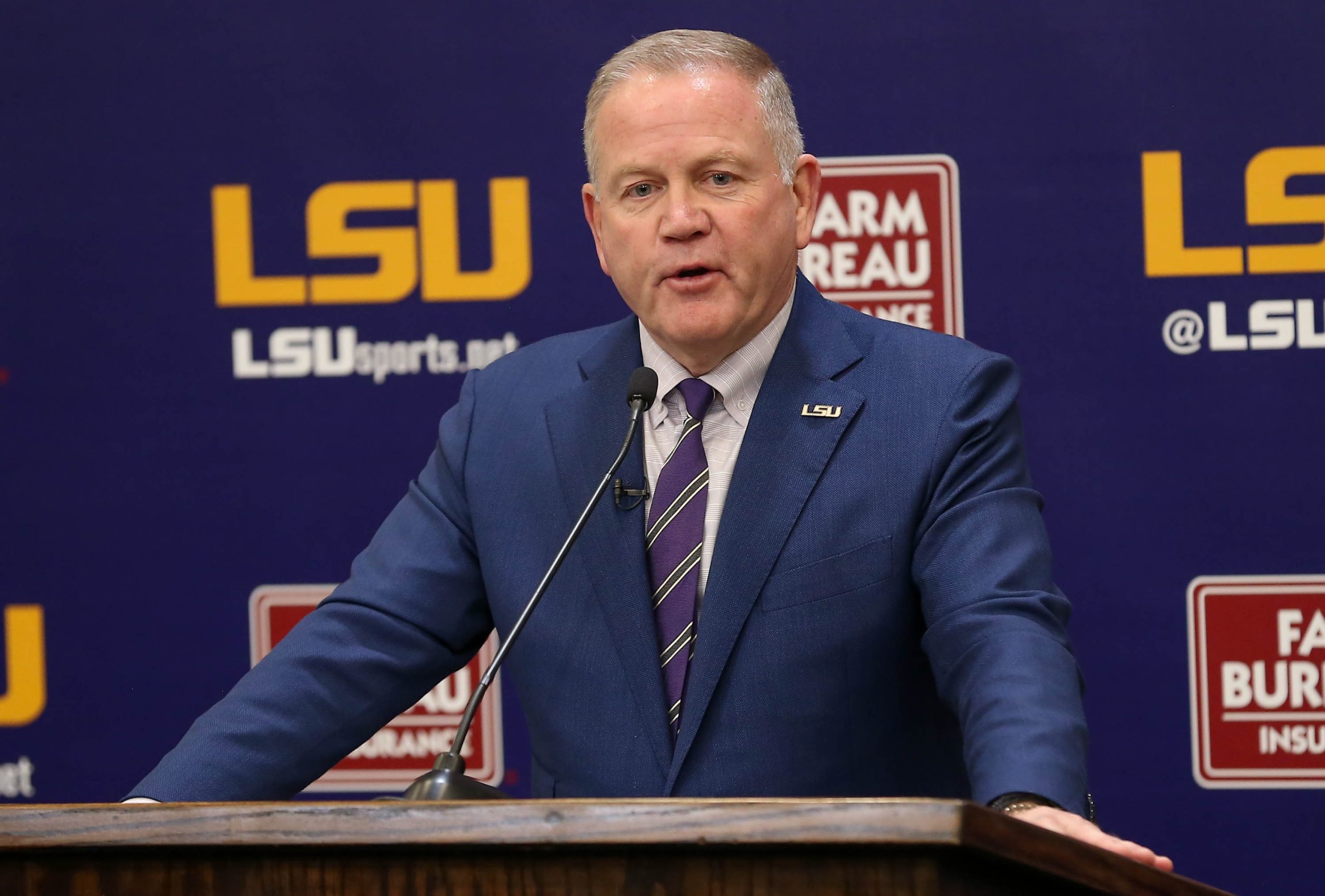 Brian Kelly admitted as much.
LSU's first-year football coach was not ready to unwrap the package on his team's starting quarterback during his news conference following Tuesday's practice.
"We're closing in on making a decision," Kelly said of the choice between junior Jayden Daniels and redshirt freshman Garrett Nussmeier. "The two of them are outstanding quarterbacks. If you were voting in here, it may be a split in this room. It's pretty close.
"I think you can understand why we're not jumping out there, giving you a quarterback. They're both fine quarterbacks and it's that close. We're going to have to make a decision here in the next few days."
Kelly offered a potential timetable of naming a quarterback by Friday in advance of the team's preparations for its Sept. 4 season opener against Florida State in the Superdome.
"We're going to exchange scout teams probably Friday," Kelly said. "We'll use Friday-Saturday and next Tuesday as the three bonus days for Florida State. Then we'll have Wednesday-Thursday-Friday for Florida State. As long as we have our decision made by the end of the week, and we make some kind of announcement Monday or Tuesday, we feel we'll be in a pretty good position."
Kelly hesitated when asked about interchanging both quarterbacks against Florida State.
"I don't know if I have an answer for that question," he said. "We need to make the decision, start who we feel gives us the best chance to win, but know both of them are quarterbacks that can help us win the SEC. In the moment we feel really good about both of those quarterbacks. I'm trying to be evasive but it's just a fact."
ON TARGET FOR FSU
Kelly called Tuesday's workout, which began outside before getting chased indoors by rain, the best of the season and felt comfortable about the direction his team was taking before turning its attention to preparations for Florida State by the weekend.
"Today was our best day in terms of playing with speed and practicing with a purpose," Kelly said. "Today you got the sense they were getting ready to play a game. It was clean. It was efficient. It didn't feel like a check-the-box camp day where sometimes you get in the doldrums of camp. They did it in the manner that I like to see practice being run.
"We are who we are," Kelly added. "There's nobody else coming through those doors. This is the team we have, and I like their development. I would say we're on schedule for the preparation part and we're moving toward really focusing on our opponent, Florida State, in the next couple of days. I expect us to be in a good position physically. It's gone well. We haven't had any major injuries. All signs point to being on the right path of preparation where it needs to be for Florida State."
DELLINGER RECEIVES HIGH MARKS
After a subpar finish to last Wednesday's practice that was open to the media sophomore Garrett Dellinger appears locked in as the team's starter at center, Kelly said.
Dellinger, who played guard, tackle and tight end as a freshman in 2021, was moved to center in the spring but was unable to have contact because of shoulder surgery. He's battled junior Charles Turner and freshman Fitzgerald West Jr. at that position in preseason camp.
"He's really settled in at the center position," Kelly said. "Last week I was pretty vocal about the snaps. He's settled in nicely since the day and taken ownership at that position and has been consistent."
In practices open to the media LSU's fielded a starting offensive line of Dellinger, transfer portal signees Tre'Mond Shorts and Myles Frazier at the guard positions and freshman Will Campbell and junior Anthony Bradford at the tackle positions.
Bradford has recently moved inside to right tackle, allowing senior Cameron Wire to play right tackle, giving Kelly seven to eight players that can rotate into a game along with junior Marcus Dumervil and freshman guard Emery Jones.
"We've got a pretty good sense of the five, six guys and now it's about getting that seventh, eighth guy," Kelly said. "We feel pretty comfortable knowing we got seven, eight guys that's going to be our rotation."
RECEIVER POSITION DEEPENS
With preseason first team All-SEC wide receiver Kayshon Boutte returning to form from an injury last season, LSU's wide receiver position was already among the strongest on the team. Throw in the return of senior Jaray Jenkins, sophomores Malik Nabers and Brian Thomas Jr., along with the recent return from injury by Jack Bech and Chris Hilton Jr., and Kelly really likes the ability of his fast-paced offense to thrive with an array of receivers.
Kelly also pointed to Louisiana junior transfer Kyren Lacy as a player that's impacted the position.
"We want to play fast, we want to play with some tempo," Kelly said. "We're going to push the ball down field, so those guys are going to have to stay fresh. We want to be able to attack defenses with six, seven deep at that position. That will serve us well. They all serve an important role.
"Kyren Lacy's involved and has had a couple of good scrimmages for us, Jaray Jenkins has been really solid and consistent," Kelly added. "I think all of those guys are going to play a significant role. To have that kind of depth, we're going to use it as a strength of ours by keeping those guys fresh and rotating them into the game."
FOUR NAMED TO PRESEASON TEAM
LSU tallied four players the All-SEC preseason team that was selected Tuesday by the league's coaches.
The Tigers were led by first team picks Kayshon Boutte at wide receiver and BJ Ojulari at defensive end. They were also represented by defensive end Ali Gaye on the second team and nose guard Jaquelin Roy on the third team.
Alabama led the way with 19 overall players selected followed by Georgia (10) and Texas A&M (9).
NOTE
Kelly said redshirt freshman walk-on Damian Ramos has taken the lead to be the team's field goal kicker and graduate transfer Jay Bramblett of Notre Dame has won the punting job. The team's kickoff specialist to replace Avery Atkins remains open.