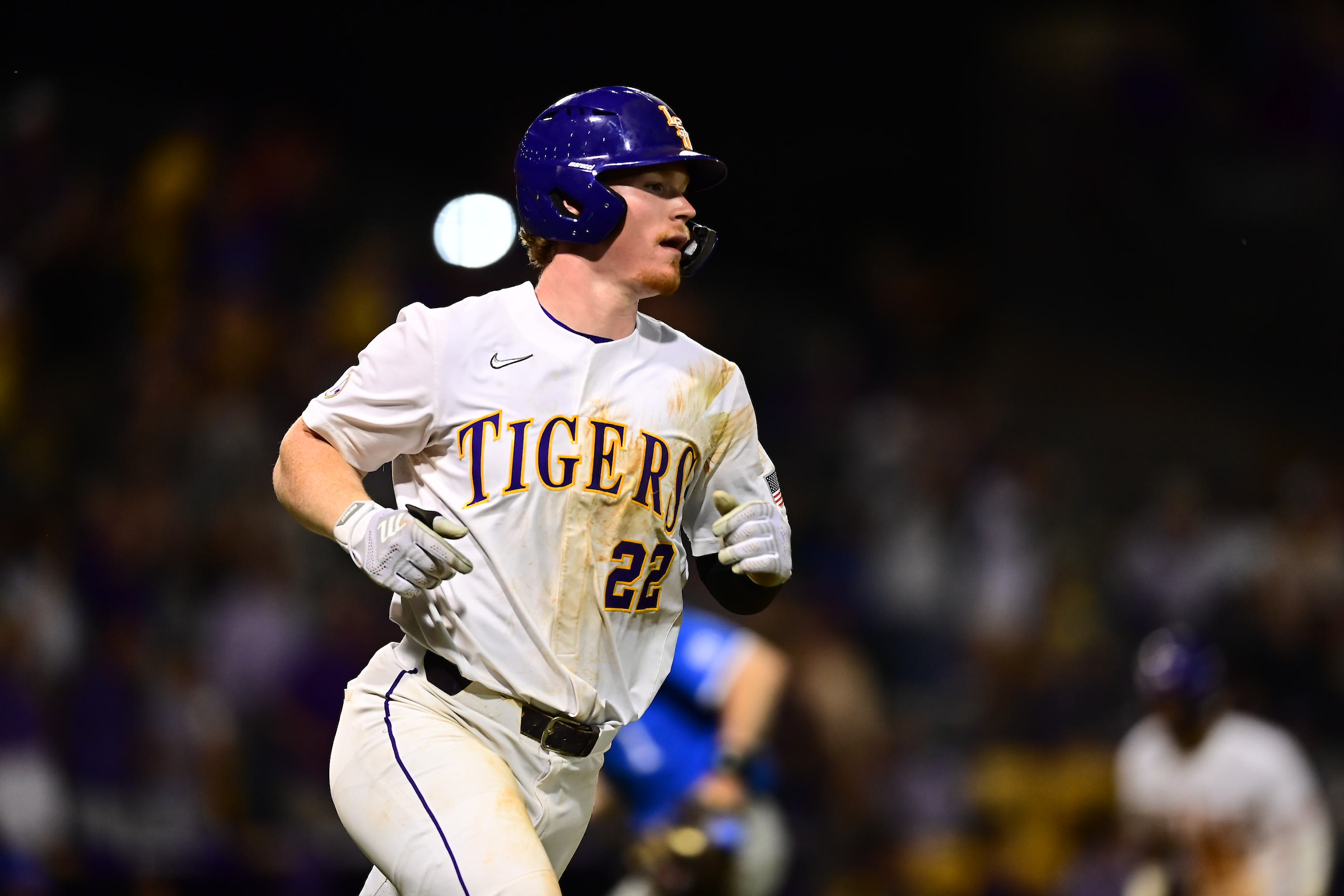 Kentucky scored five runs in the fifth inning and another five runs in the seventh inning, and the No. 12 Wildcats rallied from an early four-run deficit to even the series with a 13-10 win over No. 1 LSU at Alex Box Stadium, Skip Bertman Field on Friday night.
If you're reading this, hit the Tommy.@tommywhite44 | SECN+ pic.twitter.com/Ed1v30B7Qi

— LSU Baseball (@LSUbaseball) April 15, 2023
Bear Jones smacks a 2-RBI single to left field

UK – 12
LSU – 10
📺 SECN+ pic.twitter.com/5uprZV0jug

— LSU Baseball (@LSUbaseball) April 15, 2023
THAT'S OUR SHORTSTOP‼️@J_thompson_13 | SECN+ pic.twitter.com/uIceRhY6I1

— LSU Baseball (@LSUbaseball) April 15, 2023
The series finale of the LSU-Kentucky three-game set is scheduled for a 1 p.m. first pitch and can be streamed on SEC Network+. The matchup is available to listen to on the LSU Sports Radio Network affiliates.
LSU officials will meet at 8 A.M. on Saturday to decide if they need to move the start time for the game up one hour in order to stay ahead rain that's in Baton Rouge forecast. (UPDATE: LSU and Kentucky will play Game 3 of their SEC series on Saturday at 1 p.m. as originally scheduled.)
"Kentucky has a good offense and they put pressure on you in a lot of different ways," LSU coach Jay Johnson said. "I thought we dictated the type of game that was played last night, and they dictated the game tonight. We've got to be better from the mound, we've got to be better defensively. I like the fight of our team, but if we play a little bit better, we win that game."
LSU left-hander Griffin Herring (2-1), who entered the game in the fifth inning in relief of starter Ty Floyd, was charged with the loss as he allowed seven runs – three earned – on six hits in 1.2 innings with one walk and one strikeout.
Ryder Giles recorded his first save of the season for the Wildcats, pitching the final two innings and allowing no runs on one hit with one walk and two strikeouts.
Similar to the first game of the series, third baseman Tommy White got the Tigers on the board first with an RBI double. During Friday's matchup, center fielder Dylan Crews reached via a hit-by-pitch and White followed him up by smoking a ball into the right-centerfield gap to score Crews and make the tally after one inning, 1-0.
Kentucky (28-6, 10-4 in SEC) responded with a two-run homer in the second to take a 2-1 lead.
The Tigers (28-6, 8-5) struck back in the bottom half of the inning with shortstop Jordan Thompson starting off the frame with a single. Second baseman Ben Nippolt followed with a walk and catcher Alex Milazo advanced the runners with a sacrifice bunt. Left fielder Tre' Morgan roped a 2-RBI single over the shortstop's head to retake the 3-2 lead for LSU.
After a scoreless third from both squads, White launched his 12th dinger of the season to straight-away center in the bottom of the fourth. Before sending one over the wall, Morgan was hit by a pitch and Crews smoked a double to right-center field to score Morgan and make the score 4-2.
White's homer extended the LSU lead to four after four innings. The Wildcats scratched across five runs in the fifth with a three-run triple and an RBI single to overtake the 7-6 lead.
Kentucky extended its lead with a five-run seventh, anchored by three free passes, three hits, an error, and a sacrifice fly for a 12-7 advantage after seven innings.
LSU's rally came in the bottom of the eighth inning, shortening the lead to two. The inning got started with a walk from pinch-hitter Josh Pearson and Morgan was hit by a pitch once again. Crews came through with a single to load the bases, and White drew the walk to make the score 12-8.
First baseman Jared Jones looped a 2-RBI single to left field to close the margin to 12-10 before Kentucky added a run in the ninth to account for the final score.