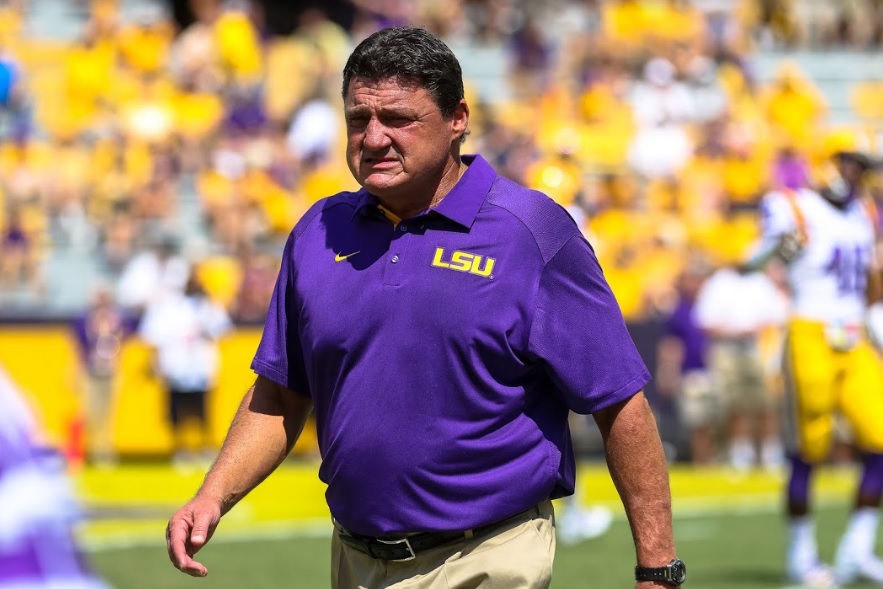 "The group I'm most proud of is the offensive line," Orgeron said. "I do believe our offensive line right now is our most improved group. They're blocking and protecting, and no one's hurt."
Orgeron pointed the the tackle positions as the most promising. Tackle is a position that LSU fans perhaps had the most questions about coming into the season.
But if Orgeron is to be believed, they're up to the task of preventing the sack rate the Tigers allowed last season.
"The tackles are the ones," Orgeron said. "Saahdiq (Charles) has really improved on his pass protection. He's in shape, and he's changed his technique a little bit."
Charles entered last season a clear starter on the edge for the Tigers after a solid freshman campaign, but he never quite developed into the shut-down blocker the coaching staff expected him to be.
After working all summer on his technique, Orgeron said Charles ready to overcome his sophomore slump.
BIG BOOT
Orgeron had no shortage of praise for freshman kicker Cade York.
Twice during his meeting with the media he referred to York's performance during fall camp thus far "phenomenal," first during his opening statement and then again when asked about the young kicker.
"Obviously, he's got to do it in front of some people," Orgeron said, "but right now, he's very impressive. Strong leg, very accurate. He's going to get there."
INJURY UPDATE
There has been some mild chatter surrounding notable absences during the early days of LSU's fall camp.
Orgeron echoed his words for his radio hit earlier in the day, saying nobody missing, including projected starters in cornerback Kristian Fulton, safety Grant Delpit or linebacker K'Lavon Chaisson, is out with any major injury.
"A sprain here, sprain there," he said. "Nothing that should keep anybody out too long."
Earlier Tuesday afternoon Chaisson chimed in on Twitter saying his injury was not related to the knee injury that took him out three quarters into the season last year.
Orgeron confirmed Fulton's foot, which he had surgery on early this year, was the culprit responsible for his absence.
He also added Jamal Pettigrew has been absent due to an injury sustained this summer.