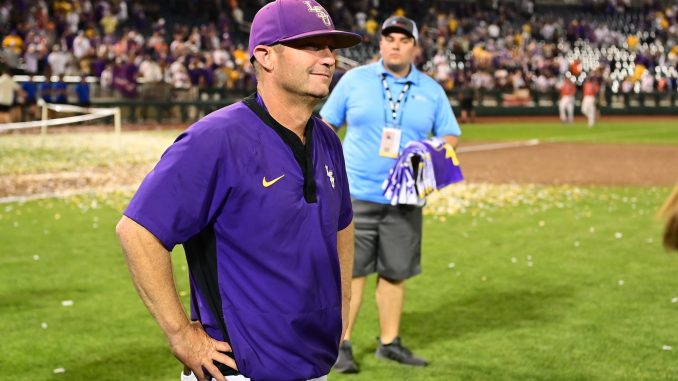 LSU captured its seventh NCAA baseball title in exciting fashion and has restored order to the college baseball universe, at least in the opinion of the Tigers' Jell-O-shot loving fans.
That's the kind of talk we hear whenever Alabama wins a football title or Kentucky takes the natty on the hardwood. I kind of think, also, from LSU fans in anything resembling an alcohol consumption competition.
LSU now has broken its tie with Texas and is alone in second place for most CWS titles behind USC, which has 12. It's not out of the question that the Tiger program could catch the Trojans: they haven't even been to Omaha since 2001, 22 years, and last won a title in 1998. That was their first one in 20 years, so LSU looks like the biggest threat.
I remember that '98 season because LSU was trying for a CWS title three-peat and appeared to be well on the way in that Gorilla Ball era. LSU hit eight home runs against USC in a second game victory, but the Trojans came out of the loser's bracket and eliminated the Tigers. They went on to beat Arizona State in the championship game, 21-14, which put the final nail in the coffin of the nuclear bats.
And, yet, here we are again and the Tigers slugged their way to the title with 144 homers in 71 games. The record-setting '97 team hit 188 in 70 games, at least one in every contest. Today's power surge has more to do with the baseball metrics that have filtered down from Major League Baseball, where a much higher value is placed on home runs and walks, and small ball has gone the way of the Wishbone offense in college football.
Has an LSU team ever had some many big home runs? Walk-off homers by Tommy White and Cade Beloso will come in just under Warren Morris' iconic blast to win the '96 title. White also had a key one to tie the first game of the championship series in the eighth inning, and Beloso another that was ultimately a game-winner. Then the Tigers hit two more in the 18-4 championship game drubbing.
But even with all of these home runs, this LSU team was about much more than a power display. It takes way more than that to win a title. Florida proved that by homering five times in the 24-4 second game rout, a record-setting performance that got them nothing better than second place.
Perseverance is vital in a sport where the season lasts 70 games or more. And for a team to start the season ranked No. 1 and bear that burden nearly throughout speaks to the preparation and mental focus shepherded by second-year head coach Jay Johnson. The panic among fans after LSU lost a pair of late season series to Auburn and Mississippi State to fall out of the No. 1 spot was reprised after that Game 2 loss to the Gators in which the final score meant nothing.
You'd think LSU fans would have learned from its early days under Skip Bertman that every game is its own separate entity influenced by innumerable factors. Florida outscored and outhomered LSU in the three games and went home with the silver medal.
Who would have thought LSU could win the championship series without pitcher Paul Skenes making an appearance when he seemed to have carried about 75% of the pitching load all season. Thatcher Hurd, who couldn't get to the third inning of his first appearance of the season against Southern, started and won the championship game with five innings of shutout ball after allowing two runs in the first.
No other scene illustrated the heart and unity this team had than Skenes, who days before becoming a sure fire top 5 draft pick – possibly No. 1 overall – carried injured catcher Alex Milazzo, a classic grinder, on his back to join the celebratory dogpile at game's end. It's a strong indication Johnson's ability goes way deeper than talent procurement and in-game strategy.
Yes, this will be the first of LSU's titles in the transfer portal era, and what program stands to benefit more than a reigning champion? Watch the influx of talent that will come knocking at the door in the coming months, whether high school recruits or D1 transfers. It's going to be a repeat of what Kim Mulkey experienced after winning the women's NCAA basketball title and will only serve to strengthen LSU as a destination for elite athletes in all sports.
It may even help another second-year Tiger coach who will be on the spot this fall. Brian Kelly has already made remarkable progress with the football team, but we all know there is less patience in football than the rest of the athletic department combined. Men's basketball coach Matt McMahon has a lot more catching up to do than Kelly, but none of this hurts him either.
It's a sweet time to be an LSU fan and with a bright future to boot. Two major NCAA titles in a three-month span, not to mention the school dodging potentially crippling sanctions in men's basketball and football.
Major props should be aimed at athletic director Scott Woodward, who is showing a Midas touch at coaching hires. He's making LSU into a place no coach would want to leave. Being a Baton Rouge native and LSU alumnus virtually guarantees him sticking around for a while and only leaving for something along the lines of a conference commissionership.
The current state of LSU athletics is almost enough to make fans forget losing Nick Saban to Alabama 16 years ago.
OK, OK, I said "almost".